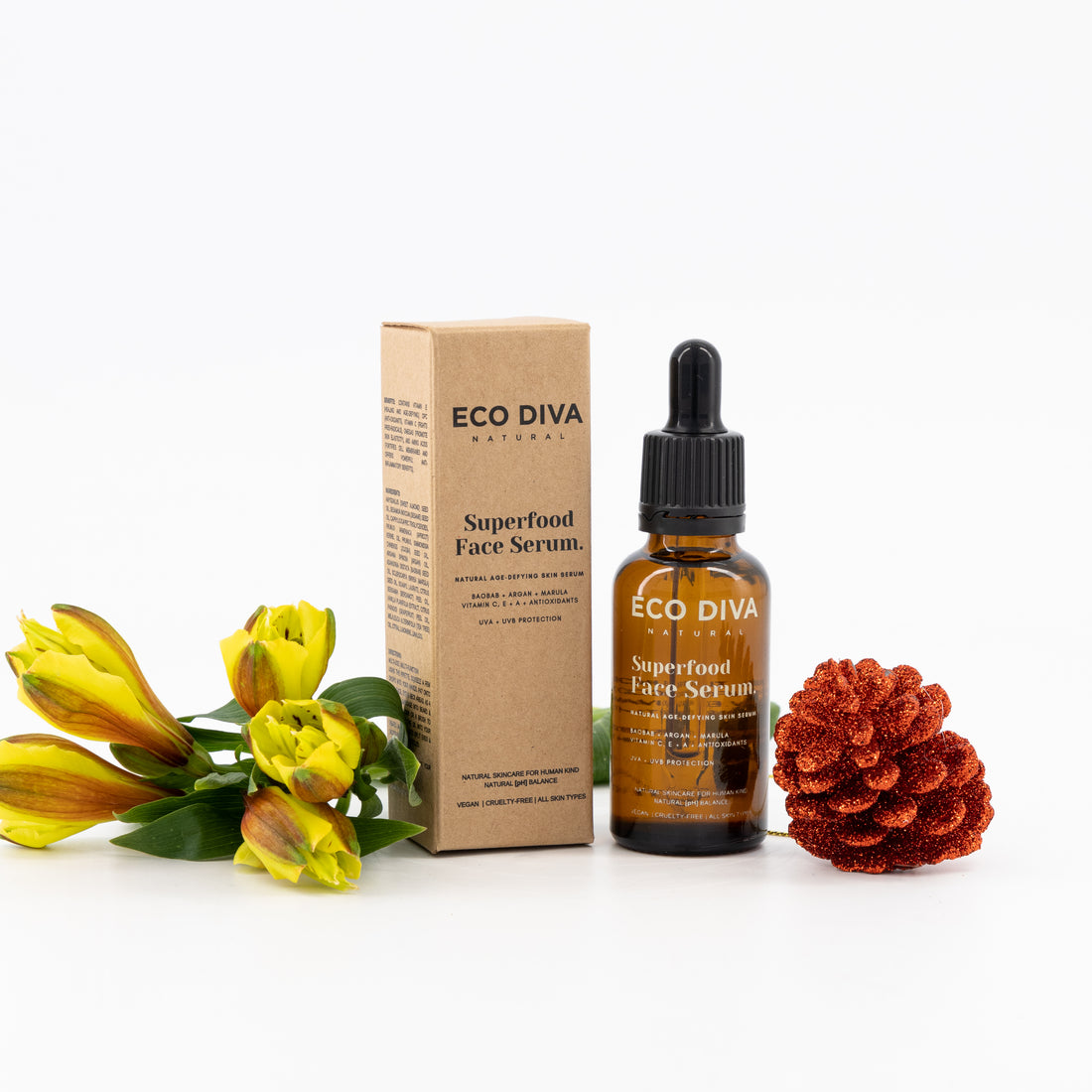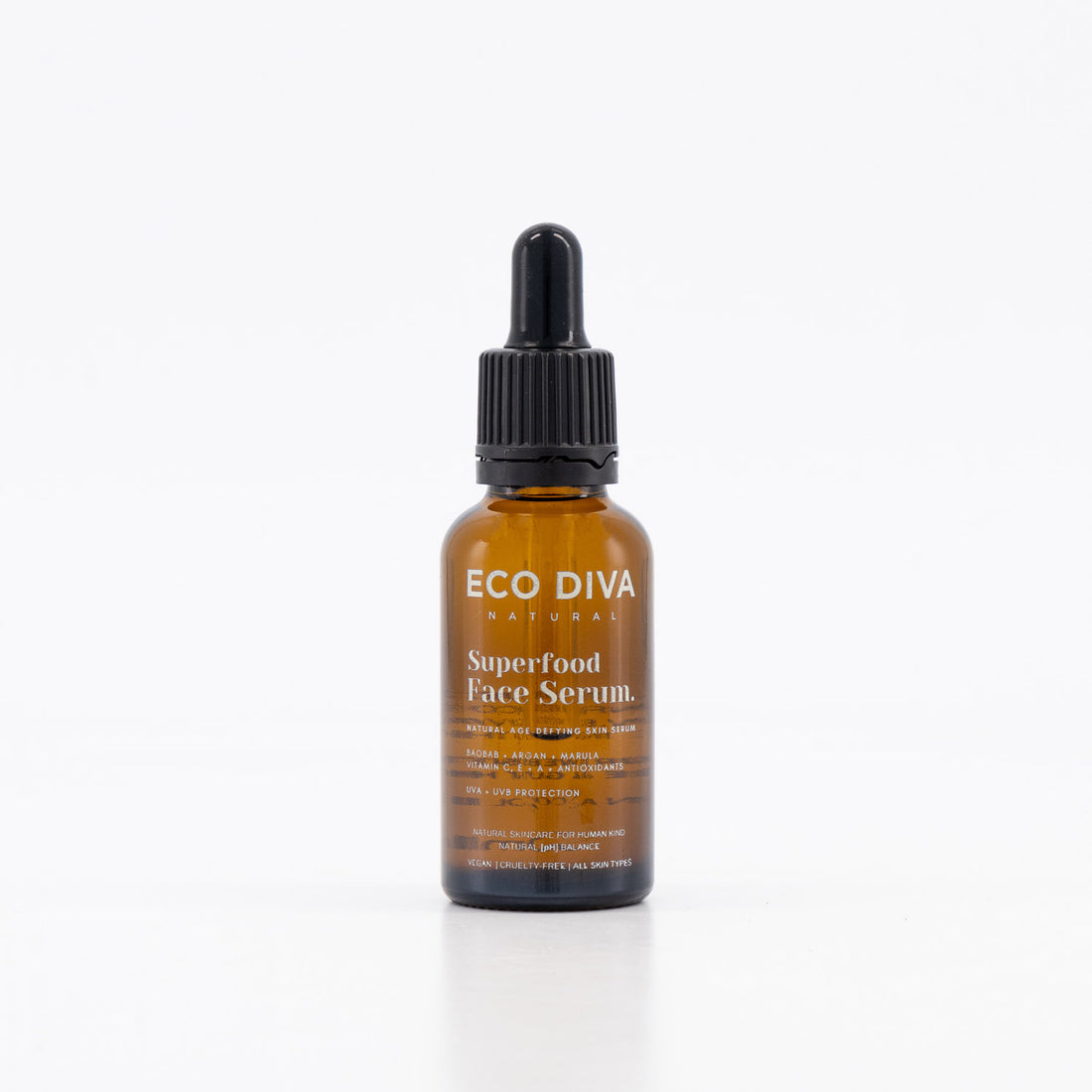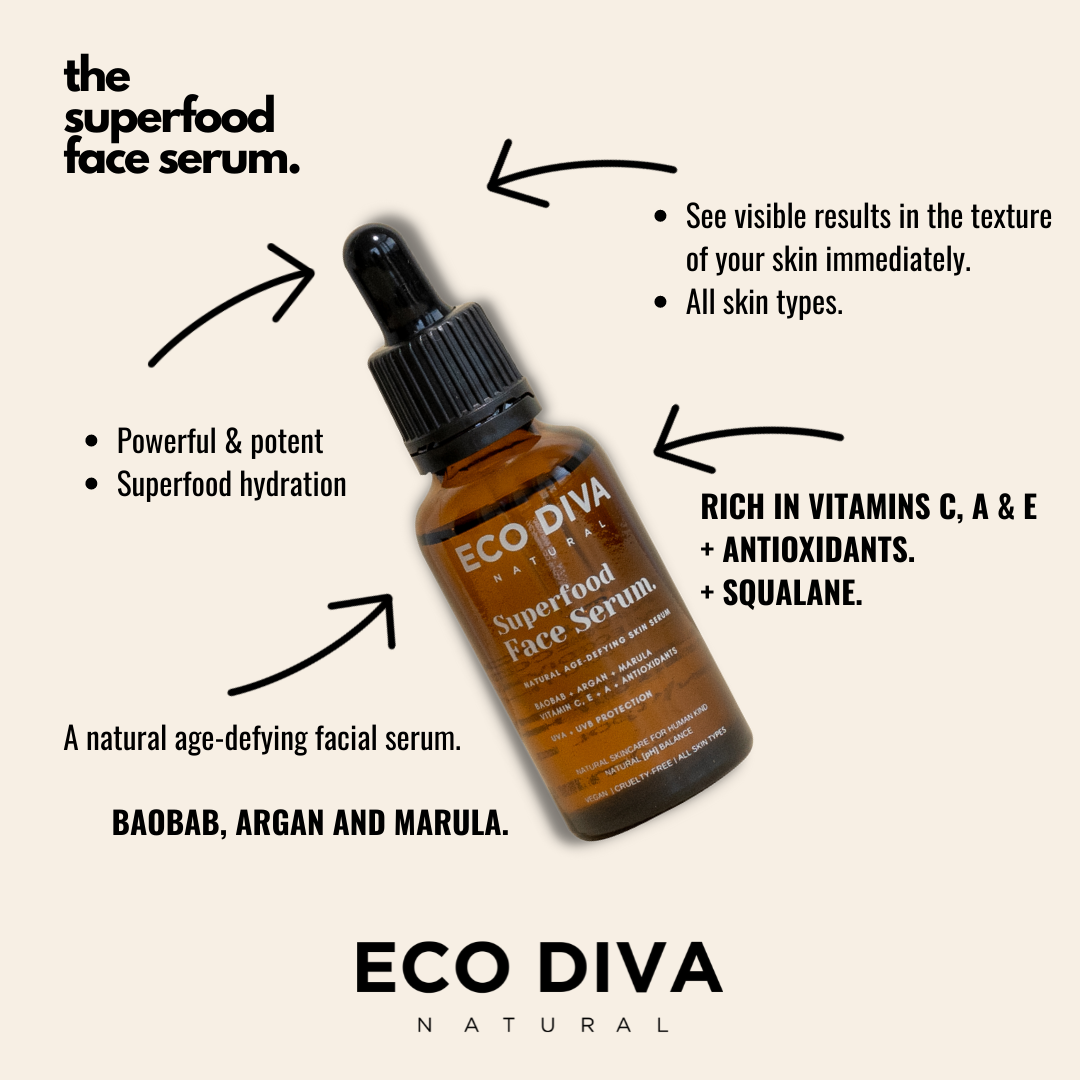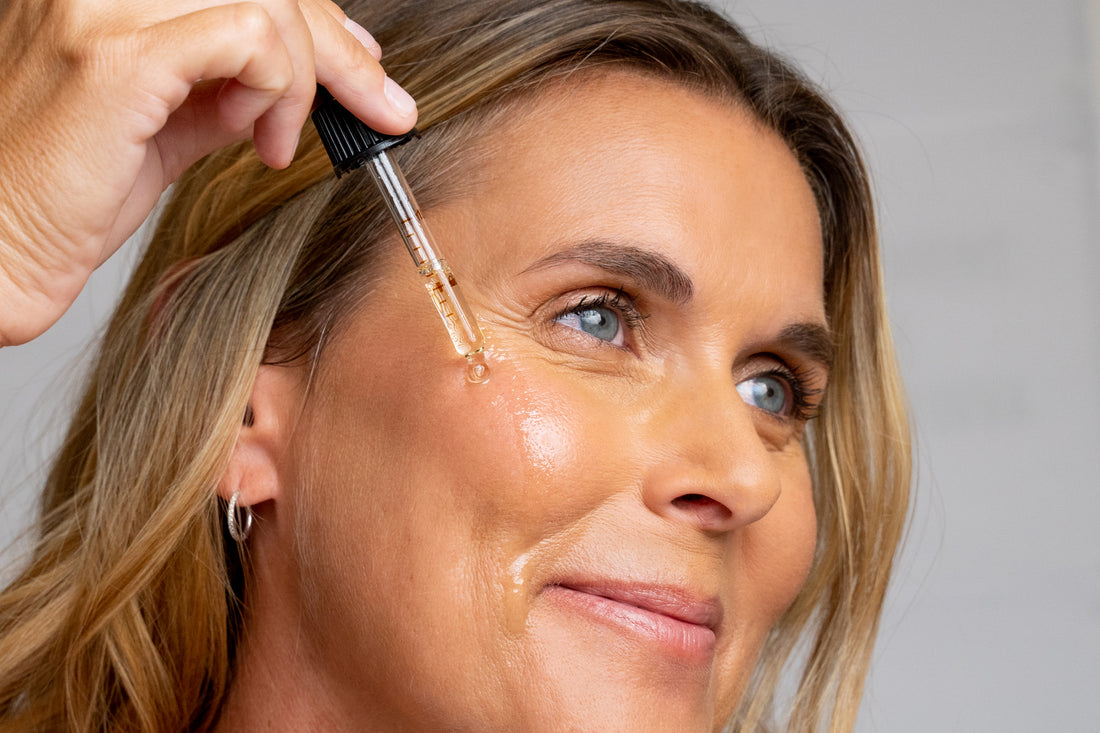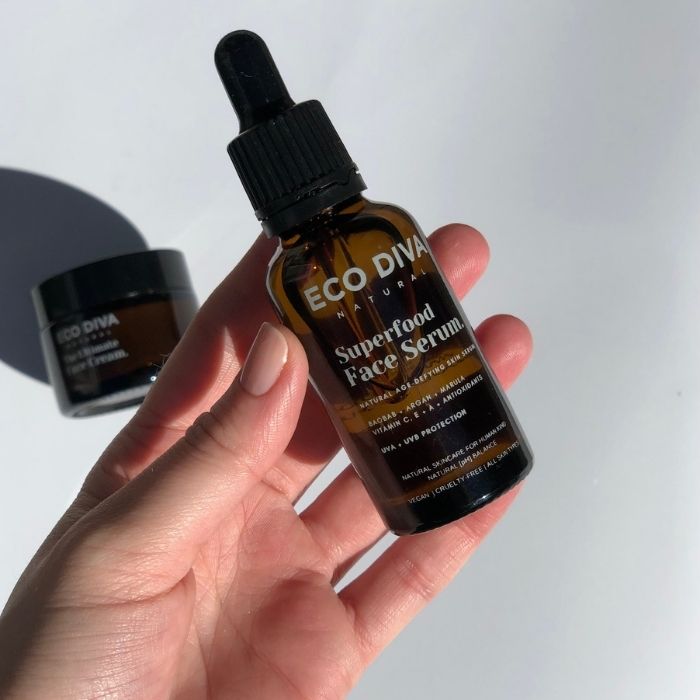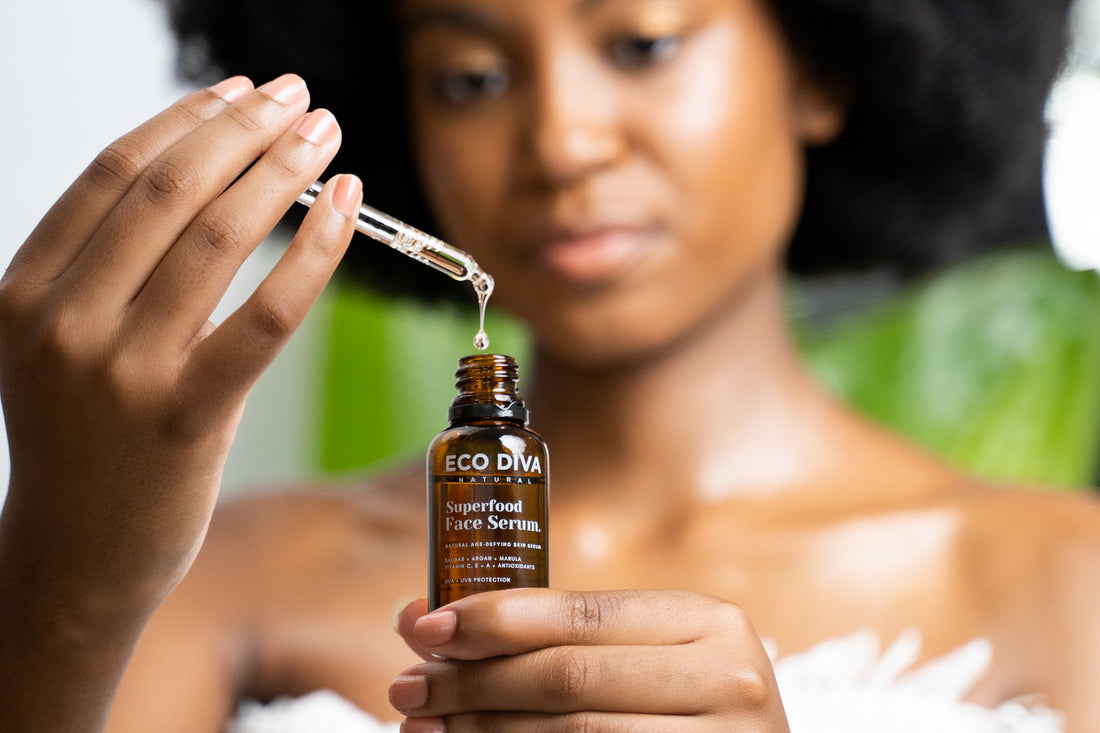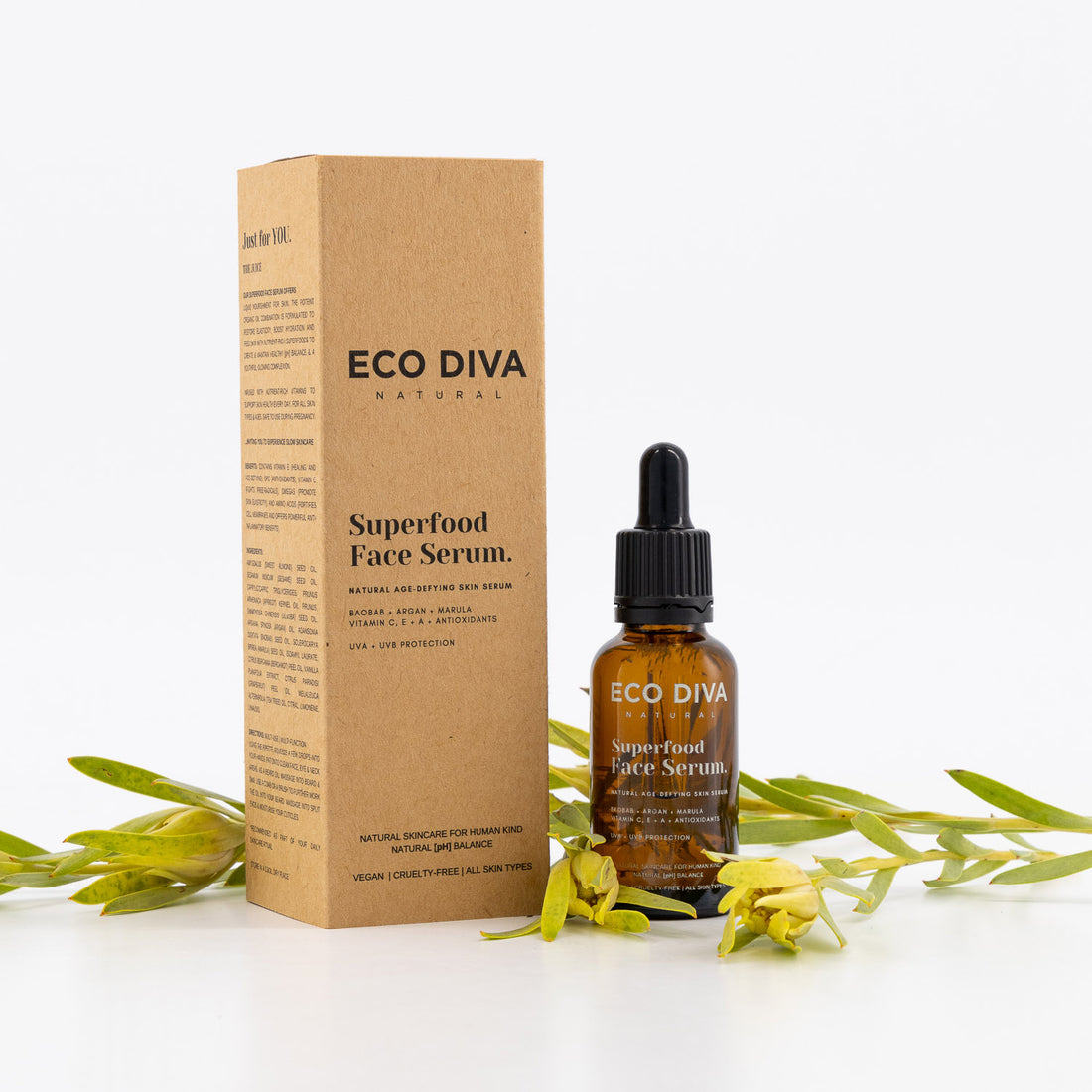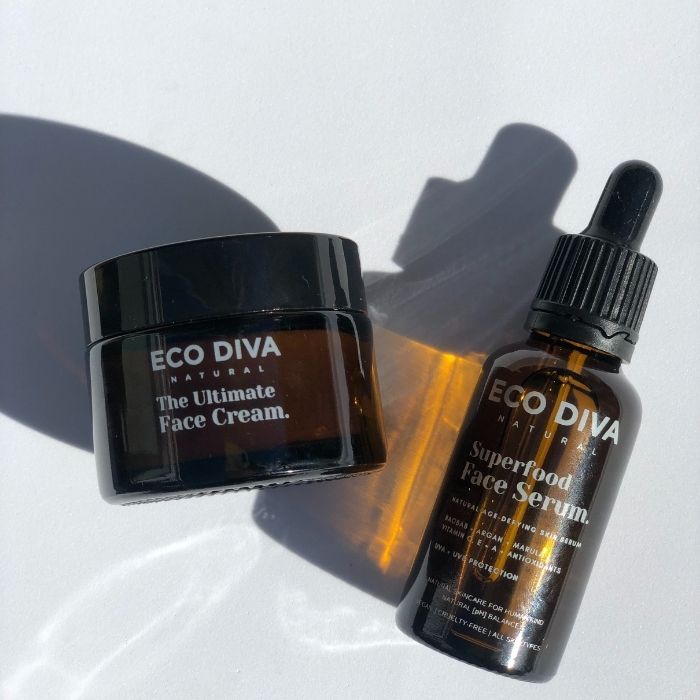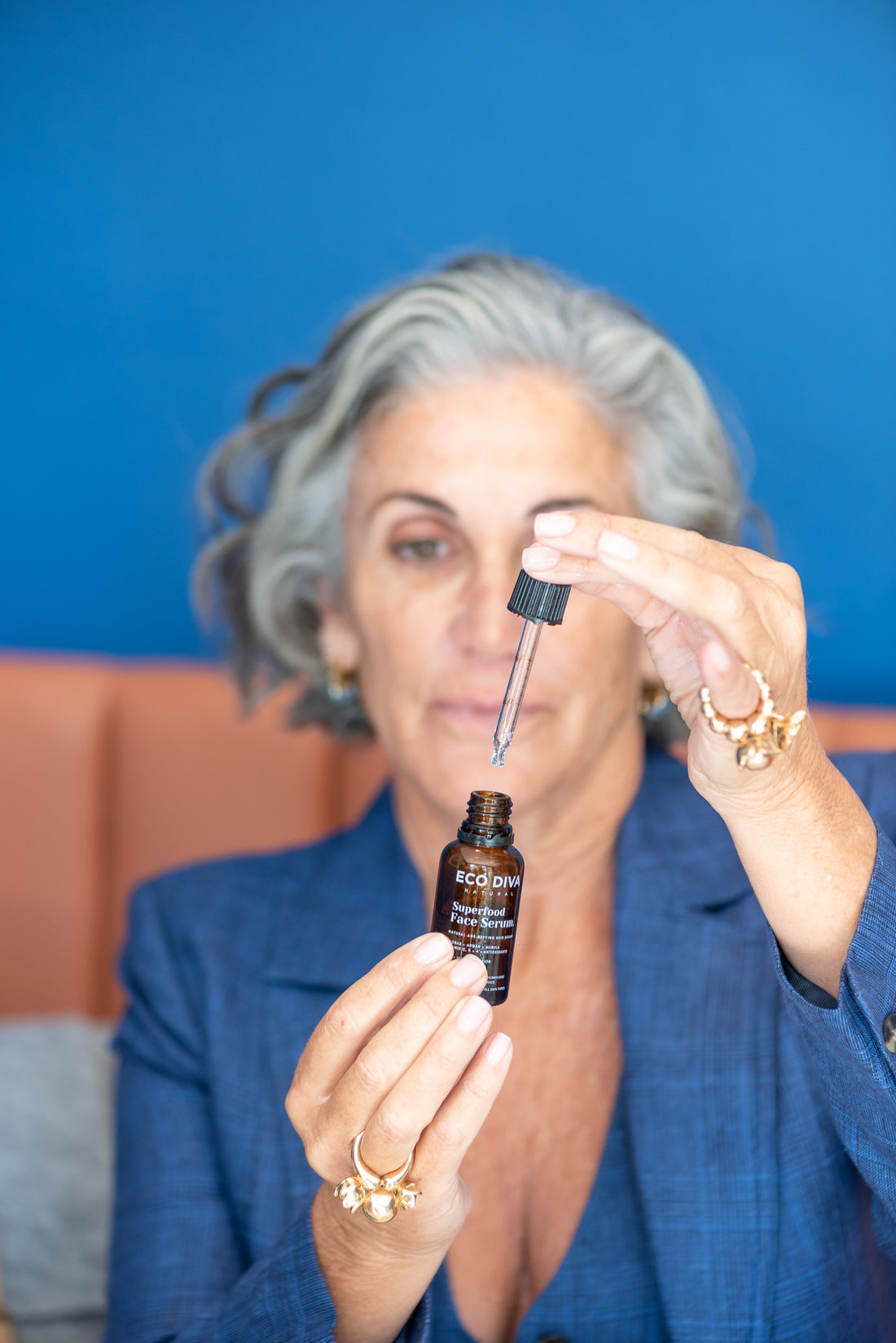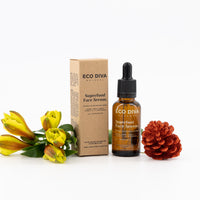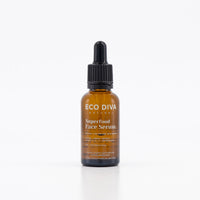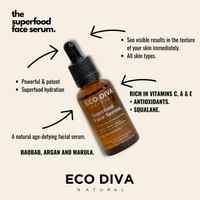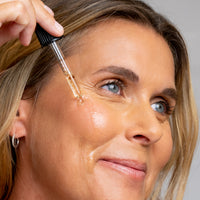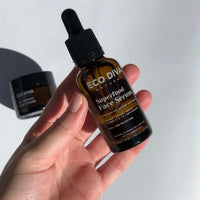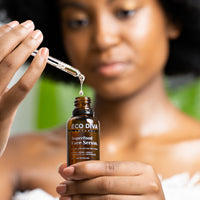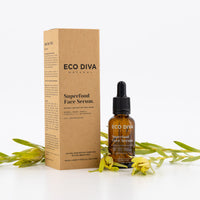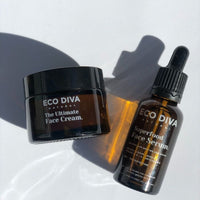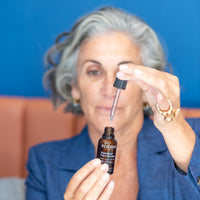 Superfood Face Serum - Hyaluronic Acid, Baobab, Marula, Argan, Vit C, A, E, Antioxidants & SPF
R 505.00
SAVE SAVE

• Save
Introducing our Superfood Face Serum, the ultimate age-defying solution to rejuvenate your skin. Infused with 7 nutrient-rich oils, this proactive aging serum is designed to deeply hydrate and moisturize your skin while reducing wrinkles and pigmentation. With visible results upon application, experience a natural glow that lasts all day. Our plant-powered actives are scientifically formulated to feed and re-balance your skin microbiome, providing long-lasting hydration and rejuvenation. Hyaluronic acid and squalene work together to improve skin elasticity, while vitamins C, A & E provide the ultimate antioxidant protection for your skin. UVA & UVB protection included. 30ml
The benefits of our Superfood Facial Serum don't stop there. It effectively smooths fine lines and wrinkles, reduces pigmentation and acne scarring, and creates a natural barrier to prevent and repair free radical damage.

Our product is vegan, cruelty-free, organic, and 100% natural. With Superfoods for skin, this serum is the ultimate solution for those seeking a natural, effective, and sustainable skincare routine.
This multitasking, multi-use serum can also be used as an effective beard oil, split ends treatment for hair and for smoothing cuticles on your fingers.
For all skin types. Safe to use during pregnancy.
Experience the power of nature and unlock the true potential of your skin with our Superfood Face Serum.

Ingredients: Amygdalus (Sweet Almond) Seed Oil, Sesamum Indicum (Sesame) Seed Oil, Caprylic/Capric Triglycerides, Prunus Armeniaca (Apricot) Kernel Oil, Prunus, Simmondsia Chinensis (Jojoba) Seed Oil, Argania Spinosa (Argan) Oil, Adansonia Digitata (Baobab) Seed Oil, Sclerocarya Birrea (Marula) Seed Oil, Isoamyl Laurate, Citrus Bergamia (Bergamot) Peel Oil, Vanilla Planifolia Extract, Citrus Paradisi (Grapefruit) Peel Oil, Melaleuca Alternifolia (Tea Tree) Oil, Citral, Limonene, Linalool.
Directions: After cleansing with Eco Diva Face Wash & Ecofoliant Skin Polish, apply 5-10 drops into your palm and gently warm serum between your hands. Apply to your face, eye and neck areas in circular motions until fully absorbed. Can also be used in conjunction with Eco Diva Face Cream for what we refer to as the #DoubleDivaGlow effect. 
Eco Diva formulations are designed to effectively balance hyper-pigmentation, acne, eczema, rosacea, psoriasis and scarring. We have a proactive approach to ageing by providing superfood nutrition & super hydration that evens out fine lines and wrinkles.

What if we told you that the key to great skin is actually hidden in your food? Believe it or not, superfoods are some of the best ingredients for skincare. Here's why: they're packed with antioxidants, vitamins, and minerals that help keep skin healthy and looking young. Plus, many superfoods have anti-inflammatory and antibacterial properties that can help clear up acne and other skin problems. So if you want gorgeous skin, eat your superfoods and ensure your clean skincare is superfood-rich. Superfoods are good for:
* Proactive Ageing- Reducing fine lines & wrinkles
* Collagen-Boosting - Promoting regeneration of collagen production
* Plumping & Firming - Tightening skin elasticity
* Calming & Soothing - Balancing skin conditions like acne, rosacea, eczema & pigmentation
* Healing - Nurturing & balancing scarring & sensitivity.
There is EVERY reason to choose superfoods, they offer plant-based magical healing properties that cannot be found in synthetics.

Customer Reviews
12/04/2023
I recommend this product
Love!
I have tried so many natural skincare ranges in the past 8+ years and I'm so impressed with all the products I have tried from Eco Diva. This face serum is so gorgeous :)
Kate

South Africa
08/30/2023
I recommend this product
Best Natural products and great make-up class
I am absolutely in LOVE with Eco Diva and the products. Not only do they leave your skin feeling and looking amazing by using everything from the face wash to their make-up but you can feel confident knowing that you are using a truly natural product that is not harmful to you or the environment and that is key as there are so many toxins out there and we need to minimize our exposure as much as possible! Also I got to experience the make-up class and for someone who doesn't wear al ot of make-up this was so refreshing and fun as I got to walk away knowing out to add that extra natural glow but also meeting some wonderful ladies. Thank you to the Eco Diva team!
Nix

South Africa
12/14/2022
Velvety feeling
I have dry skin but since I have been using Ecodiva superfood face serum I no longer experience any dryness and it makes my skin feels soft like velvet. The serum is so nice I use it everywhere even under my eyes. If I could I would add more ⭐️ stars. This is a Winner! I cannot do without! I strongly recommend.
Sandra M.

South Africa
12/15/2022
Eco Diva Natural
Sandra thank you so so much for your fabulous feedback. We are thrilled and appreciate you taking the time to review x
11/15/2022
Fenominal product
I just absolutely love this serum.
annalize s.

South Africa
11/17/2022
Eco Diva Natural
Thanks so much Annalize - so happy you're loving your Eco Diva xx
11/10/2022
The bomb
A beautifully light hard-working serum. I simply love it.
janis f.

South Africa
11/17/2022
Eco Diva Natural
Thank you so much. We are thrilled xx
10/20/2022
Great products
I am in love with these products. Finally found something that really delivers on its promises.
Phumudzo R.

South Africa
07/17/2022
Nourishing and hydrating, can't be without
Use this serum every night and it makes my sensitive skin feel hydrated. Absorbs beautifully with no oily feeling (no outbreaks after use). Smells divine. My skin feels hydrated and nourished.
Katerina S.

South Africa
07/14/2022
Serum
It feels & smells amazing on my skin. I'm only using it for a short while so I am not seeing any difference as yet
Glynis A.

South Africa
06/22/2022
The BEST serum ever
The Superfood Face Serum is by far the best serum I have ever used. Results are instant. My skin feels hydrated, moisturized and nourished. And the glow is next level.
Debs

South Africa
06/08/2022
My Skin is Glowing
I've never used a serum that works as well as this one. My skin feels so well hydrated. I combine my routine with the Ultimate Face Cream. It's next level. and you know that the superfoods are doing you a world of good. My skin glow is next level. Brilliant product.
Sandy S.

South Africa
06/06/2022
In Love
This is a must for your skin. Amazingly hydrating
Anya C.

South Africa