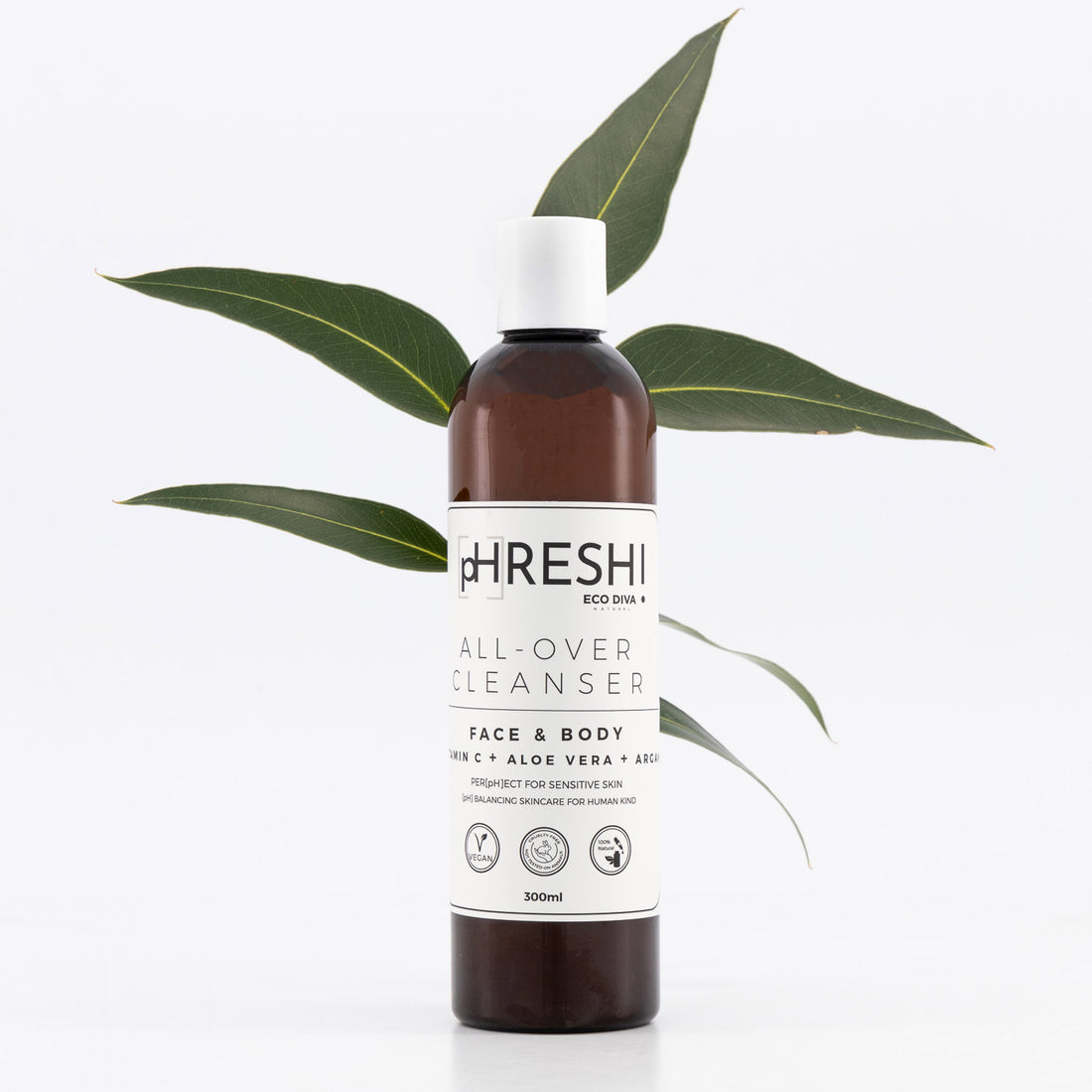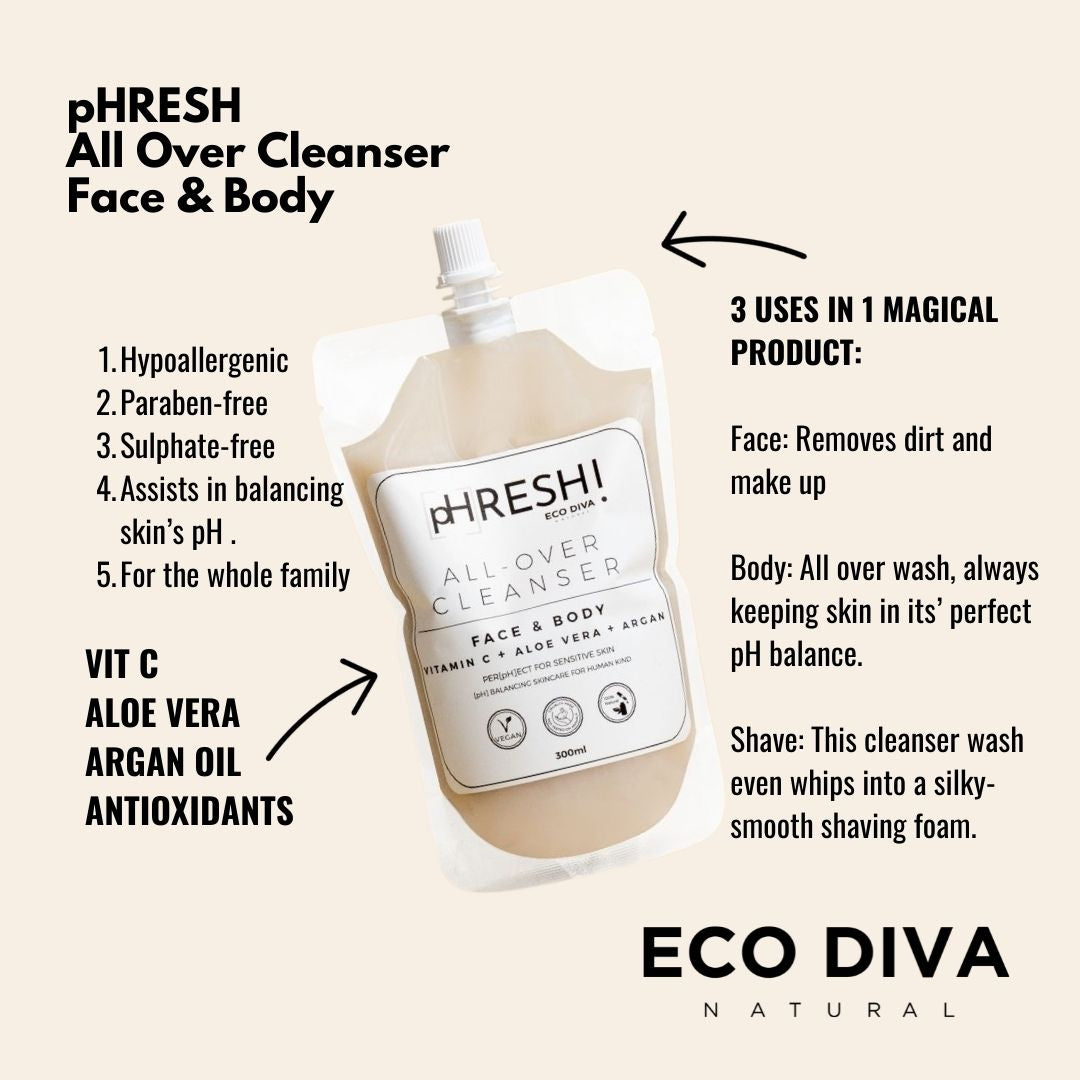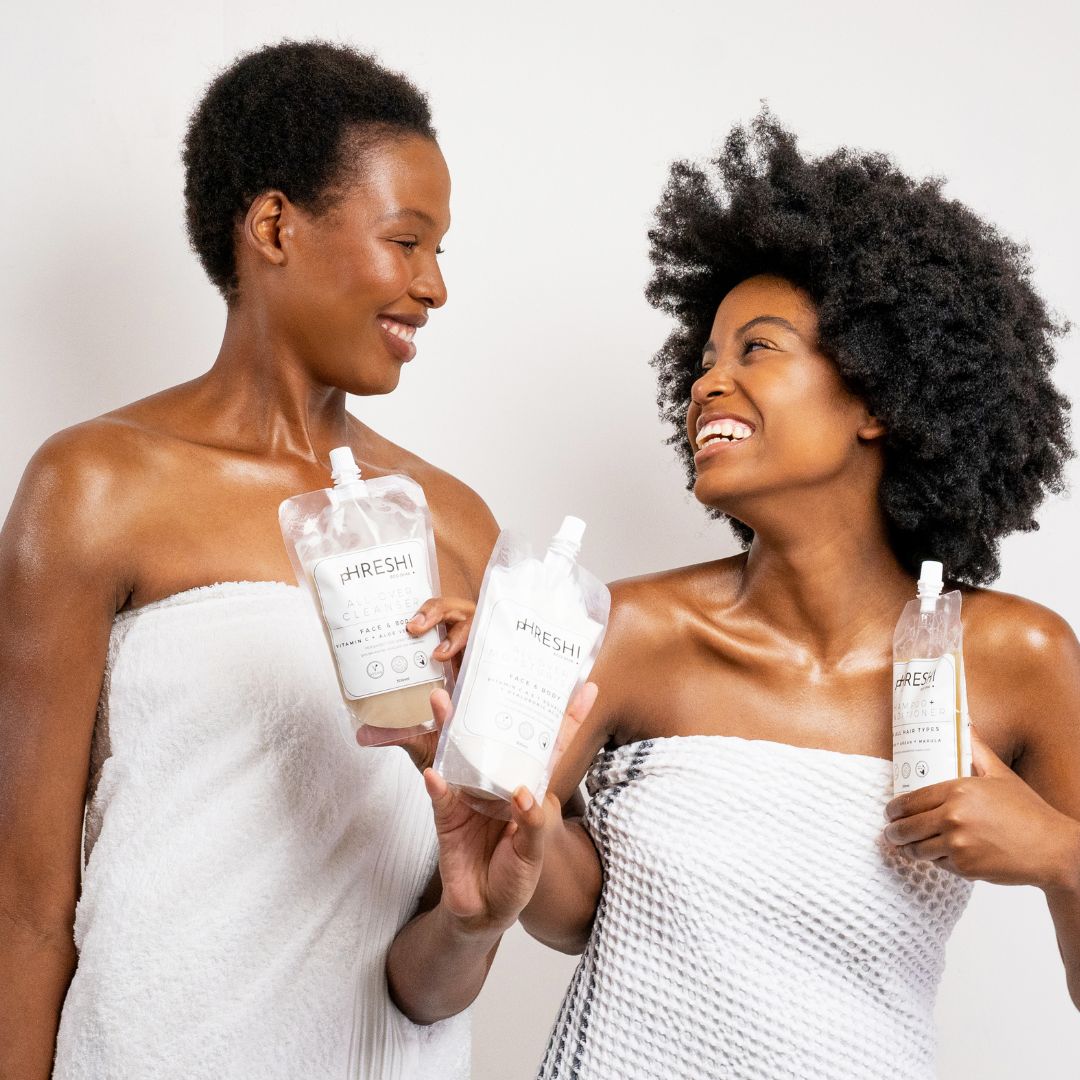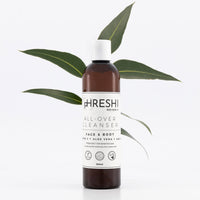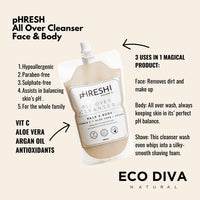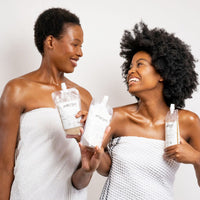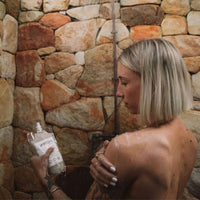 pHRESH All Over Cleanser Face & Body - Vit C, Aloe Vera, Argan Oil
R 195.00
SAVE SAVE

• Save
The Eco Diva pHresh family All-Over Cleanser Face and Body is a light pH balancing family-friendly, 100% natural wash with Vitamic C, Aloe Vera & Argan. Safe to use during pregnancy and for the whole family, including baby. 300ml
This easy-to-use, multipurpose, economical clean face and body wash is suitable for the whole family. Formulated to feed skin with plant-based nutrition, for perfect pH balance and a healthy glow. Stand out ingredients include: * Vitamin C - anti-aging, antioxidants, * Aloe Vera - antibacterial, hydrating, smoothing, *Argan Oil - deeply hydrating, calming
Multi-Use: 3 uses in 1:
Face: Removes dirt and make up
Body: All over wash, always keeping skin in perfect pH balance
Shave: Whips into a silky-smooth shaving foam
Get pHRESH skin everyday with this vegan, sulphate-free cleanser wash for face & body. Lightweight and for all skin types, you'll feel and see the difference after just one wash. pHRESH is vegan, cruelty-free and ocean-safe, offering amazing results with the all-natural, toxin-free ingredients. pHRESH, means fresh, and you'll see the results immediately.

For the whole family to enjoy. Safe to use during pregnancy and for baby.

*We've updated our packaging to be more user friendly with recycled PET bottles.
Product Information: 
Is hypoallergenic – YES

 

Paraben-free – YES
Sulphate-free – YES

 
The Eco Diva Philosophy:
Let's talk skin - The skin is the largest organ of the body, and mirrors our internal health. If fed with the correct, compatible, nutrients it will naturally balance and heal itself per[pH]ectly every day.
[pH] balance - Your skin pH much like life has its ups and downs. The sweet spot for your skin is 5.5-7 (neutral pH = 7). Our natural formulations work with you & your skin to keep pH as close to per[pH]ect as possible
Ingredients: Aqua (Water), Cocamidopropyl Betaine, Decyl Glucoside, Aloe Barbadensis Leaf Extract, Glycerin, Xanthan Gum, Bentonite, Argania Spinosa (Argan) Kernel Oil, Citrus Aurantium Bergamia (Bergamot) Fruit Oil, Juniperus Virginiana (Cedarwood) Oil, Benzyl Alcohol, Benzoic Acid, Dehydroacetic Acid, Citric Acid.
Directions: Pour a small amount into your hands & add water to lather. Wash face & body until you feel squeaky clean & pHRESH.
#getpHresh for all skin types
Eco Diva formulations are designed to effectively balance hyper-pigmentation, acne, eczema, rosacea, psoriasis and scarring. We have a proactive approach to ageing by providing superfood nutrition & super hydration that evens out fine lines and wrinkles.

What if we told you that the key to great skin is actually hidden in your food? Believe it or not, superfoods are some of the best ingredients for skincare. Here's why: they're packed with antioxidants, vitamins, and minerals that help keep skin healthy and looking young. Plus, many superfoods have anti-inflammatory and antibacterial properties that can help clear up acne and other skin problems. So if you want gorgeous skin, eat your superfoods and ensure your clean skincare is superfood-rich. Superfoods are good for:
* Proactive Ageing- Reducing fine lines & wrinkles
* Collagen-Boosting - Promoting regeneration of collagen production
* Plumping & Firming - Tightening skin elasticity
* Calming & Soothing - Balancing skin conditions like acne, rosacea, eczema & pigmentation
* Healing - Nurturing & balancing scarring & sensitivity.
There is EVERY reason to choose superfoods, they offer plant-based magical healing properties that cannot be found in synthetics.