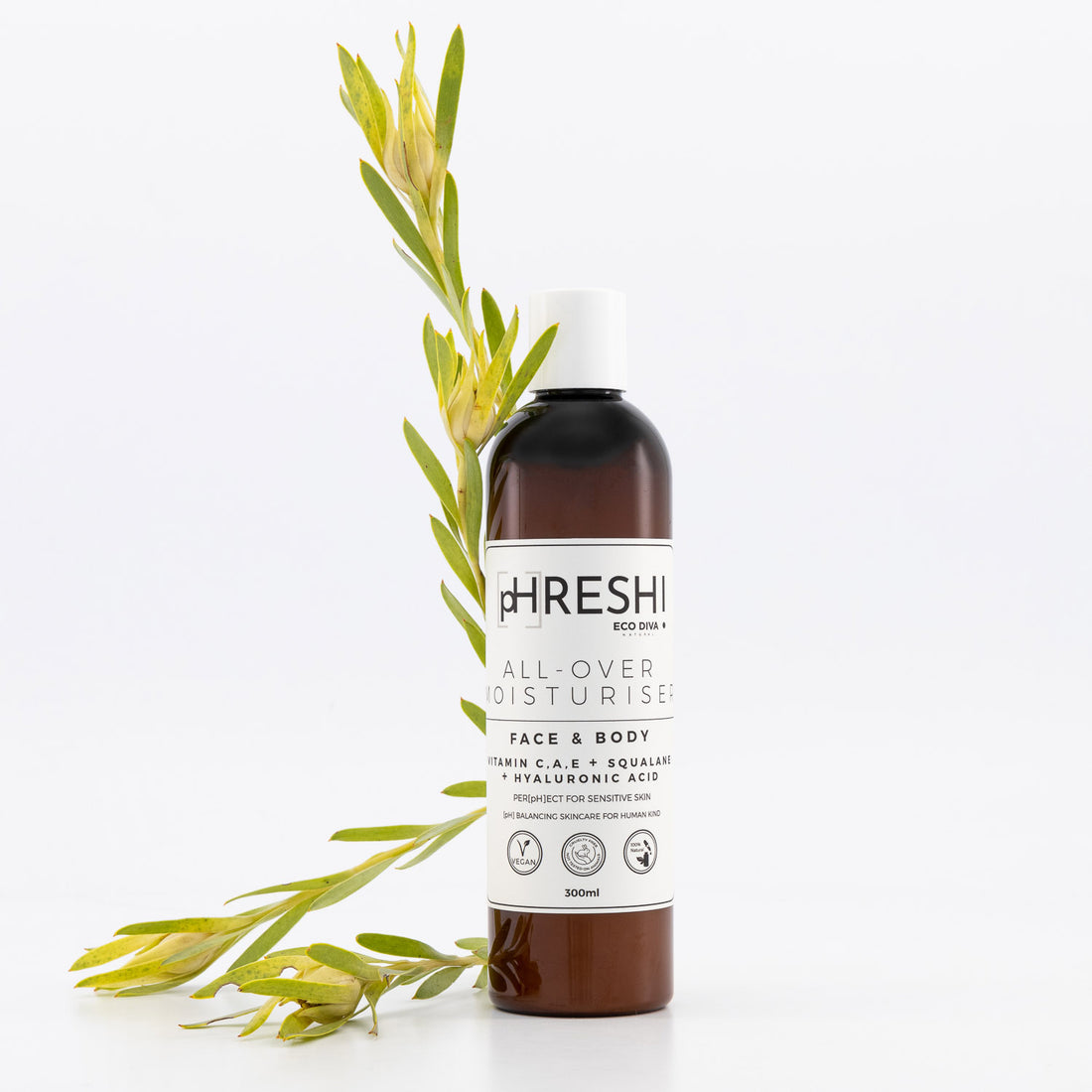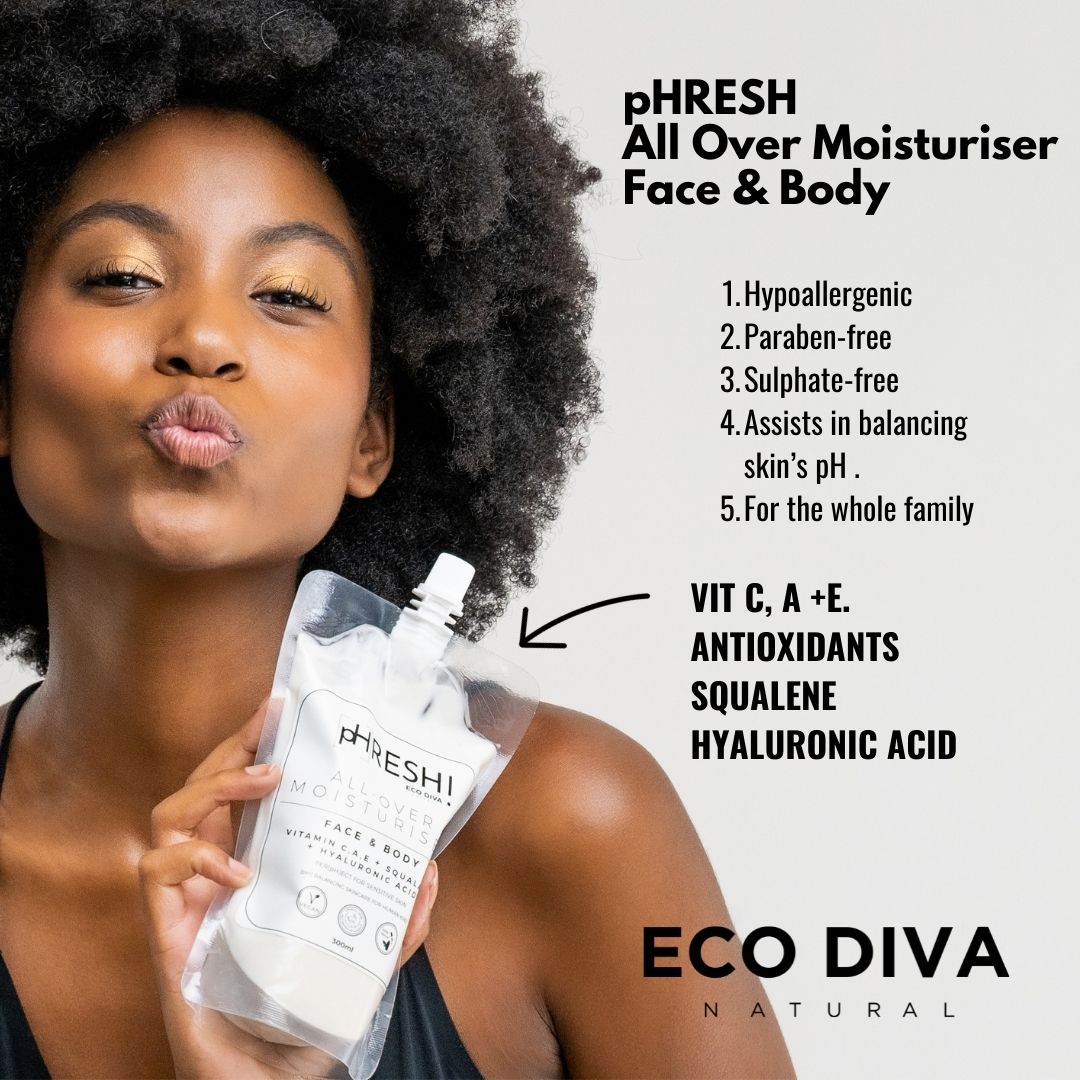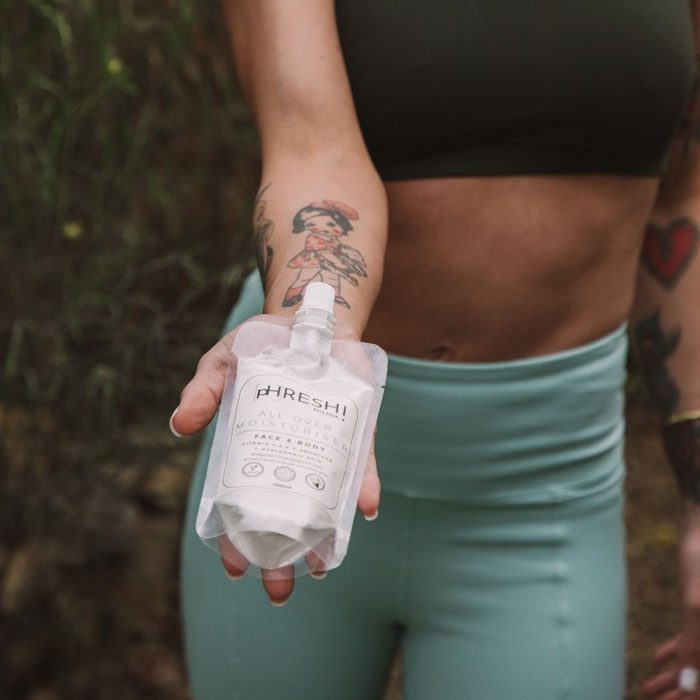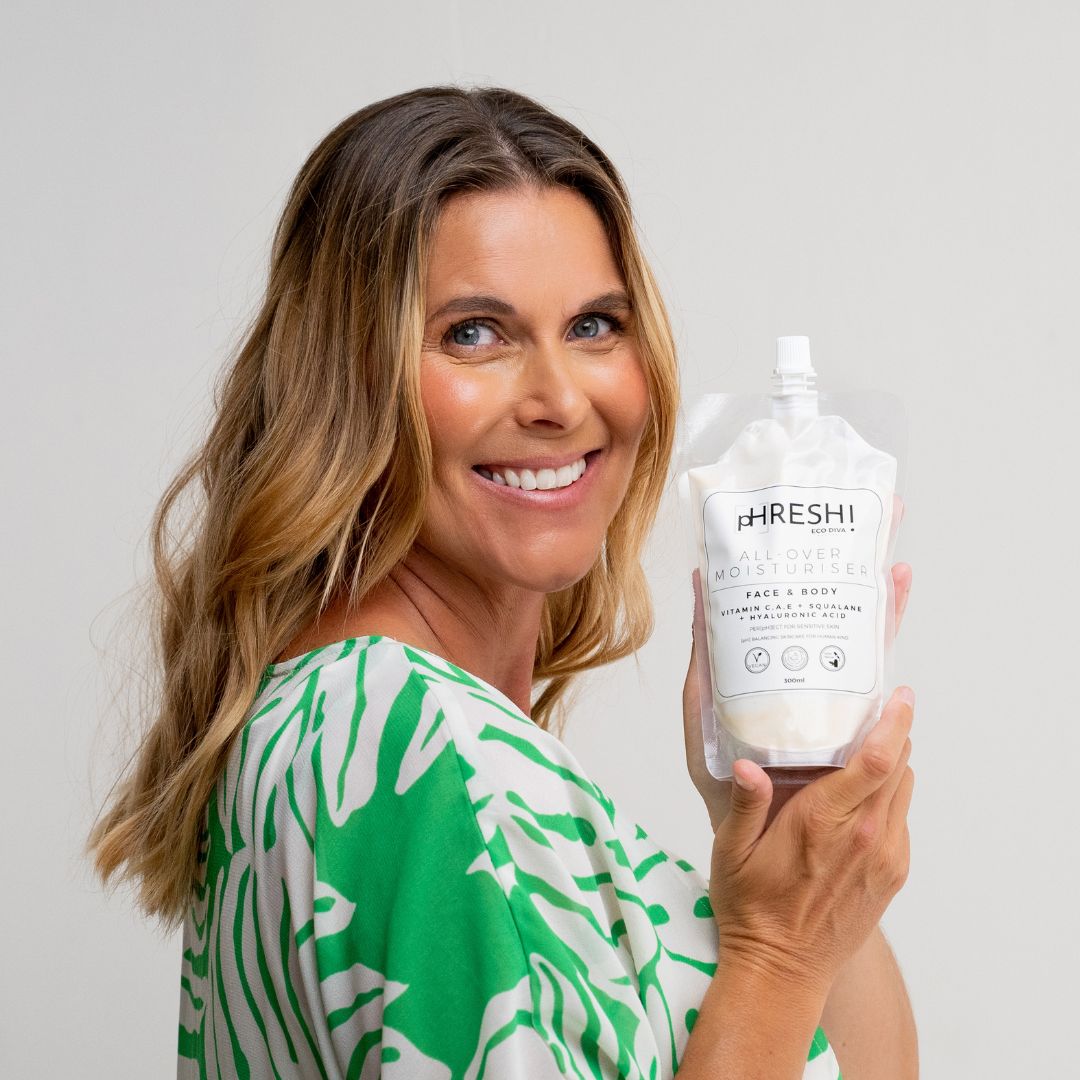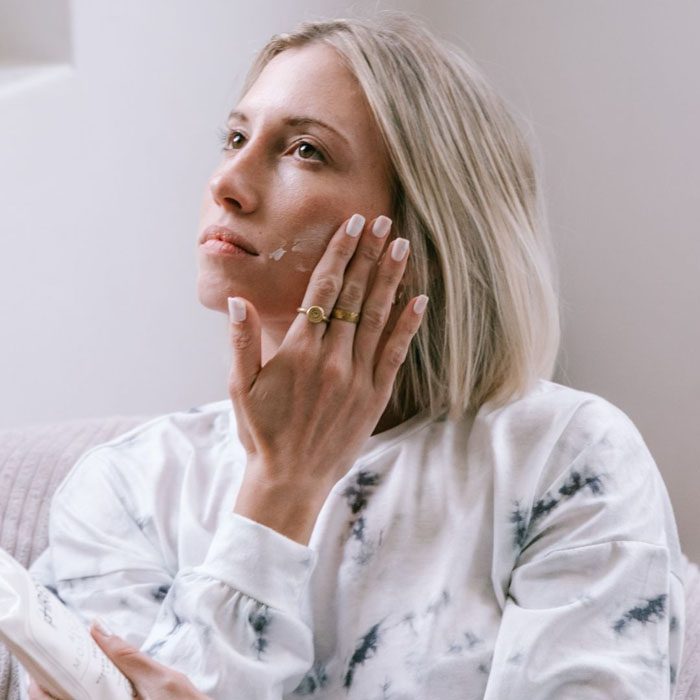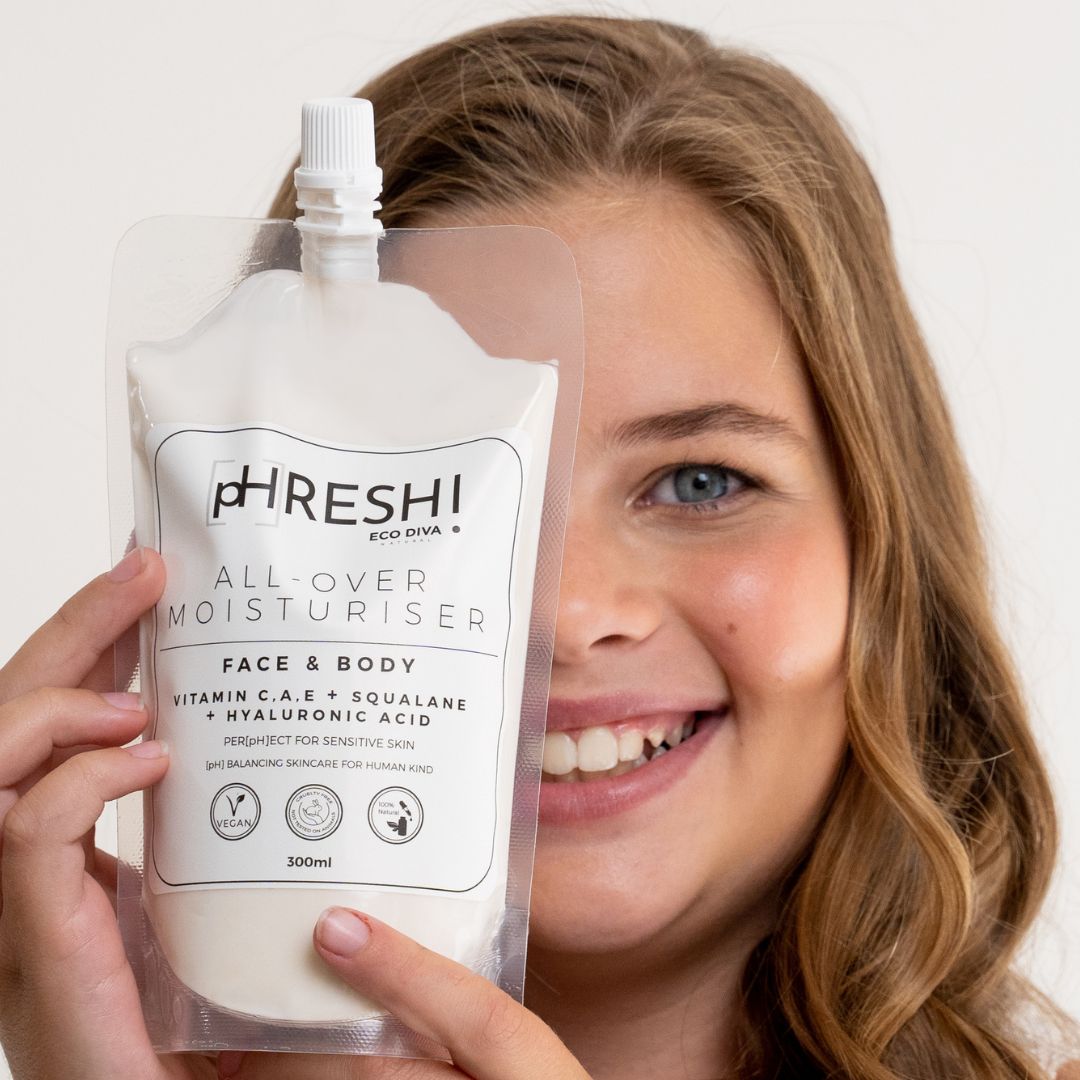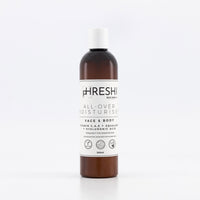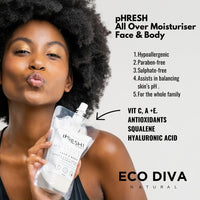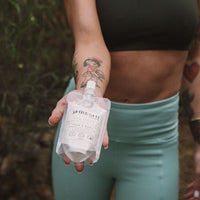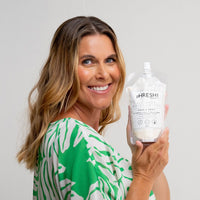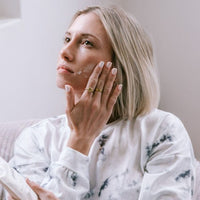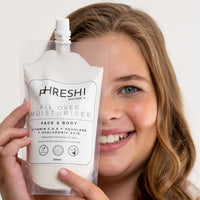 pHRESH All Over Moisturiser with Vit C, A, E, Squalane, Hyaluronic Acid
R 190.00
SAVE SAVE

• Save
Our Eco Diva pHresh All-Over Moisturiser is a light and nourishing cream lotion for your body and for the whole family. Rich in vitamin C,A,E, hyaluronic acide & squalane to keep skin in perfect pH. Multi-use and safe to use during pregnancy and for baby. 300ml
This 100% natural face and body lotion is light, healthy goodness for your skin. Contains vitamins and superfoods to promote healthy, glowing microbiome.
Lightweight and for all skin types, you'll feel and see the difference after just one application. pHresh is vegan, cruelty-free and ocean-safe, offering amazing results with the all-natural, toxin-free ingredients. pHresh, means fresh, and you'll see the results immediately.
An easy-to-use, multipurpose, economical clean moisturiser formulated to feed skin with plant-based nutrition. Get pHresh everyday.

*We've updated our packaging to be more user friendly with recycled PET bottles.
STAND OUT INGREDIENTS: 
Vitamins A, E & C - balances dark spots, redness, wrinkles, rough patches, excessive dryness
Squalene - anti-inflammatory properties that can reduce redness and swelling.
Hyaluronic Acid - offers deep hydration, balances wrinkles, nourishment and  promotes a glowing complexion. Contains properties that help to fight free-radical damage that causes premature ageing and pigmentation. Always maintaining perfect skin pH.
Product Information: 
Is hypoallergenic – YES

 

Paraben-free – YES
Sulphate-free – YES

 
The Eco Diva Philosophy:
Let's talk skin - The skin is the largest organ of the body, and mirrors our internal health. If fed with the correct, compatible, nutrients it will naturally balance and heal itself per[pH]ectly every day.
[pH] balance - Your skin pH much like life has its ups and downs. The sweet spot for your skin is 5.5-7 (neutral pH = 7). Our natural formulations work with you & your skin to keep pH as close to per[pH]ect as possible
Ingredients: Aqua (Water), Helianthus Annuus (Sunflower) Seed Oil, Cocos Nucifera (Coconut) Oil, Cetyl Alcohol, Cetearyl Alcohol, Cetearyl Glucoside, Glycerin, Squalane, Sodium Hyaluronate, Xanthan Gum, Bentonite, Glyceryl Stearate, Citrus aurantium bergamia (Bergamot) Fruit Oil, Tocopheryl Acetate, Citrus Aurantium dulcis (Orange) Peel Oil, Juniperus Virginiana (Cedarwood) Oil, Benzyl Alcohol, Benzoic Acid, Dehydroacetic Acid, Tocopherol, Citric Acid.
Directions:  Morning & evening after cleansing face, pour a small amount onto your hands & apply to face in circular motions until absorbed. Apply liberally to body for the ultimate moisture balance.
#getpHresh for all skin types
Eco Diva formulations are designed to effectively balance hyper-pigmentation, acne, eczema, rosacea, psoriasis and scarring. We have a proactive approach to ageing by providing superfood nutrition & super hydration that evens out fine lines and wrinkles.

What if we told you that the key to great skin is actually hidden in your food? Believe it or not, superfoods are some of the best ingredients for skincare. Here's why: they're packed with antioxidants, vitamins, and minerals that help keep skin healthy and looking young. Plus, many superfoods have anti-inflammatory and antibacterial properties that can help clear up acne and other skin problems. So if you want gorgeous skin, eat your superfoods and ensure your clean skincare is superfood-rich. Superfoods are good for:
* Proactive Ageing- Reducing fine lines & wrinkles
* Collagen-Boosting - Promoting regeneration of collagen production
* Plumping & Firming - Tightening skin elasticity
* Calming & Soothing - Balancing skin conditions like acne, rosacea, eczema & pigmentation
* Healing - Nurturing & balancing scarring & sensitivity.
There is EVERY reason to choose superfoods, they offer plant-based magical healing properties that cannot be found in synthetics.

Customer Reviews
100
reviewers would recommend this product
Write a Review
07/28/2023
I recommend this product
Glowing
I'm enjoying the body oil, first saw it on Superbalist, decided to give it a try, I don't regret ever making that decision worth every cent.
Thembi S.

South Africa
03/27/2023
I recommend this product
What a pHresh idea!
I absolutely love the feel of this product on my skin. What's even better is that I know the ingredients aren't harming me or affecting my hormone balance negatively. Well worth trying.
Rene C.

South Africa
08/25/2022
pHresh cleanser & moisturizer
From the very first wash with the cleanser and application of the moisturizer, I noticed a difference in my skin. My skin was bright, clear, and moisturized and I felt confident going without make up. I love these products, especially for traveling as it's so convenient to pop into my toiletry bag. Definitely recommend
Claudia K.

South Africa
08/09/2022
Phresh Face and Body lotion
It felt super light and "flowey" on the skin. A little bit goes a long way, for sure. What I noticed: All the other body creams would still be "on" your skin the next time you bath or shower. This product doesn't do this - I would love to think it is absorbed well into the skin, since I don't feel a remnant of putting it on my skin a couple of hours earlier. Also love the fact that what I put on my skin is GOOD for my skin Will keep using this and trusting for a difference in good time. Thank you Ecodiva team!
Madelein G.

South Africa
07/17/2022
Lovely for body and face
Love this moisturiser! Only the scent could be slightly more defined. But is very hydrating, fast absorbing and great for my sensitive skin.
Katerina S.

South Africa