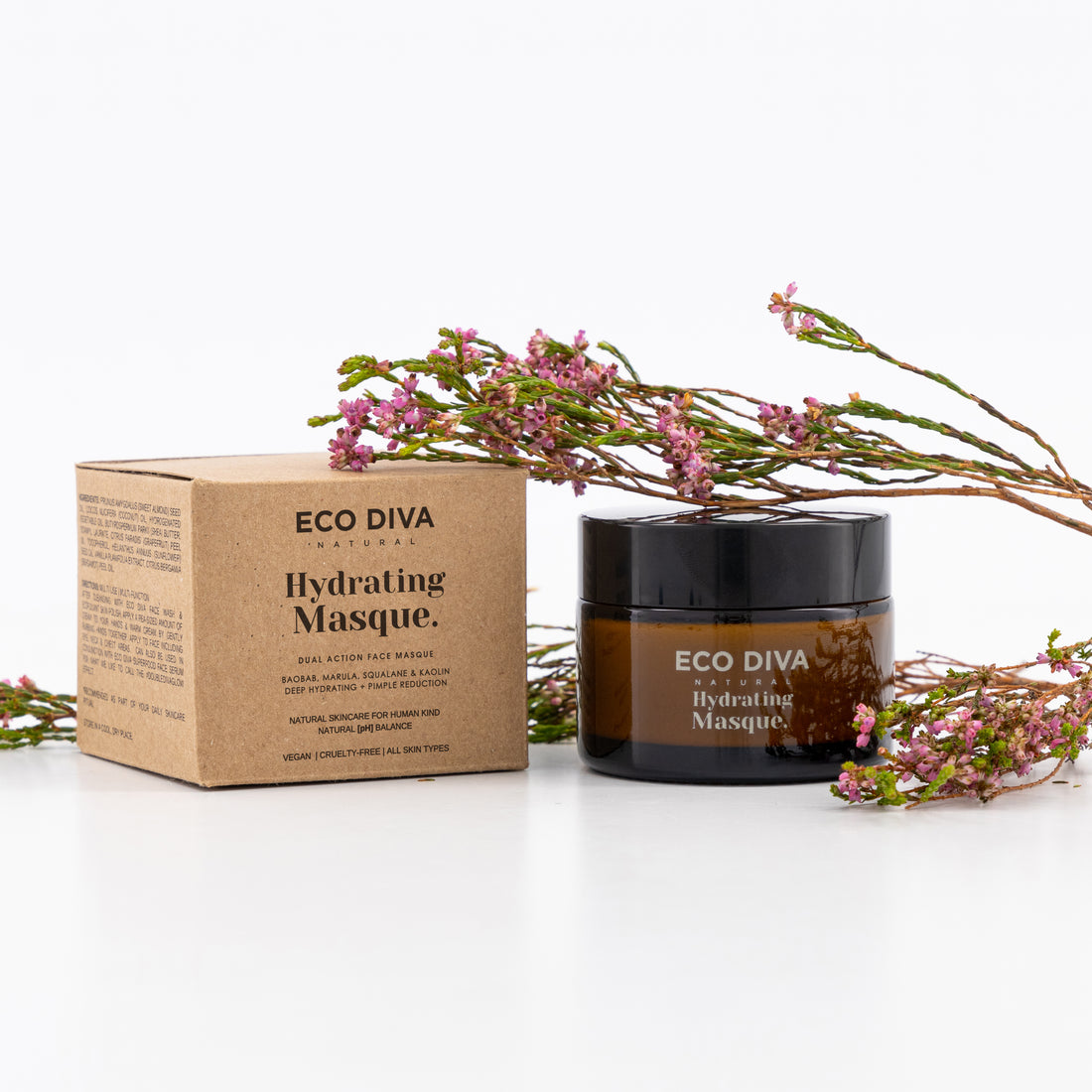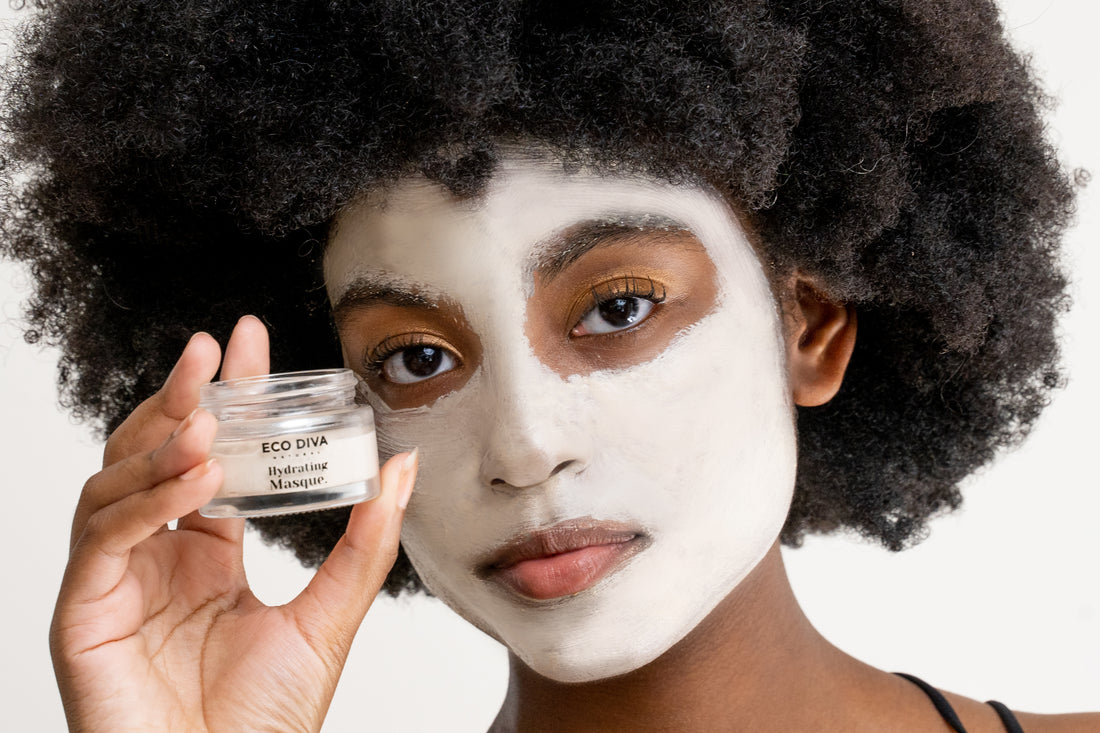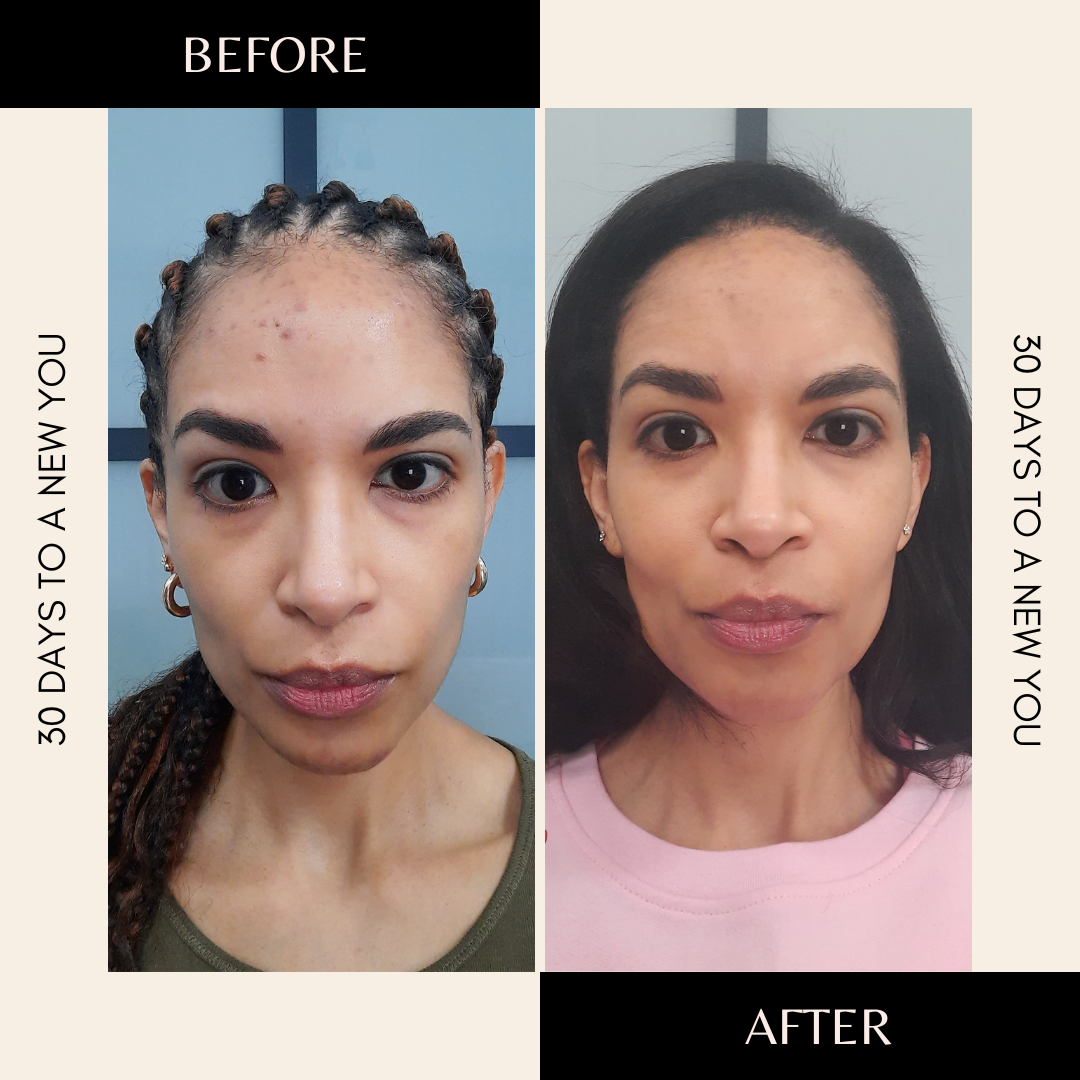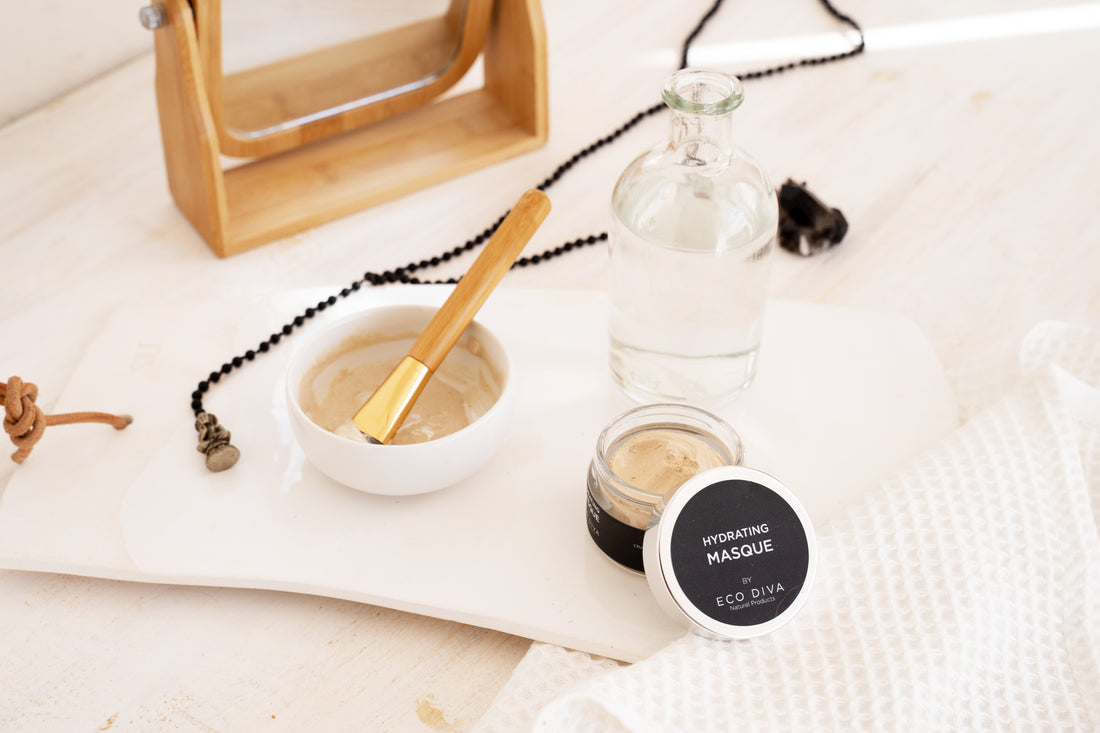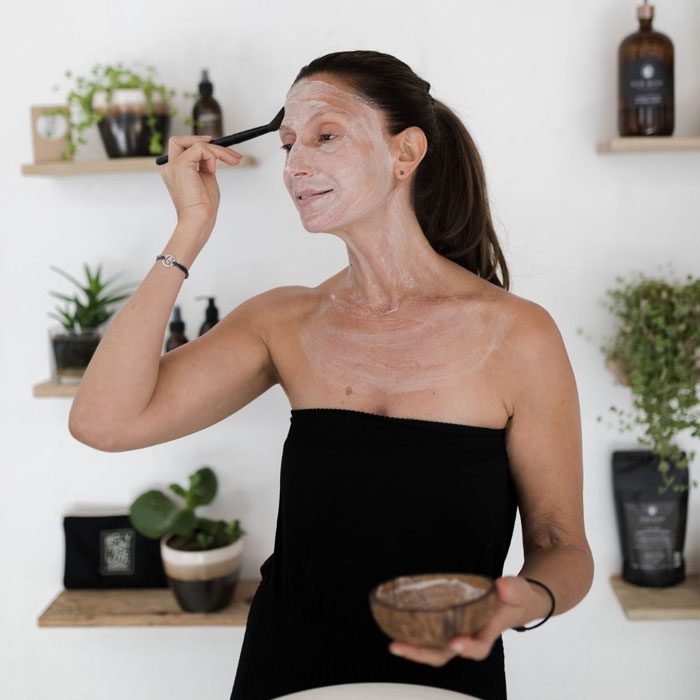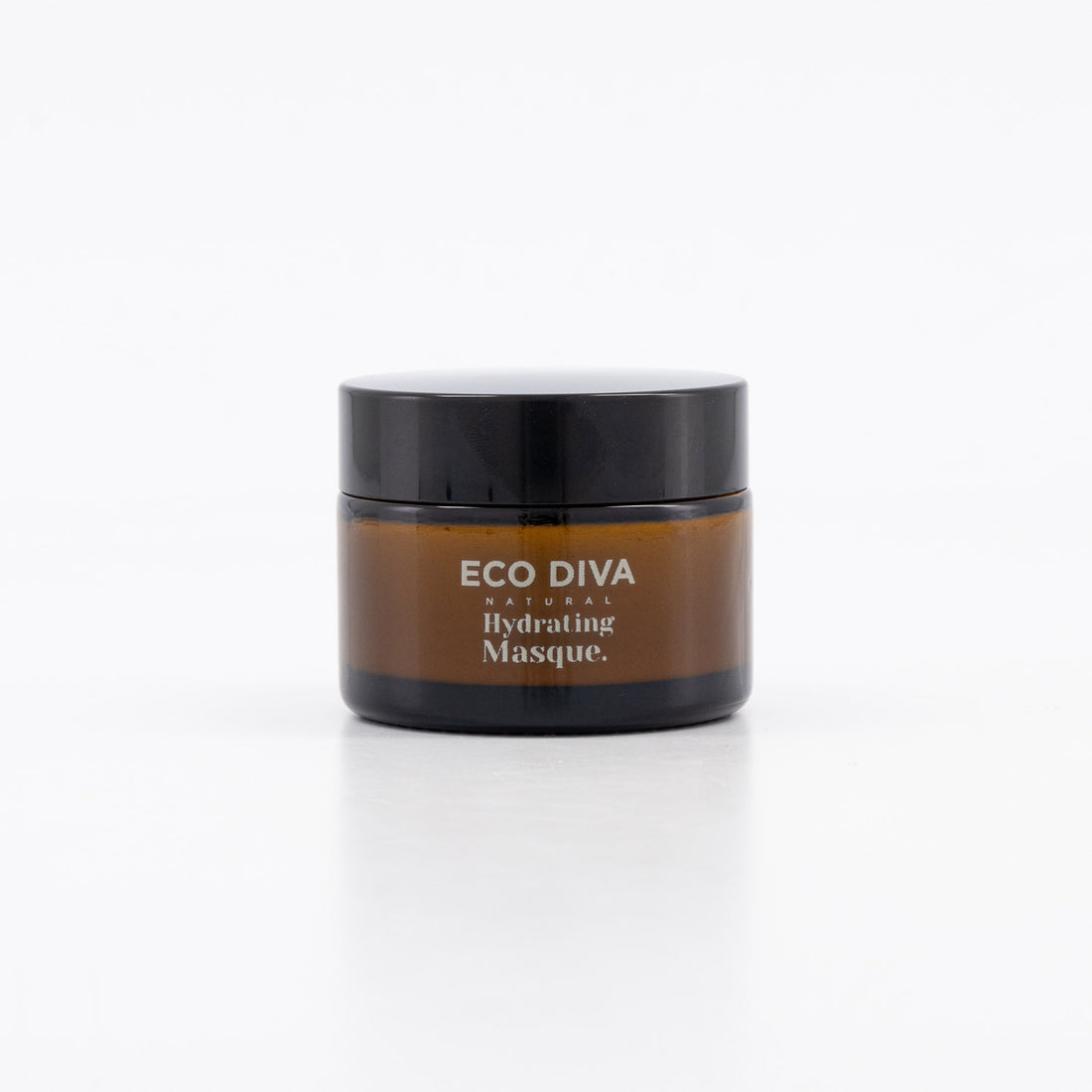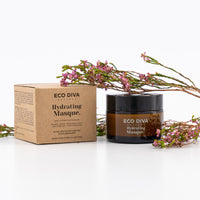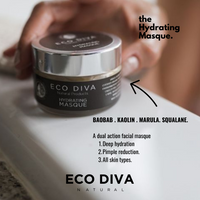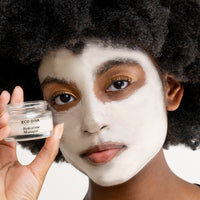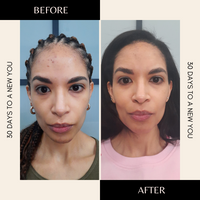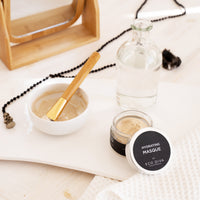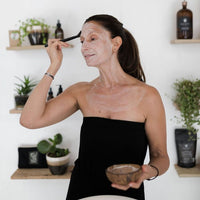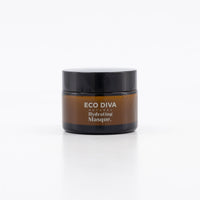 Hydrating Masque - Hydration & Pimple Reduction with Baobab, Marula, Squalane, Kaolin
R 460.00
SAVE SAVE

• Save
The Eco Diva Natural Hydrating Facial Masque is the ultimate solution for dry, irritated, and breakout-prone skin. Its dual-action formula is enriched with superfood nutrients such as baobab, marula, squalane, and kaolin, which work together to restore your skin's natural balance. Experience a soothing and relaxing self-care experience with the Hydrating Masque. It's super-effective in feeding your skin with superfood nutrients to balance your skin microbiome and offer the ultimate glow. 50g
Firstly, the kaolin clay deeply cleanses your pores, removes impurities, and eliminates dead skin cells, acting as a spot corrector for breakouts. You can apply a small amount of the masque on the affected area before bed, sleep with it overnight, and remove it in the morning to see visible results.
Secondly, the deeply hydrating ingredients in the masque rejuvenate and revitalize your skin, bringing back your natural glow. The concentrated vitamins and skin nutrients help your skin to recover from the damage that leads to aging while enhancing barrier properties.
When used in combination with the Eco Diva face range, this masque assists in balancing the skin's pH, calms, soothes, and smooths irritated skin, deeply hydrates, brings moisture back into balance, offers Omega rich fatty acids 6 & 9, and increases skin elasticity and moisture. Additionally, it contains antioxidant vitamins C & E, which shield your skin from free radicals that cause skin aging.
Experience a soothing and relaxing self-care experience with the Eco Diva Natural Hydrating Masque. It's super-effective in banishing pimples and breakouts overnight while feeding your skin with superfood nutrients to balance your skin microbiome.
This product is also available in our mini solution sets.
_
Eco Diva is a clean, vegan, cruelty-free, dermaceutical skincare range, formulated with superfood nutrients to effectively balance skin pH. When skin is pH balanced, you can expect to experience healthy, glowing, younger looking skin every day.
With Eco Diva's dermaceutical range, hyper-pigmentation, psoriasis, eczema, premature-ageing and acne are a thing of the past. Just wave bye-bye, because it's easy to discover your perfect pH balance with correctly aligned derma-nutrients.  
Ingredients: Water (Aqua), Adansonia Digitata (Baobab) Fruit Powder, Kaolin, Oryza Sativa (Rice) Bran Powder, Cocos Nucifera (Coconut) Oil, Sclerocarya Birea (Marula) Seed Oil, Melaleuca Alternifolia (Tea Tree) Oil, Rosmarinus Officinalis (Rosemary) Oil, Cympobogon Schoenanthus (Lemongrass) Oil, Mentha Spicata (Spearmint) Oil, Xanthan Gum, Dehydroacetic Acid, Benzyl Alcohol, Limonene, Linalool, Citral, Eugenol, Geraniol, Citronellol. 
Directions: After cleansing your face, apply mask all over face and neck (avoiding eye area). Leave on for 20 minutes. Mask will harden. Remove with warm water and apply Hydra Mist to freshen followed by Face Cream or Face Serum.
Eco Diva formulations are designed to effectively balance hyper-pigmentation, acne, eczema, rosacea, psoriasis and scarring. We have a proactive approach to ageing by providing superfood nutrition & super hydration that evens out fine lines and wrinkles.

What if we told you that the key to great skin is actually hidden in your food? Believe it or not, superfoods are some of the best ingredients for skincare. Here's why: they're packed with antioxidants, vitamins, and minerals that help keep skin healthy and looking young. Plus, many superfoods have anti-inflammatory and antibacterial properties that can help clear up acne and other skin problems. So if you want gorgeous skin, eat your superfoods and ensure your clean skincare is superfood-rich. Superfoods are good for:
* Proactive Ageing- Reducing fine lines & wrinkles
* Collagen-Boosting - Promoting regeneration of collagen production
* Plumping & Firming - Tightening skin elasticity
* Calming & Soothing - Balancing skin conditions like acne, rosacea, eczema & pigmentation
* Healing - Nurturing & balancing scarring & sensitivity.
There is EVERY reason to choose superfoods, they offer plant-based magical healing properties that cannot be found in synthetics.

Customer Reviews
100
reviewers would recommend this product
Write a Review