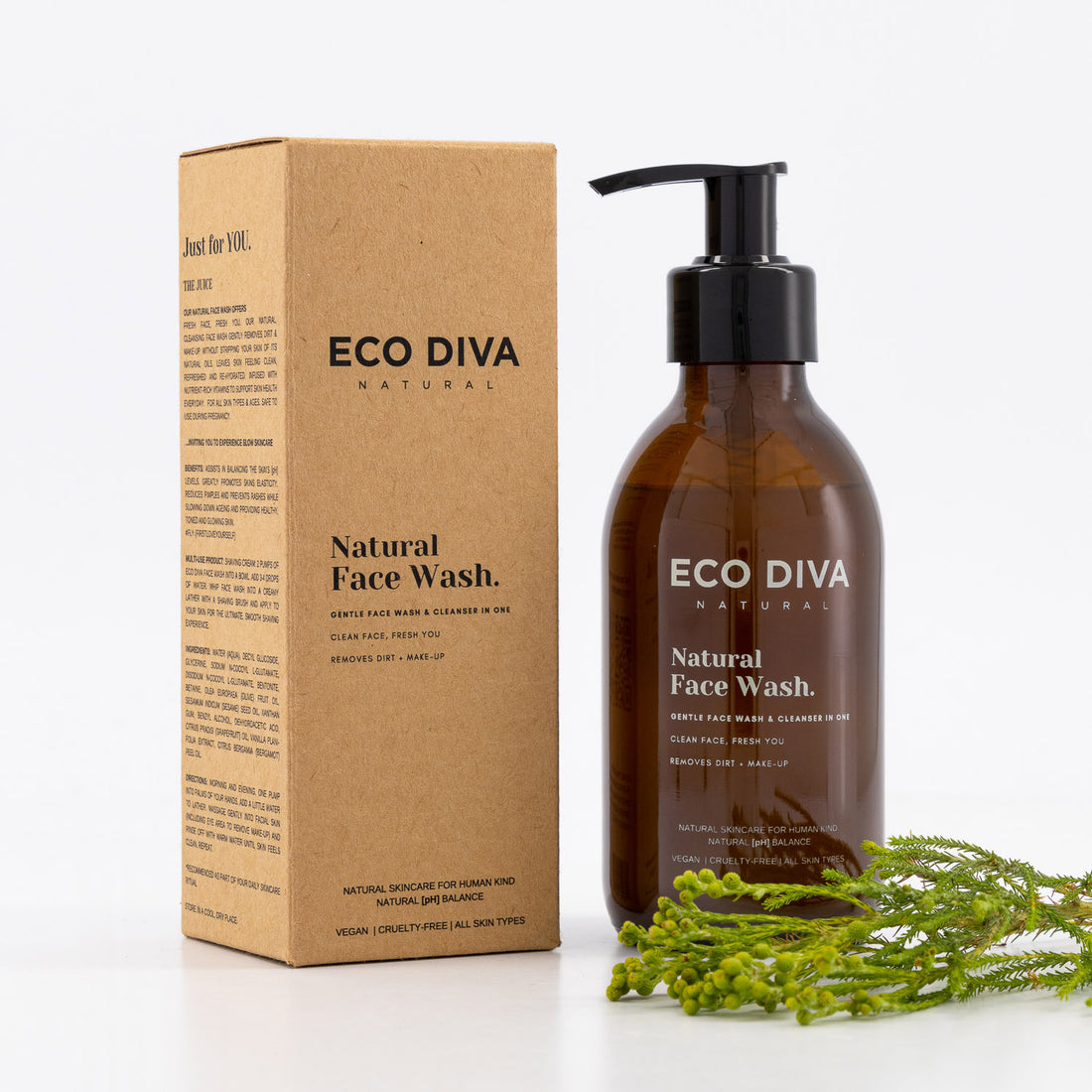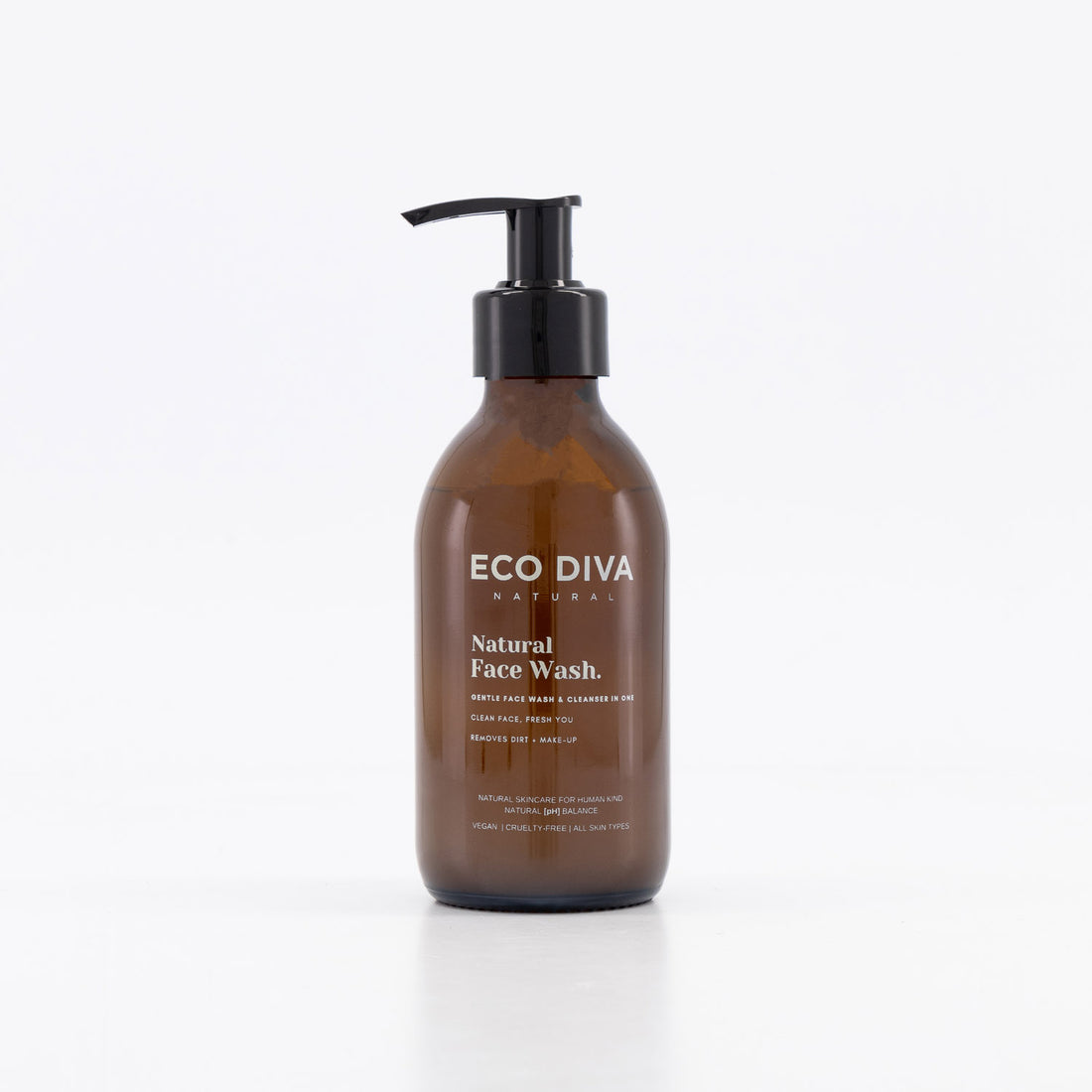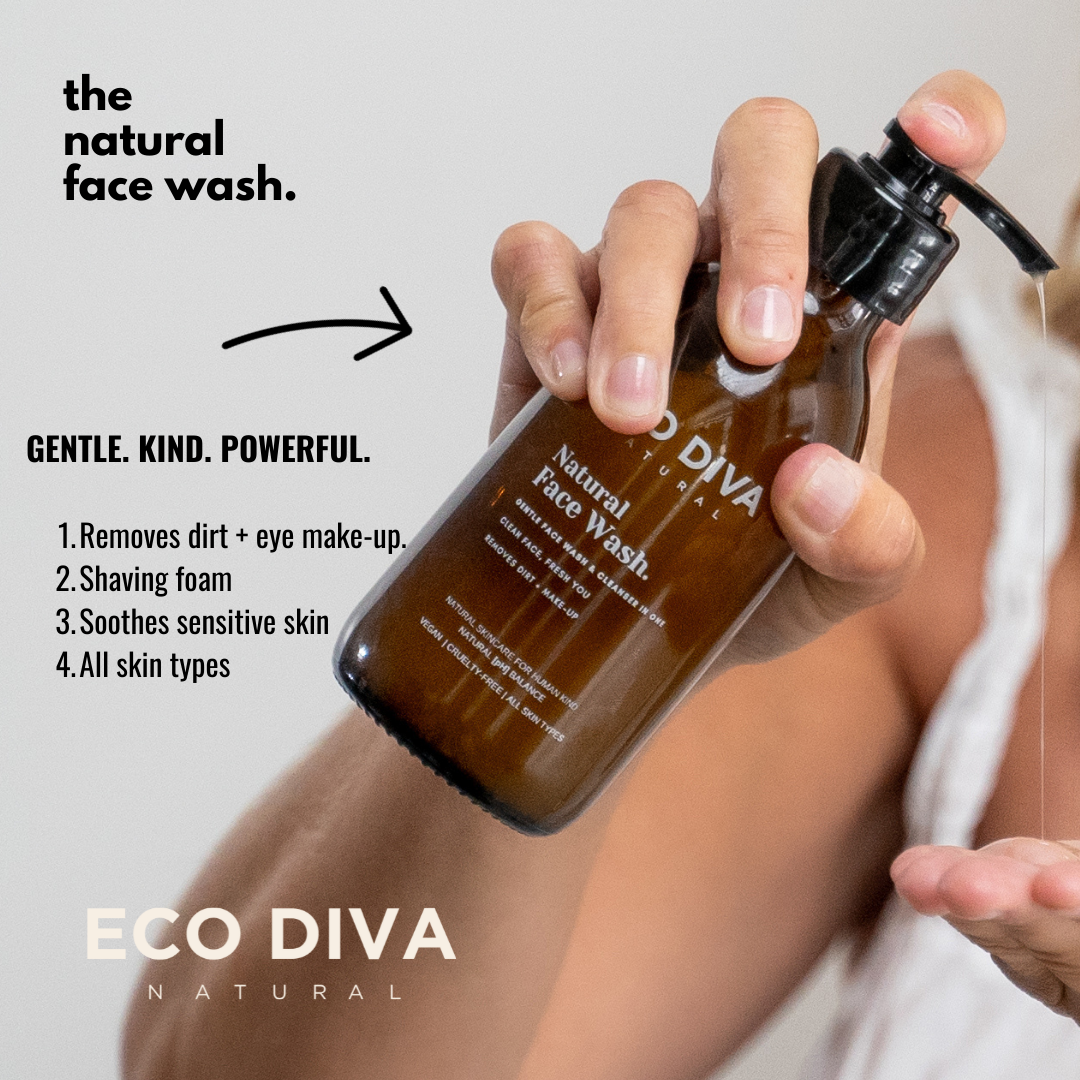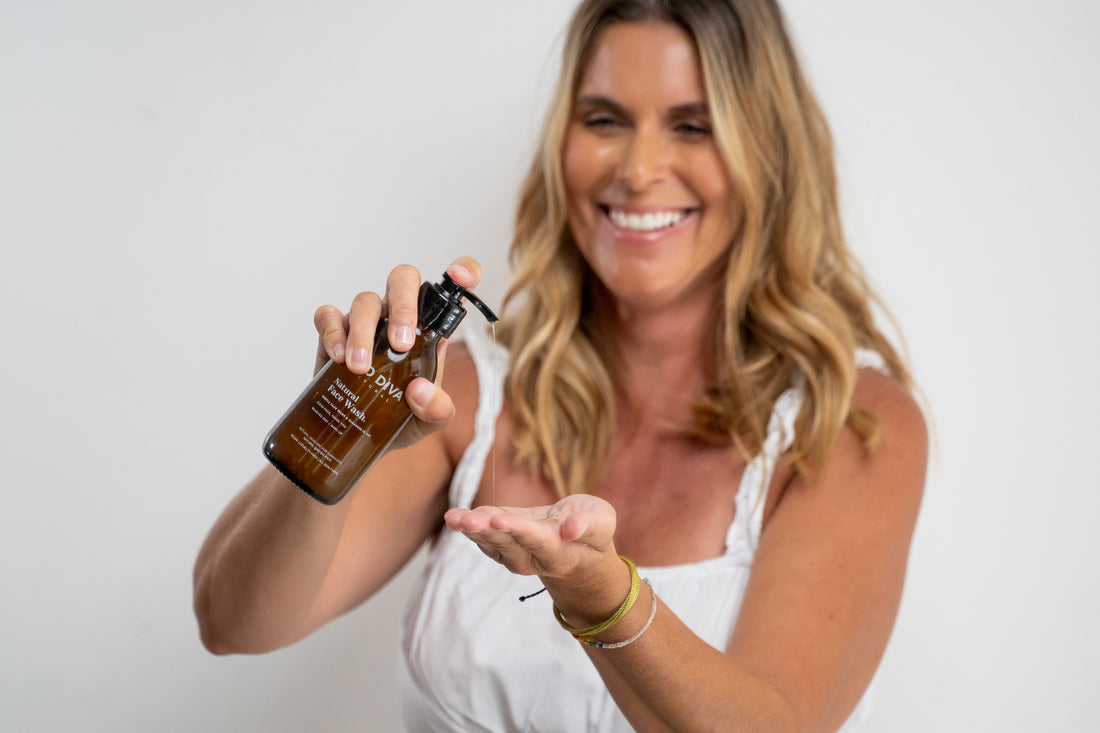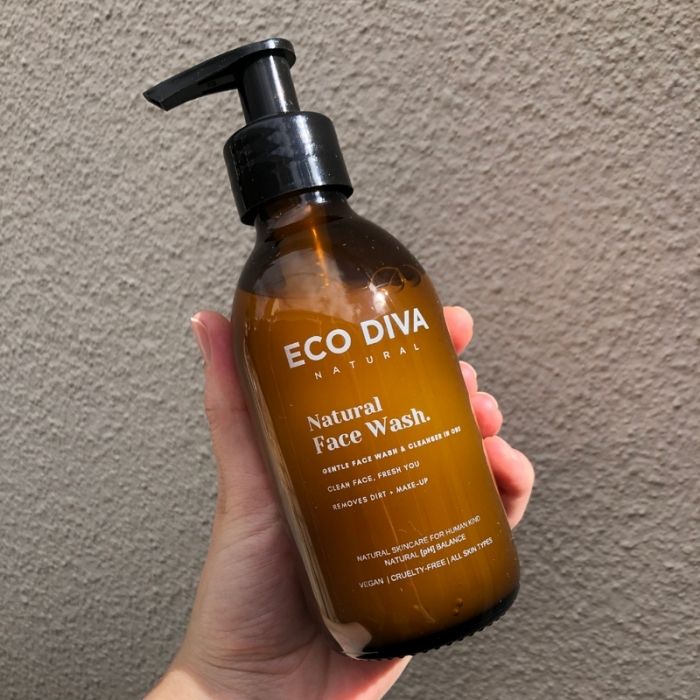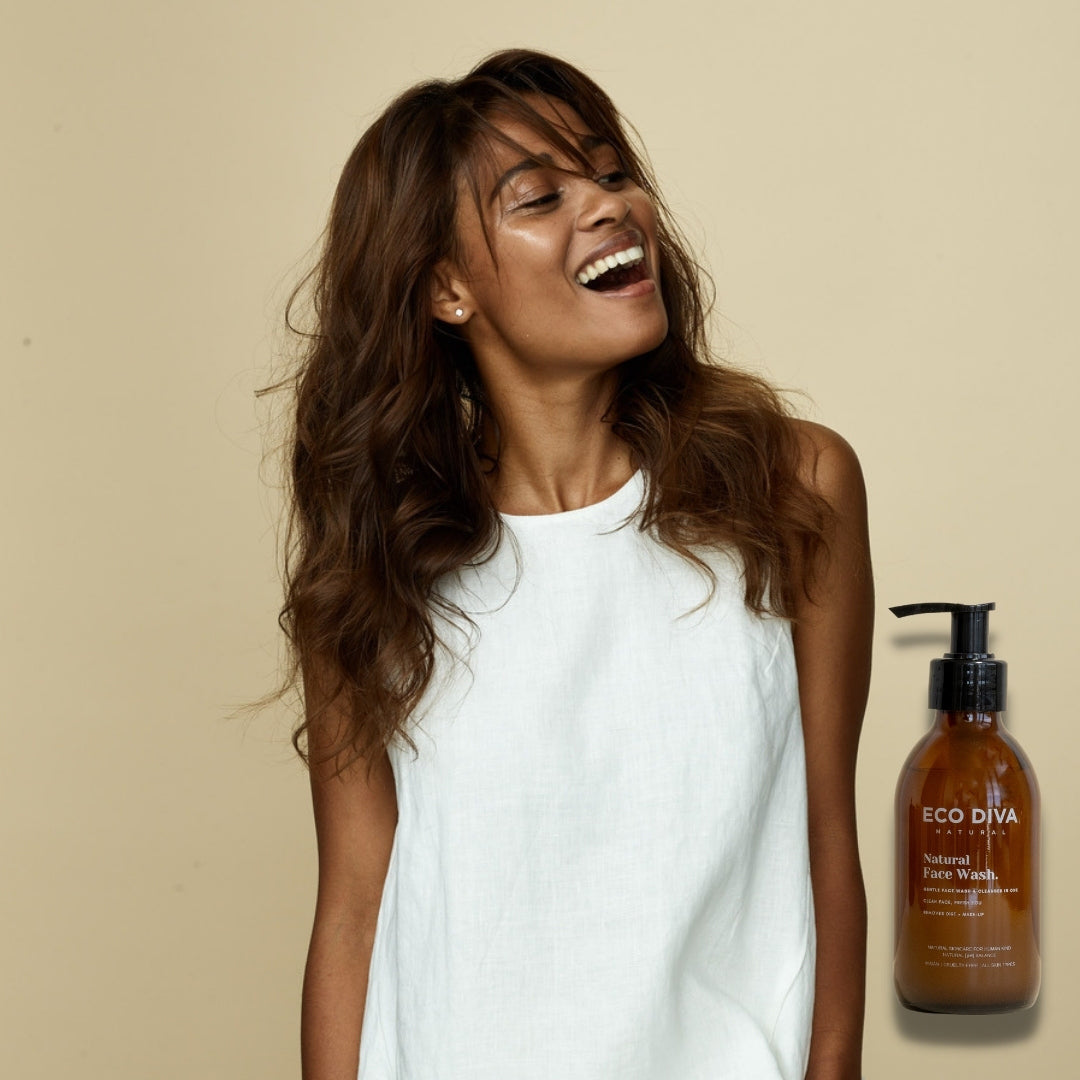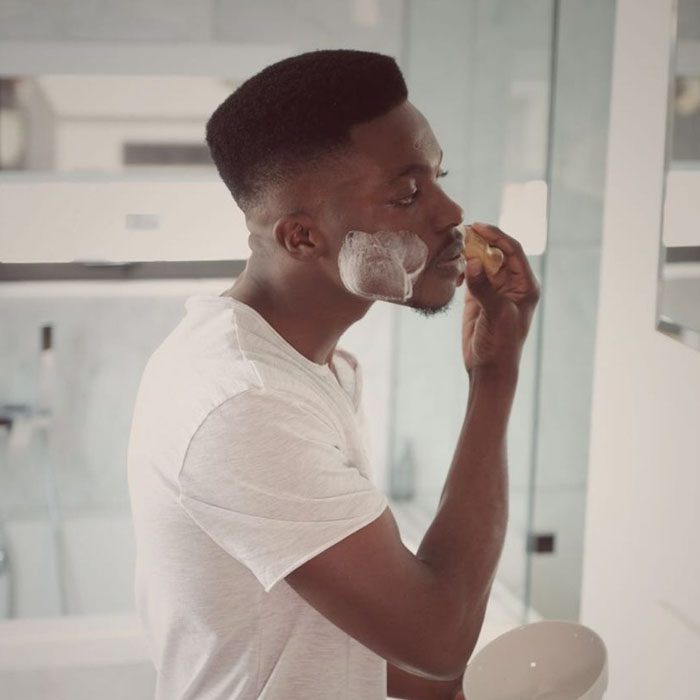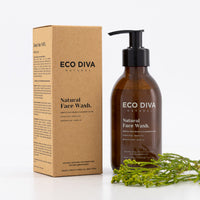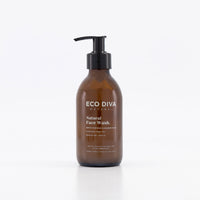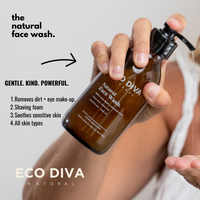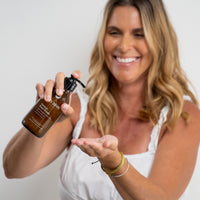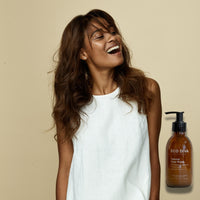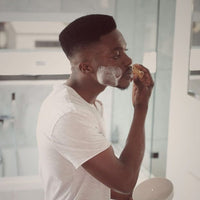 The Natural Face Wash - with Vit C & Antioxidants. Removes Dirt & Make-Up
R 405.00
SAVE SAVE

• Save
Introducing The Natural Face Wash - a luxurious and organic facial cleanser that is suitable for all skin types. This gentle formula effectively removes dirt, impurities, and even stubborn makeup including mascara, without stripping your skin of its natural oils.
Crafted with vegan and cruelty-free ingredients, this face wash is blended with organic ingredients to leave your skin feeling refreshed, re-hydrated, and smelling divine. 200ml
Using this Natural Face Wash in combination with other Eco Diva face products can help to effectively balance your skin's pH, promoting elasticity, reducing pimples, calming and soothing irritations, and slowing down the aging process.
Experience healthy, toned, and glowing skin with the Natural Face Wash that also doubles as a silky shaving foam, making it a multi-purpose addition to your skincare routine. Trust in the power of nature to give you the ultimate cleansing experience without any harsh chemicals or synthetic fragrances.
For all skin types and all ages. Helps to balance teenage skin effectively.
Safe to use during pregnancy and gentle enough for babies too.
Eco Diva skin care is a clean, vegan, cruelty-free, dermaceutical skincare range, formulated with superfood nutrients to effectively balance skin pH. When skin is pH balanced, you can expect to experience healthy, glowing , younger looking skin every day. With the Eco Diva dermaceutical range, hyper-pigmentation, psoriasis, eczema, premature-ageing and acne are a thing of the past. Just wave bye-bye, because it's easy to discover your perfect pH balance with correctly aligned plant-based-nutrients.  
Ingredients: Water (Aqua), Decyl Glucoside, Glycerine, Sodium N-Cocoyl L-Glutamate, Disodium N-Cocoyl L-Glutamate, Bentonite, Betaine, Olea Europaea (Olive) Fruit Oil, Sesamum Indicum (Sesame) Seed Oil, Xanthan Gum, Benzyl Alcohol, Dehydroacetic Acid, Citrus Pradisi (Grapefruit) Oil, Vanilla Planifolia Extract, Citrus Bergamia (Bergamot) Peel Oil.   
Directions: Morning and evening, one pump into palms of your hands. Add a little water to lather. Massage gently into facial skin (including eye area to remove make-up) and rinse off with warm water. Repeat until skin feels clean. 
The Eco Diva Natural Face Wash can also be used as a shaving foam. Simply pump 1 pump into a bowl. Add 4 drops of water and with a shaving brush, whisk into a silky smooth shaving foam for the ultimate shaving experience and to avoid ingrown hairs or shaving rash. 
Eco Diva formulations are designed to effectively balance hyper-pigmentation, acne, eczema, rosacea, psoriasis and scarring. We have a proactive approach to ageing by providing superfood nutrition & super hydration that evens out fine lines and wrinkles.

What if we told you that the key to great skin is actually hidden in your food? Believe it or not, superfoods are some of the best ingredients for skincare. Here's why: they're packed with antioxidants, vitamins, and minerals that help keep skin healthy and looking young. Plus, many superfoods have anti-inflammatory and antibacterial properties that can help clear up acne and other skin problems. So if you want gorgeous skin, eat your superfoods and ensure your clean skincare is superfood-rich. Superfoods are good for:
* Proactive Ageing- Reducing fine lines & wrinkles
* Collagen-Boosting - Promoting regeneration of collagen production
* Plumping & Firming - Tightening skin elasticity
* Calming & Soothing - Balancing skin conditions like acne, rosacea, eczema & pigmentation
* Healing - Nurturing & balancing scarring & sensitivity.
There is EVERY reason to choose superfoods, they offer plant-based magical healing properties that cannot be found in synthetics.

Customer Reviews
11/20/2023
I recommend this product
Natural face wash
Love the product leaves skin soft, smooth and nourished. I would however suggest that 1 pump is too much so I decanted into a bottle that sprays out which is much better. also would suggest recycling containers?
Meeghan N.

South Africa
05/30/2023
Amazing results
I have been using this face wash fir little over 3 weeks now, and the result are amazing. My skin feels softer, more even skintone and marks on my skin is visible lighter. I am using the wash with the superfood serum and I am completely in love.
Ninka

South Africa
09/07/2022
Smells amazing!
A great scent, gentle on my skin AND effective. What's not to love?!
Courtney

South Africa
08/17/2022
The best Face Wash EVER!!!
Removes all my makeup, even waterproof mascara. A firm fav in my skincare routine.
Deb

South Africa
08/09/2022
Face Wash
Lovely, clean feeling.
Izette V.

South Africa
07/16/2022
Gentle and Calming
The first face wash I've used for my sensitive skin with absoluely no irritation, even after long term use. Only fresh, glowing skin, all year round!
Carmelita

South Africa