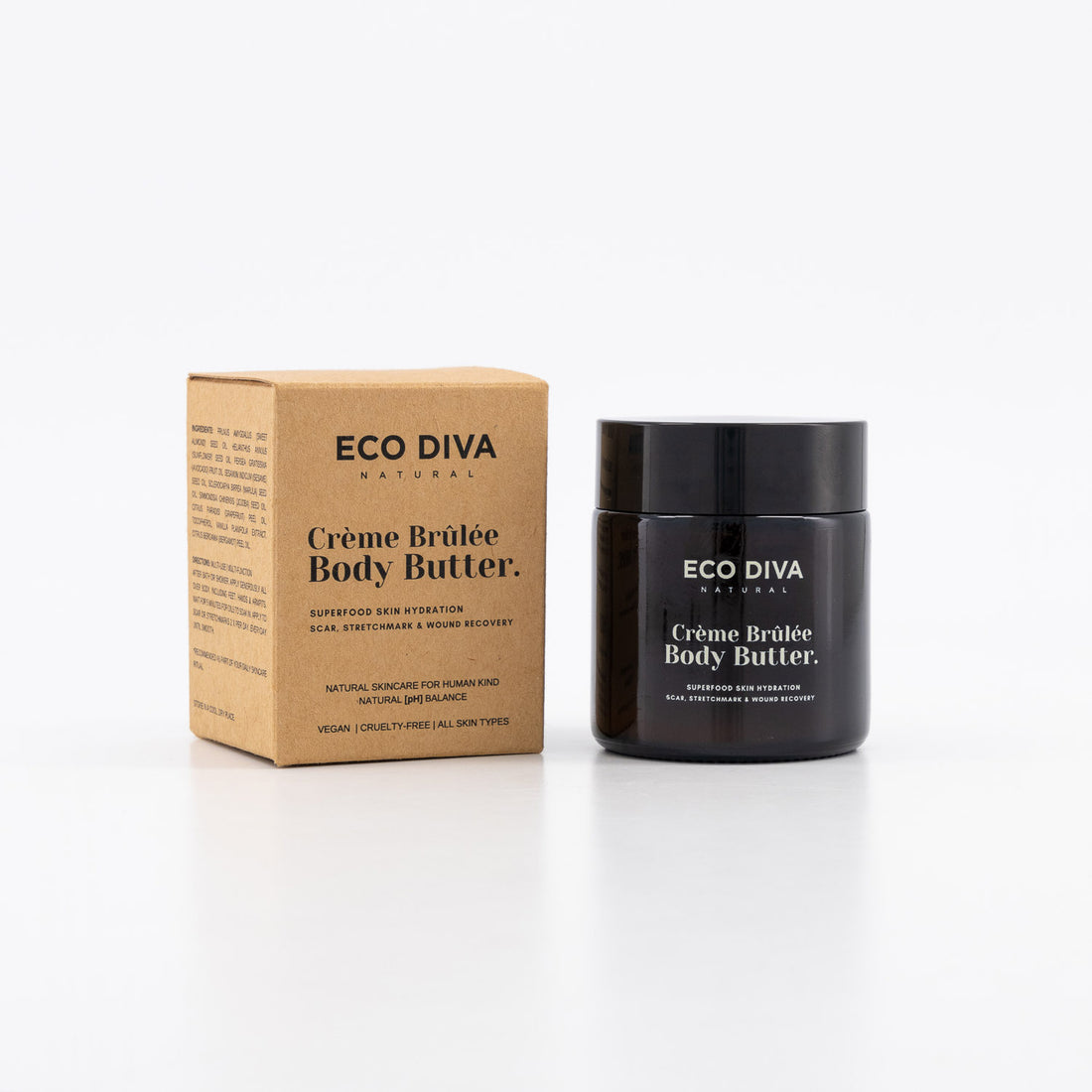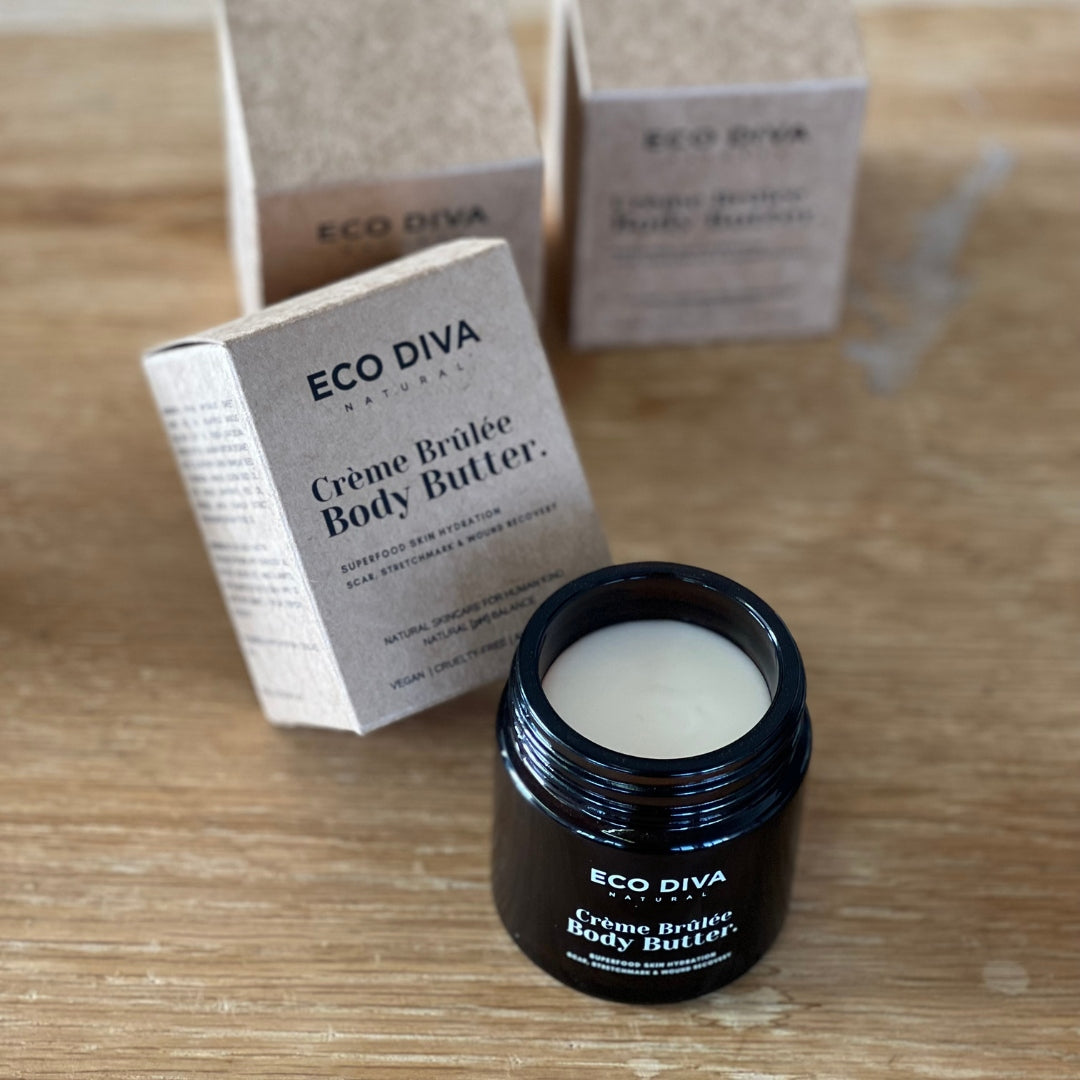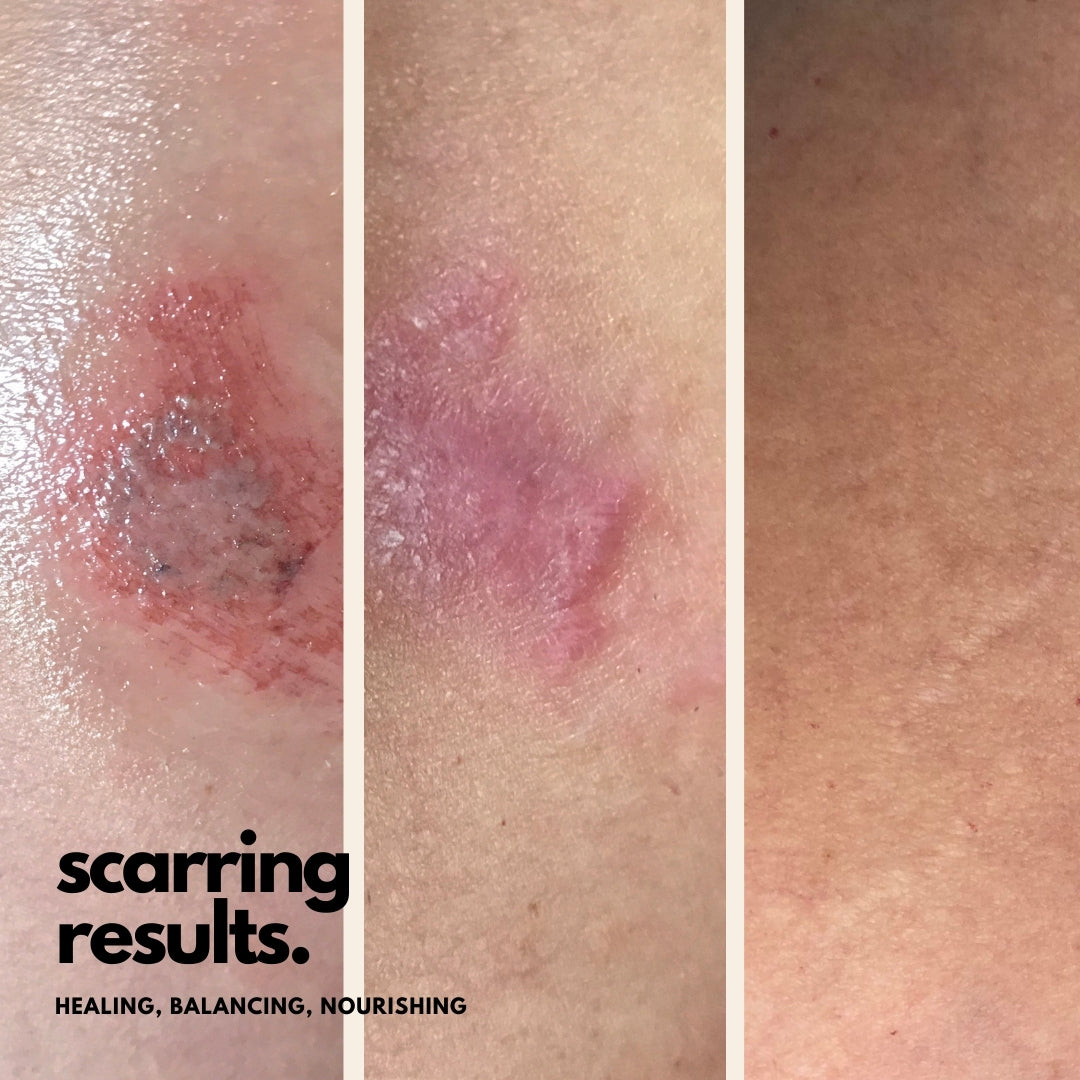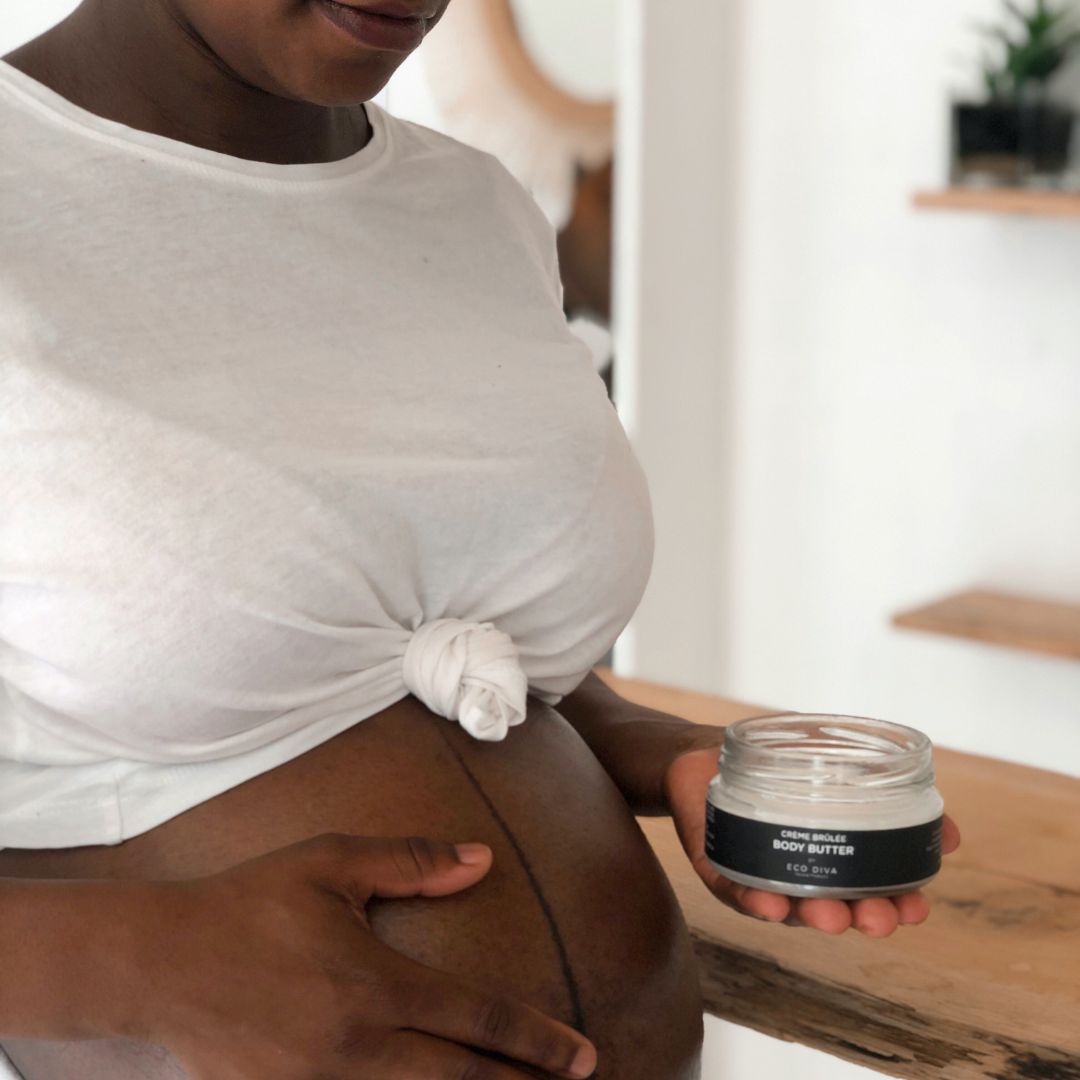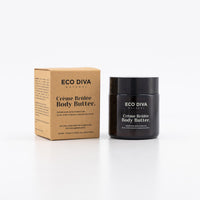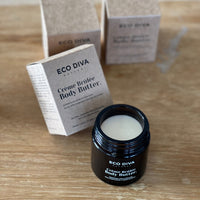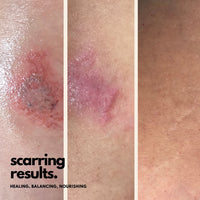 Crème Brulee Body Butter - Coconut, Shea, Vit C, A, E & Antioxidants
R 435.00
SAVE SAVE

• Save
Our bestselling Eco Diva Crème Brûlée Body Butter is luxurious and creamy and creates instant hydration for your skin. Achieve a radiant skin glow with this all-over moisturizer that nourishes and enhances skin health. With omegas, antioxidants, vitamins and superfoods for healing scars & stretch-marks as well as collagen-boosting actives for wound healing. Baby bum cream, cradle cap and a perfectly balanced intimate lube. 100g - *GIFT GUIDE 2023 - buy 2 and get our Silver Namasté Red String Charm Bracelet worth R250 for FREE. For more info see our Gift Guide BLOG
Whether you're looking to heal scars and stretchmarks or simply want to give your skin a boost of moisture and nourishment, our superfood-rich Crème Brûlée Body Butter is the perfect solution. With regular use, you'll reveal smoother, softer, and more radiant-looking skin. And the smell is absolutely delicious and subtle.

Our body butter boasts a plethora of benefits that make it a top pick for skincare enthusiasts:
* Infused with omega-rich shea butter that provides long-lasting hydration and nourishment for the skin.
* Packed with vitamin-enriched coconut oil that promotes proactive aging and deeply hydrates the skin.
* Collagen-boosting vitamins aid in skin renewal and rejuvenation, resulting in a youthful appearance.
* Pregnant ladies, this is your answer for preventing stretchmarks from the start or to apply to already created stretchmarks to re-balance the skin.
* Expect remarkable results for scars, wounds, and stretch marks with regular use.
* Also suitable as a baby bum cream and for healing cradle cap.
* Our body butter also offers natural UVA and UVB protection, shielding your skin from harmful rays.
And that's not all, this gentle, 100% natural plant-based superfood skin cream works wonders as an intimate lube - with zero negative reactions, only joy.

Get ready to indulge in the Eco Diva Crème Brûlée Body Butter for irresistibly soft and glowing skin.

Eco Diva is a clean, vegan, cruelty-free, dermaceutical skincare range, formulated with superfood nutrients to effectively balance skin pH. When skin is pH balanced, you can expect to experience healthy, glowing, younger looking skin every day.
Eco Diva is a proudly South African brand and proudly gender-inclusive – skin luxury for all humans, of all ages and stages.
Ingredients: Prunus Amygdalus (Sweet Almond) Seed Oil, Cocos Nucifera (Coconut) Oil, Hydrogenated Vegetable Oil, Butyrospermum Parkii (Shea) Butter, Isoamyl Laurate, Citrus Paradisi (Grapefruit) Peel Oil, Tocopherol, Helianthus Annuus (Sunflower) Seed Oil, Vanilla Planifolia Extract, Citrus Bergamia (Bergamot) Peel Oil.
Directions: Apply a small amount of cream all over body for luxuriously, soft and supple skin. For wound or stretchmarks, apply liberally 2-3 x per day until scarring is reduced or disappeared.
Eco Diva formulations are designed to effectively balance hyper-pigmentation, acne, eczema, rosacea, psoriasis and scarring. We have a proactive approach to ageing by providing superfood nutrition & super hydration that evens out fine lines and wrinkles.

What if we told you that the key to great skin is actually hidden in your food? Believe it or not, superfoods are some of the best ingredients for skincare. Here's why: they're packed with antioxidants, vitamins, and minerals that help keep skin healthy and looking young. Plus, many superfoods have anti-inflammatory and antibacterial properties that can help clear up acne and other skin problems. So if you want gorgeous skin, eat your superfoods and ensure your clean skincare is superfood-rich. Superfoods are good for:
* Proactive Ageing- Reducing fine lines & wrinkles
* Collagen-Boosting - Promoting regeneration of collagen production
* Plumping & Firming - Tightening skin elasticity
* Calming & Soothing - Balancing skin conditions like acne, rosacea, eczema & pigmentation
* Healing - Nurturing & balancing scarring & sensitivity.
There is EVERY reason to choose superfoods, they offer plant-based magical healing properties that cannot be found in synthetics.

Customer Reviews
12/04/2023
I recommend this product
Luxurious body butter
This body butter is a new firm favourite. The scent, texture and luxurious feel is just gorgeous. Do yourself a favour and treat yourself and/or your loved ones. A natural skincare dream x
Kate

South Africa
11/27/2023
I recommend this product
Hurray for brûlée
I find the brûlée is brilliant for sunburn Whenever I get red I apply and the folllowibg day any discomfort is gone and the red is brown Great product I just bought three jars :)
Jeremy G.

South Africa
10/22/2023
I recommend this product
Best body butter
I will never use another body butter again other than this one! I can't explain to you how incredibly soft and glowing my skin is since using this and the fact that it is completely natural just makes me feel at ease knowing that nothing harmful is going into my skin. I will be investing in all your other beautiful products soon!!
Toyah K.

South Africa
06/07/2022
Winter must have
This is a winter MUST for the dull and dry skin winter brings along. My skin feel so soft and pampered
Anya C.

South Africa