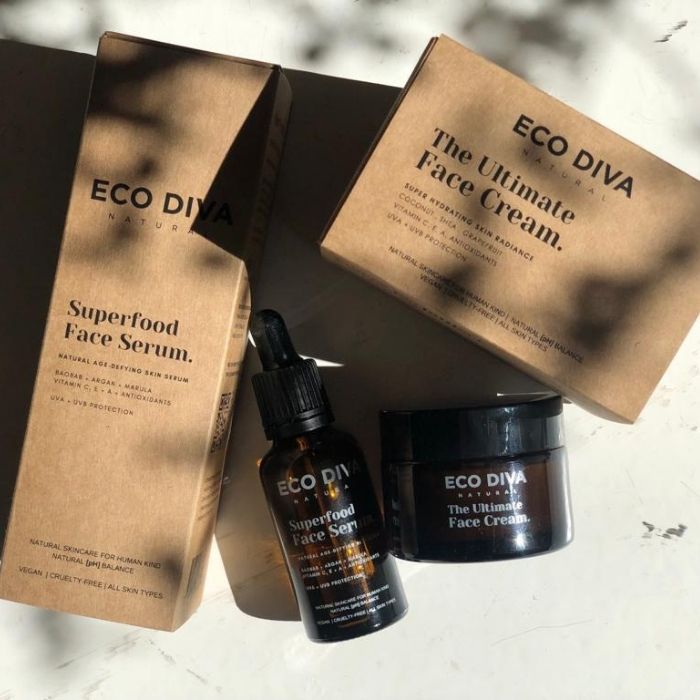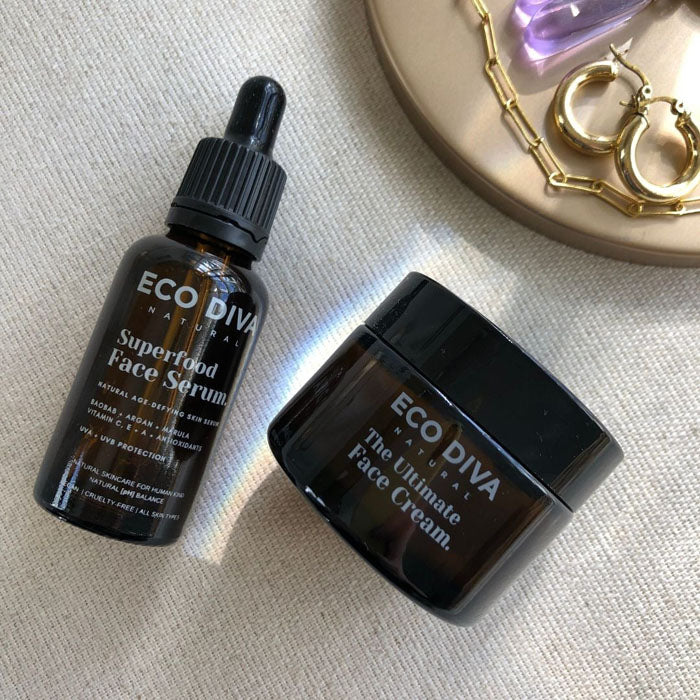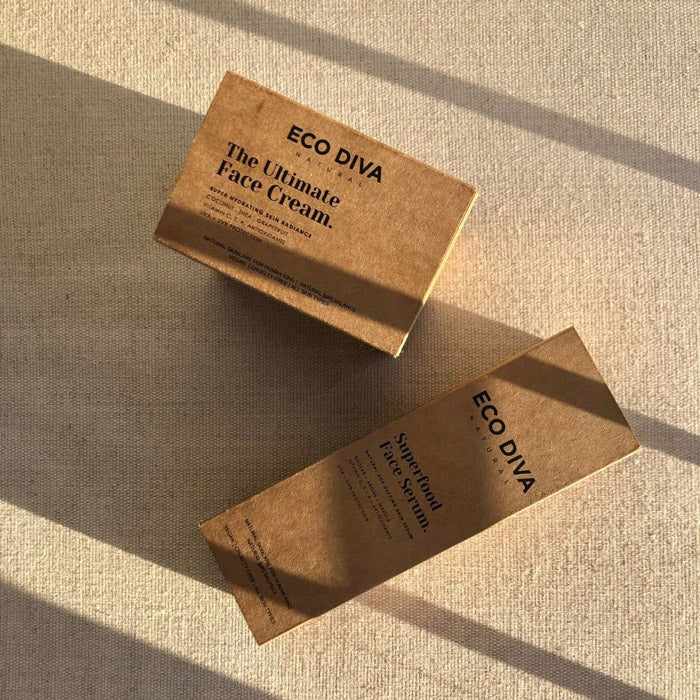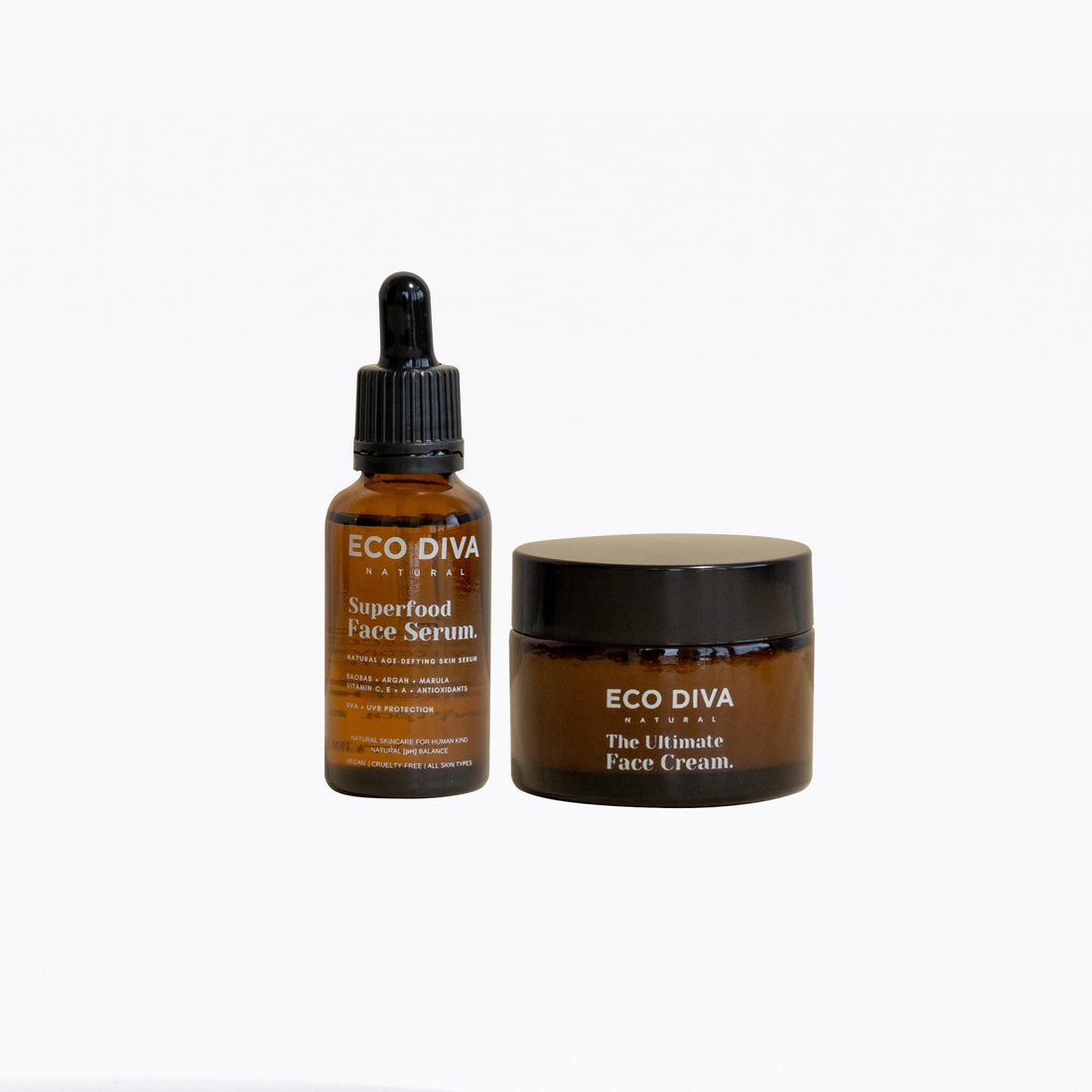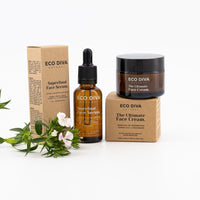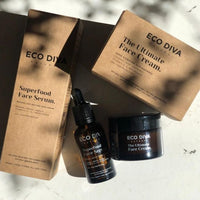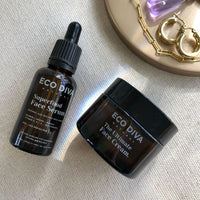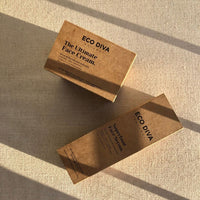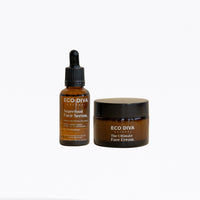 The Double Diva Glow Bundle - Superfood Face Serum & The Ultimate Face Cream -Superfood Wow Glow
R 828.00
SAVE SAVE

• Save
Introducing the Double Diva Glow Bundle from Eco Diva – the perfect combination of The Superfood Face Serum and The Ultimate Face Cream for super glowing results. Achieve a healthy, even-toned skin with a model-ready glow by layering these two beauties for the ultimate dewy, nourished skin.
The Superfood Face Serum is a highly concentrated formula that is designed to penetrate deeper into the skin, fast-tracking ingredients like peptides, vitamins and antioxidants for quick results. Meanwhile, The Ultimate Face Cream seals in the moisture and offers deep nourishment that helps repair any damage caused by environmental toxins, pigmentation or scarring. This bundle is also enriched with UVA & UVB sun protection, giving you added protection against harmful UV rays.

Our best-selling Ultimate Face Cream has been changing lives, helping people to transform their unhealthy skin conditions to naturally glowing, healthy skin every day. This gentle yet dynamic beauty provides balance, calmness, soothing and smoothness to your skin, thanks to its powerful vitamins A & E that support collagen production and cell renewal. It also contains antioxidants & vitamins that support skin elasticity and regeneration. Plus, with natural UVA & UVB protection, you can be confident that your skin is always protected.

Order yours today and see the immediate difference in the texture of your skin. Get ready to enjoy the ultimate dewy, nourished skin with Eco Diva Natural.

This duo is also available as part of our Mini Starter Solution Sets.

The Ultimate Face Cream:

Ingredients: Prunus Amygdalus (Sweet Almond) Seed Oil, Cocos Nucifera (Coconut) Oil, Hydrogenated Vegetable Oil, Butyrospermum Parkii (Shea) Butter, Isoamyl Laurate, Citrus Paradisi (Grapefruit) Peel Oil, Tocopherol, Helianthus Annuus (Sunflower) Seed Oil, Vanilla Planifolia Extract, Citrus Bergamia (Bergamot) Peel Oil.

Directions: After cleansing and toning your face, apply a small pea-size amount of cream to your hands and warm cream by gently rubbing hands together. Apply and smooth onto face, neck and eye area. A little goes a long way. Your skin will only absorb what it needs, so ensure you start off with less and apply more if needed. 

Superfood Face Serum:

Ingredients: Amygdalus (Sweet Almond) Seed Oil, Sesamum Indicum (Sesame) Seed Oil, Caprylic/Capric Triglycerides, Prunus Armeniaca (Apricot) Kernel Oil, Prunus, Simmondsia Chinensis (Jojoba) Seed Oil, Argania Spinosa (Argan) Oil, Adansonia Digitata (Baobab) Seed Oil, Sclerocarya Birrea (Marula) Seed Oil, Isoamyl Laurate, Citrus Bergamia (Bergamot) Peel Oil, Vanilla Planifolia Extract, Citrus Paradisi (Grapefruit) Peel Oil, Melaleuca Alternifolia (Tea Tree) Oil, Citral, Limonene, Linalool.

Directions: After cleansing with Eco Diva Face Wash & Ecofoliant Skin Polish, apply 5-10 drops into your palm and gently warm serum between your hands. Apply to your face, eye and neck areas in circular motions until fully absorbed. Combine with Eco Diva Face Cream for what we refer to as the #DoubleDivaGlow effect. 
Eco Diva formulations are designed to effectively balance hyper-pigmentation, acne, eczema, rosacea, psoriasis and scarring. We have a proactive approach to ageing by providing superfood nutrition & super hydration that evens out fine lines and wrinkles.

What if we told you that the key to great skin is actually hidden in your food? Believe it or not, superfoods are some of the best ingredients for skincare. Here's why: they're packed with antioxidants, vitamins, and minerals that help keep skin healthy and looking young. Plus, many superfoods have anti-inflammatory and antibacterial properties that can help clear up acne and other skin problems. So if you want gorgeous skin, eat your superfoods and ensure your clean skincare is superfood-rich. Superfoods are good for:
* Proactive Ageing- Reducing fine lines & wrinkles
* Collagen-Boosting - Promoting regeneration of collagen production
* Plumping & Firming - Tightening skin elasticity
* Calming & Soothing - Balancing skin conditions like acne, rosacea, eczema & pigmentation
* Healing - Nurturing & balancing scarring & sensitivity.
There is EVERY reason to choose superfoods, they offer plant-based magical healing properties that cannot be found in synthetics.