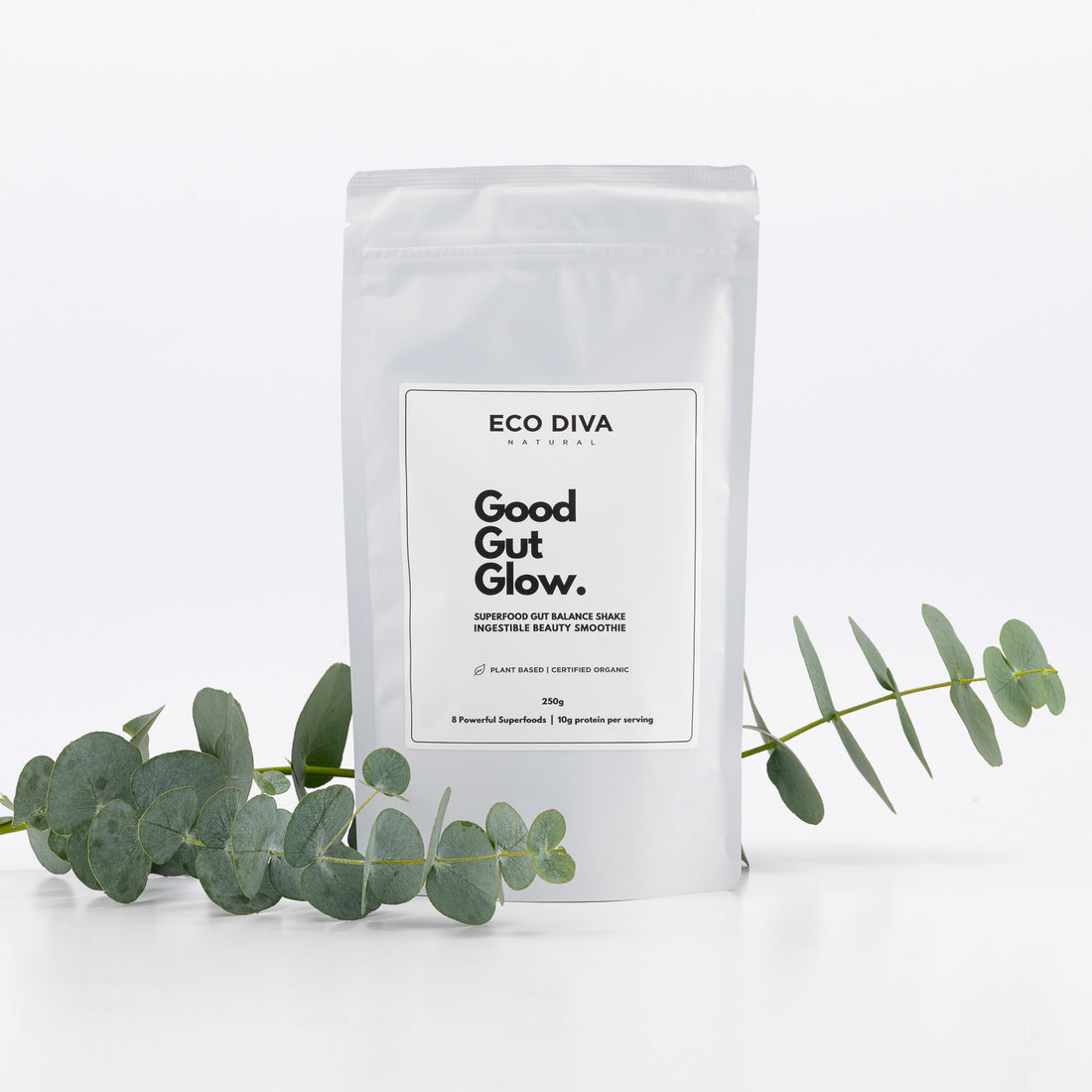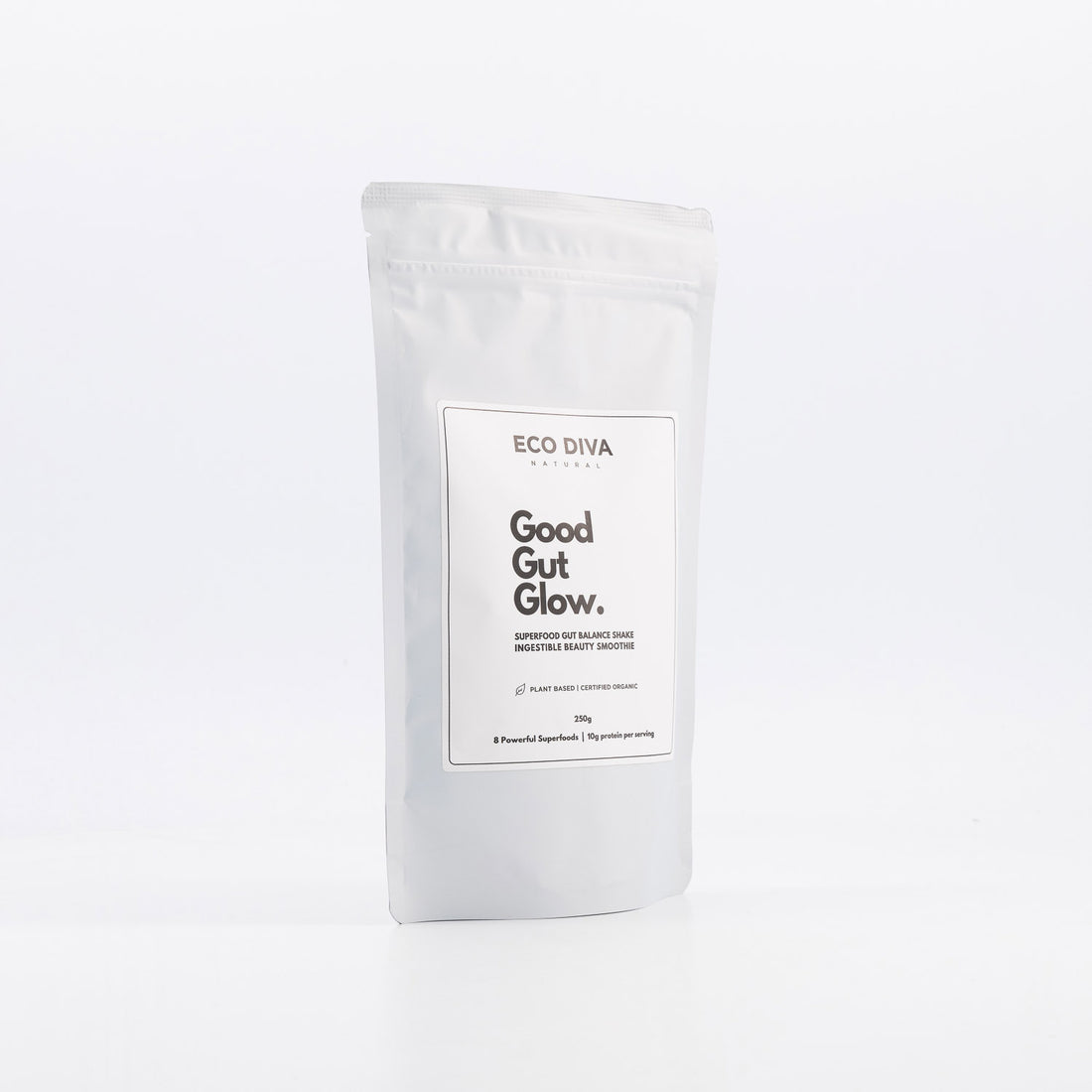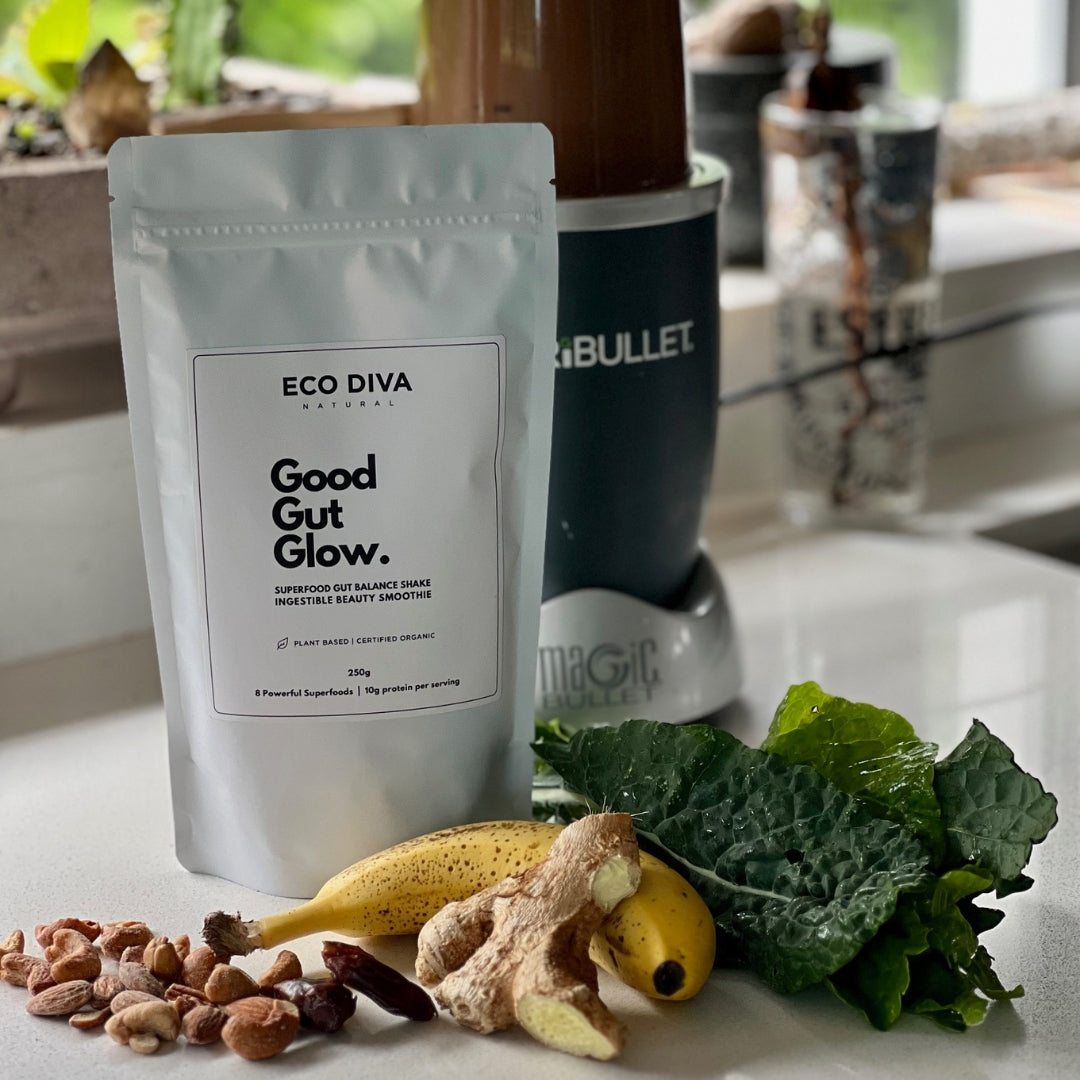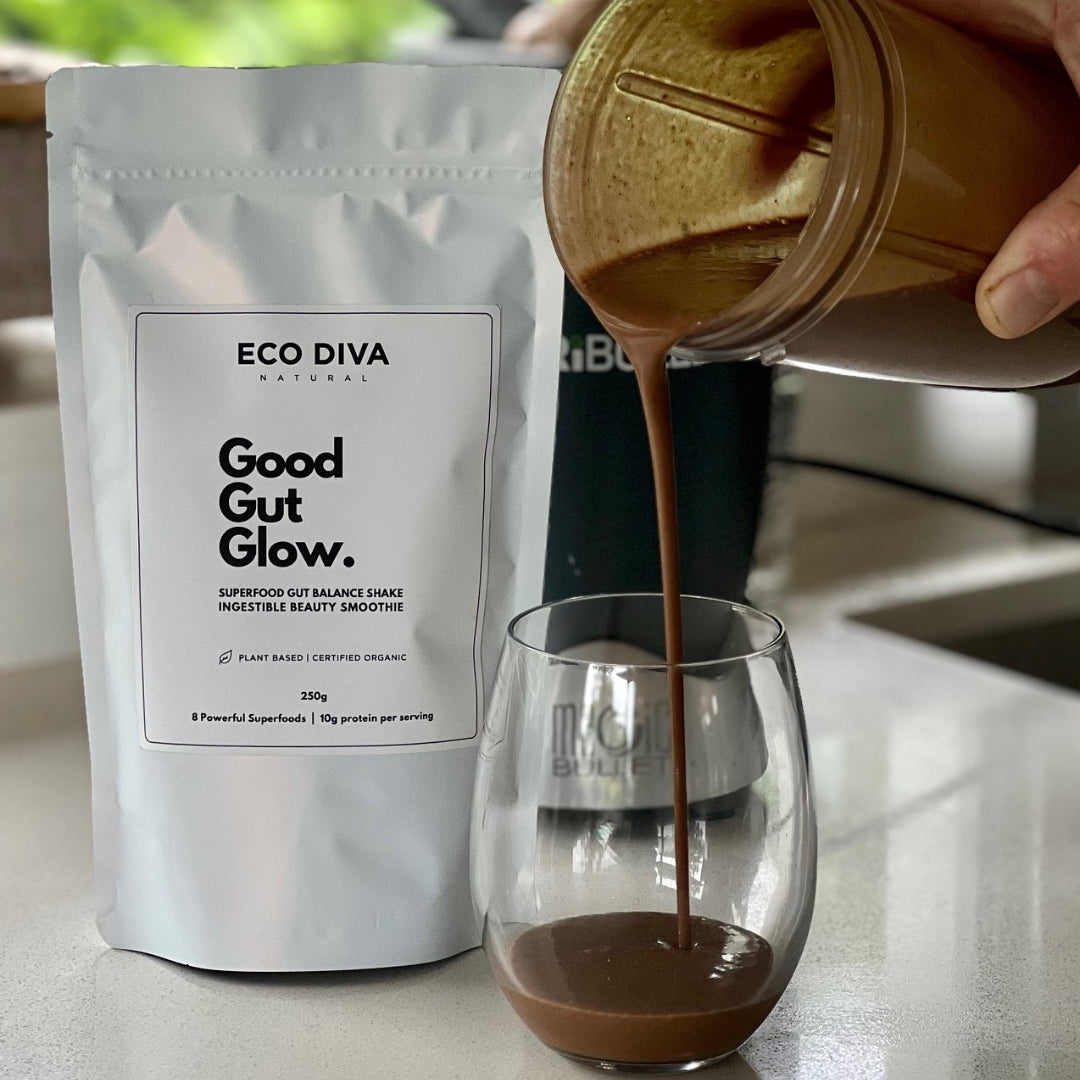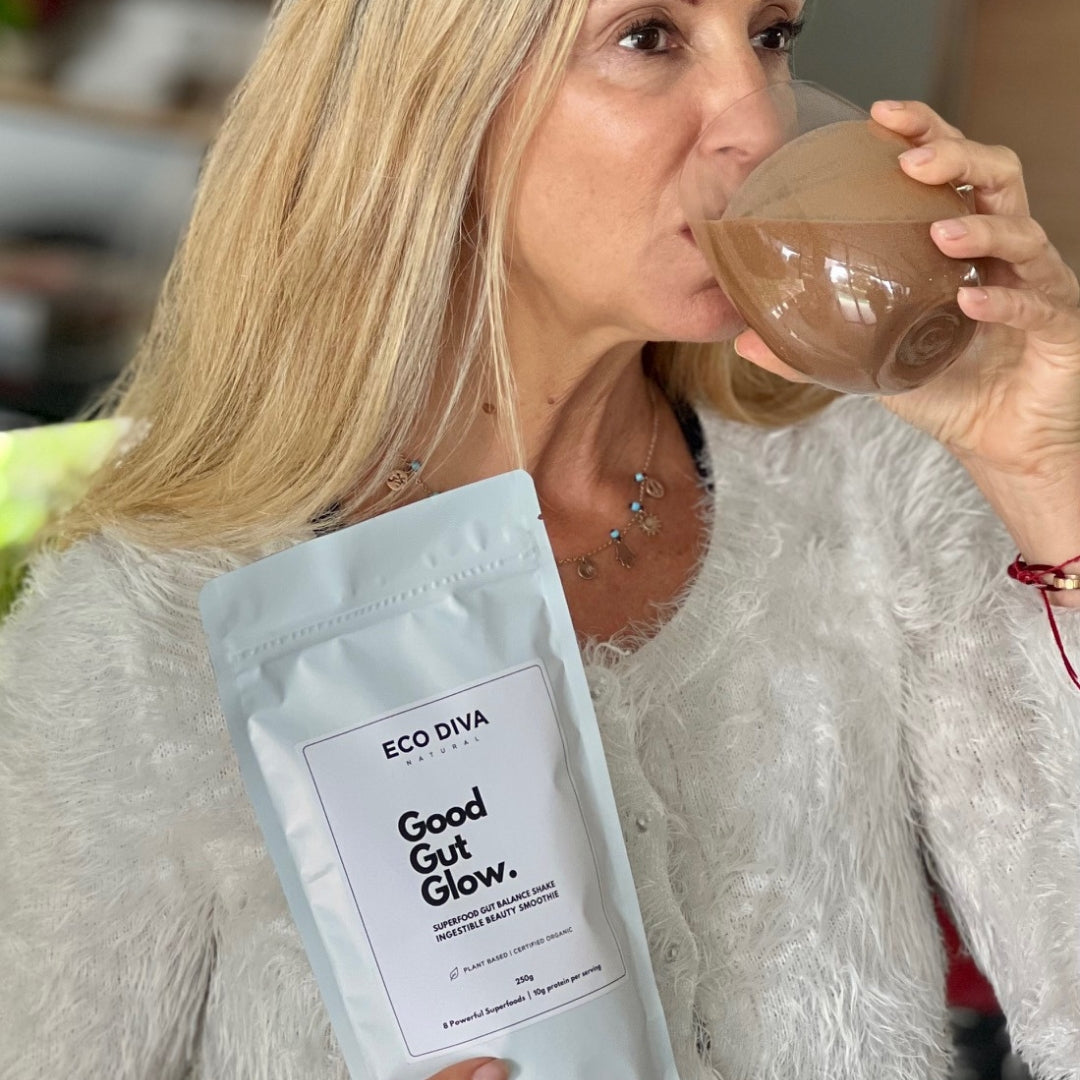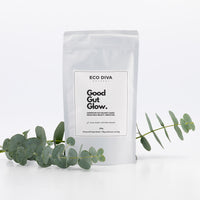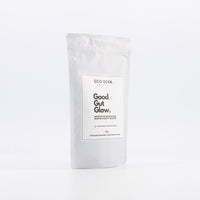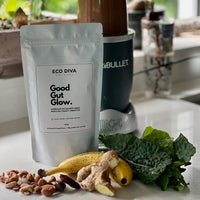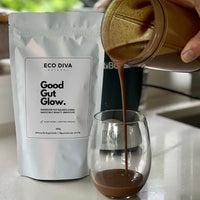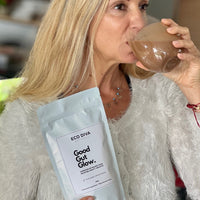 Good Gut Glow - Superfood Beauty Smoothie
R 395.00
SAVE SAVE

• Save
Introducing our Good Gut Glow superfood beauty smoothie, giving your skin a boost from the inside out. The ultimate solution for a balanced gut and perfectly glowing skin. Certified organic, our delicious and nourishing shake is packed with a powerful blend of plant superfoods, prebiotics, plant protein and fibre, designed to support the natural balance of our gut microbiome. Each daily serving fuels your body with essential nourishment that promotes overall gut balance, increased energy, better sleep, healthy libido and a glowing skin from within. No added sugar or artificial sweetener. 250g
This delicious and nutritious shake is designed to support your digestive system and give your gut and skin the love they deserve. With a blend of powerful superfood ingredients, this shake will help you feel energized, refreshed, and rejuvenated from the inside out.
Our Superfood Gut balance shake is packed with prebiotics, plant-based protein, and digestive enzymes that help to improve overall gut balance, enhance digestion, and promote a good gut microbiome. We've also included essential vitamins and minerals, such as Vitamin C, Iron, and Fiber, to support overall health and wellness to enhancing glowing skin from the inside out.
Other benefits of daily intake include:
Sleep - promotes deeper, more restful sleep
Bowel regulator - regular bowel movements
Increased libido - may enhance your performance
Gut balance - creates a good gut microbiome that supports the whole body
Mental alertness - increased memory and mental alertness
Hair and Nails - promotes thicker hair and stronger nails
Increase in energy - promotes more energy in your body by utilising the superfood nutrients to their best ability
Cellular rejuvenation - promotes cellular regeneration and collagen production for proactive ageing
Acne repair - promotes breakout balance from the inside out
Hormonal balance - supports the balancing of hormones for overall health
Each serving of our superfood shake is free from artificial flavours, sweeteners, and preservatives, making it the perfect choice for anyone who is looking for an all-natural solution to gut vibrance, increased energy levels, better sleep and glowing skin.
Simply mix with water or your favorite non-dairy milk, and you're ready to go!  With its delicious and creamy texture, this Superfood gut health shake is the perfect addition to your morning routine or as a healthy snack on-the-go. Whether you're looking to support your skin health, boost your energy levels, or just want to treat yourself to something delicious and nutritious, this shake is sure to become your new favorite.
Try our Good Gut Glow Superfood Ingestible Beauty Smoothie today and give your gut and skin the love they deserve.

Typical Nutritional Information
Good Gut Glow Superfood Shake - per 100g | Per Serving | 35g Serving
Energy___________________________ 1459 | 511
Protein (g) _______________________ 29.5 | 10.3
Carbohydrates (g) _________________ 46 | 16
of which total sugar (g) _____________ 8.7 | 3.1
Total Fat (g) ______________________ 10.2 | 3.6
of which saturated fat (g) ___________ 1.0 | 0.3
Dietary Fibre (g) ___________________ 25.1 | 8.8
Total Sodium (mg) _________________ 438 | 153
Ingredients: Chia Seeds*, Help Seeds*, Mesquite*, Brown Rice Protein*, Lucuma (17%)*, Maca*, Monk Fruit Extract*, *Baobab, *Acai, Fine Orynx Salt
*Certified organic ingredients (99%)
Directions: For a superfood protein smoothie, blend 1-2 Tbsp with 250ml water or your favourite plant milk. Can also add nuts, berries, banana and spinach for an extra energy boost. Blend together until smooth and drink daily for optimal results.
Eco Diva formulations are designed to effectively balance hyper-pigmentation, acne, eczema, rosacea, psoriasis and scarring. We have a proactive approach to ageing by providing superfood nutrition & super hydration that evens out fine lines and wrinkles.

What if we told you that the key to great skin is actually hidden in your food? Believe it or not, superfoods are some of the best ingredients for skincare. Here's why: they're packed with antioxidants, vitamins, and minerals that help keep skin healthy and looking young. Plus, many superfoods have anti-inflammatory and antibacterial properties that can help clear up acne and other skin problems. So if you want gorgeous skin, eat your superfoods and ensure your clean skincare is superfood-rich. Superfoods are good for:
* Proactive Ageing- Reducing fine lines & wrinkles
* Collagen-Boosting - Promoting regeneration of collagen production
* Plumping & Firming - Tightening skin elasticity
* Calming & Soothing - Balancing skin conditions like acne, rosacea, eczema & pigmentation
* Healing - Nurturing & balancing scarring & sensitivity.
There is EVERY reason to choose superfoods, they offer plant-based magical healing properties that cannot be found in synthetics.