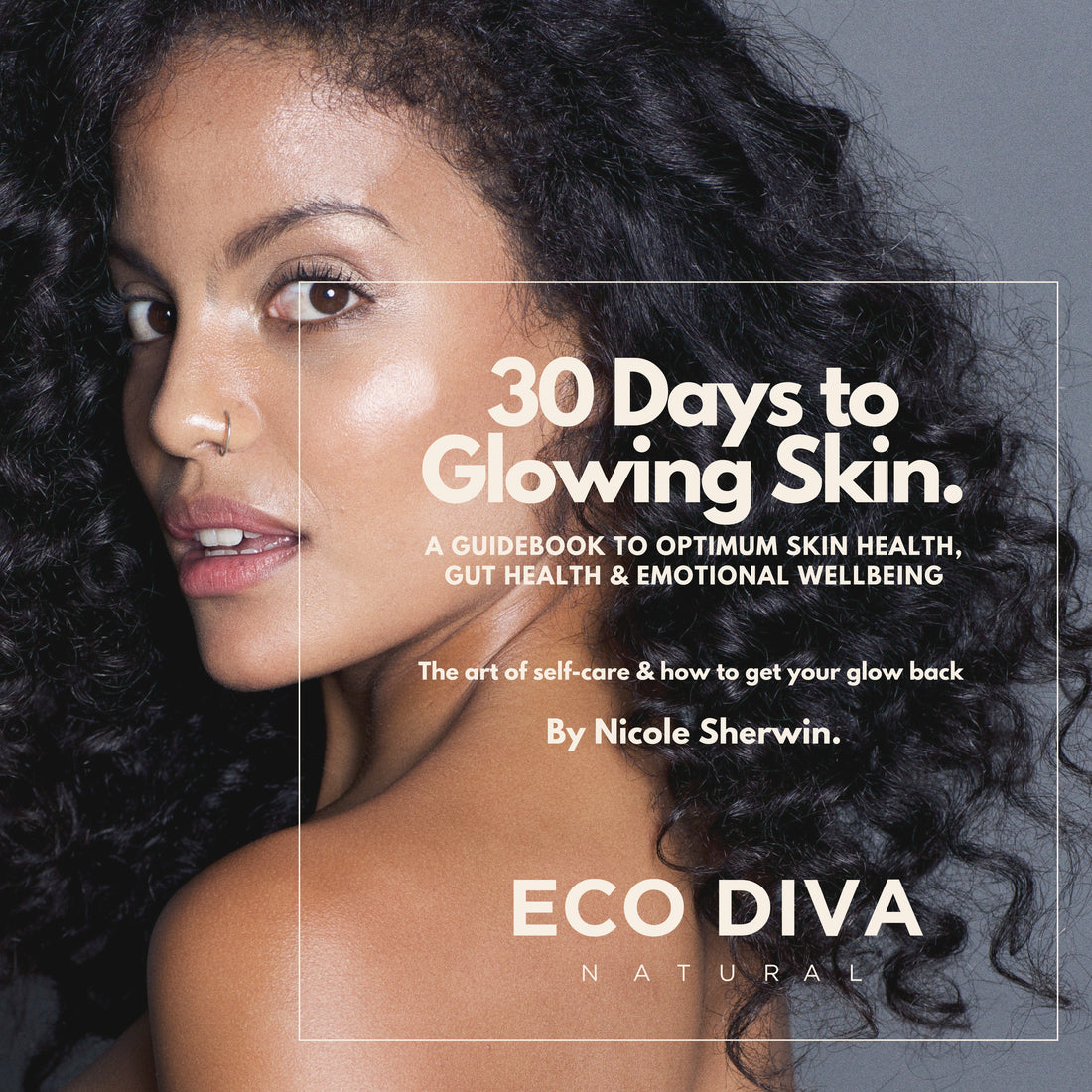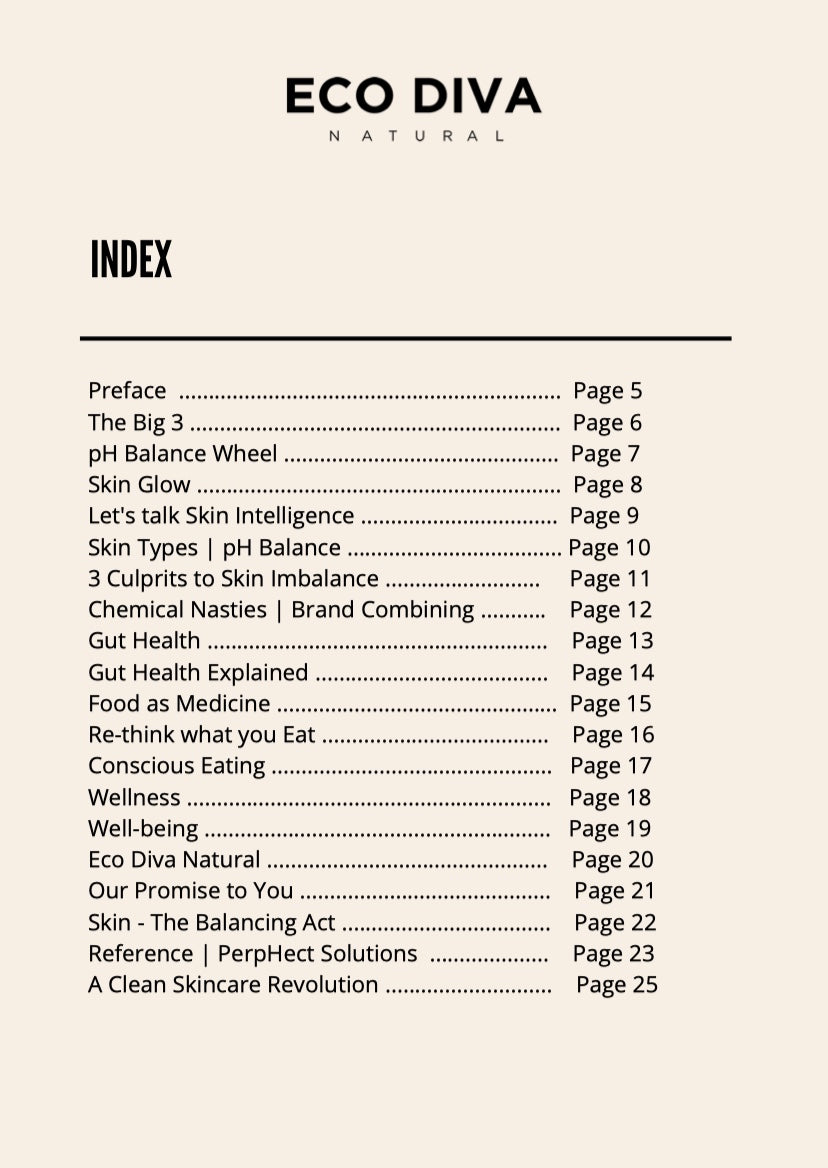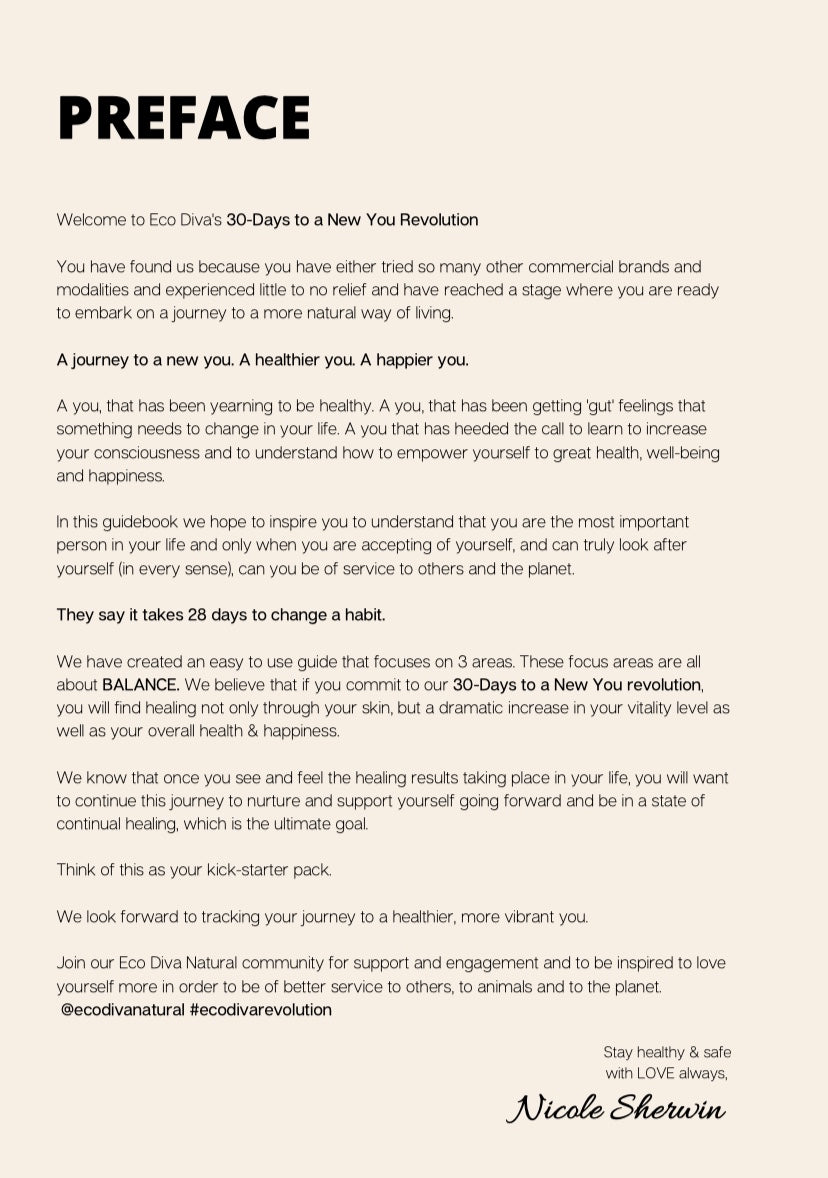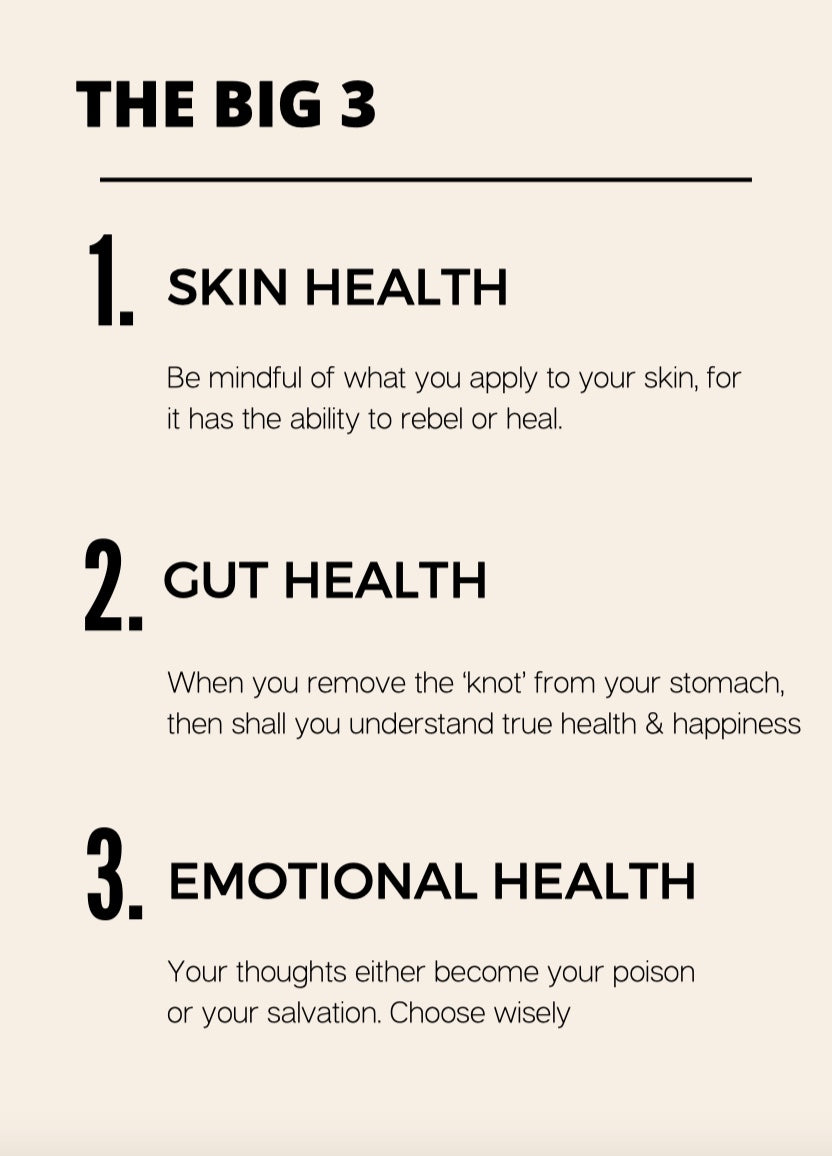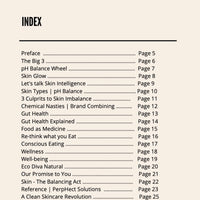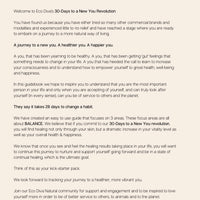 Guidebook -30 Days to Glowing Skin
R 185.00
SAVE SAVE

• Save
30 Days to Glowing Skin. This guidebook offers easy tips and tricks on how to get your skin health, your gut health and your mental/emotional health into perfect pH balance to experience glowing, healthy skin and a vibrant, healthy life. Start your 30 day journey today and see the transformative results.
Welcome to Eco Diva's revolutionary 30-Days to Glowing Skin Guidebook. If you've exhausted all other commercial brands and methods without finding relief, it's time to embrace a more natural way of living.
Embark on a journey towards a healthier, happier, glowing you. You've been yearning for better health, listening to your intuition, and feeling that it's time for a change. Now, it's time to increase your consciousness and empower yourself to achieve great health, well-being, and happiness.
In this comprehensive guidebook, we aim to inspire you to recognize your own importance. By truly caring for yourself in every aspect, you can effectively serve others and contribute to the well-being of our planet.

They say it takes 28 days to form a new habit. That's why we've developed an easy-to-follow guidebook that centers around three key areas, all focused on achieving balance. When you commit to our 30-Day Glowing Skin revolution, you'll not only experience remarkable improvements in your skin's health, but also a significant boost in energy levels and overall well-being.

Have you ever been told you have a skin 'type'?
Imagine for a moment that skin types- like dry, oily or combination skin actually don't exist. Imagine that the skin 'types' only exist because the skin's pH levels are out of balance, and can be re-balanced pretty quickly & very gently and kindly.
What causes skin to be out of pH balance? - Mixing different brands which may confuse the microbiome of the skin. Using products that contain harmful chemicals. Poor gut health. Emotional stress & worry.
The good news is this can be reversed by understanding how to balance.

This guidebook offers tips and tricks to get your skin health, your gut health and your mental/emotional health in balance. As you witness the transformative results in your life, we're confident that you'll be motivated to continue nurturing and supporting yourself, fostering a continuous state of healing - our ultimate goal.
Consider this guidebook your personal kick-starter pack, designed to initiate a positive transformation within you. We eagerly anticipate supporting you on this journey to a healthier, more vibrant version of yourself.
Get ready to glow like never before!

Eco Diva formulations are designed to effectively balance hyper-pigmentation, acne, eczema, rosacea, psoriasis and scarring. We have a proactive approach to ageing by providing superfood nutrition & super hydration that evens out fine lines and wrinkles.

What if we told you that the key to great skin is actually hidden in your food? Believe it or not, superfoods are some of the best ingredients for skincare. Here's why: they're packed with antioxidants, vitamins, and minerals that help keep skin healthy and looking young. Plus, many superfoods have anti-inflammatory and antibacterial properties that can help clear up acne and other skin problems. So if you want gorgeous skin, eat your superfoods and ensure your clean skincare is superfood-rich. Superfoods are good for:
* Proactive Ageing- Reducing fine lines & wrinkles
* Collagen-Boosting - Promoting regeneration of collagen production
* Plumping & Firming - Tightening skin elasticity
* Calming & Soothing - Balancing skin conditions like acne, rosacea, eczema & pigmentation
* Healing - Nurturing & balancing scarring & sensitivity.
There is EVERY reason to choose superfoods, they offer plant-based magical healing properties that cannot be found in synthetics.