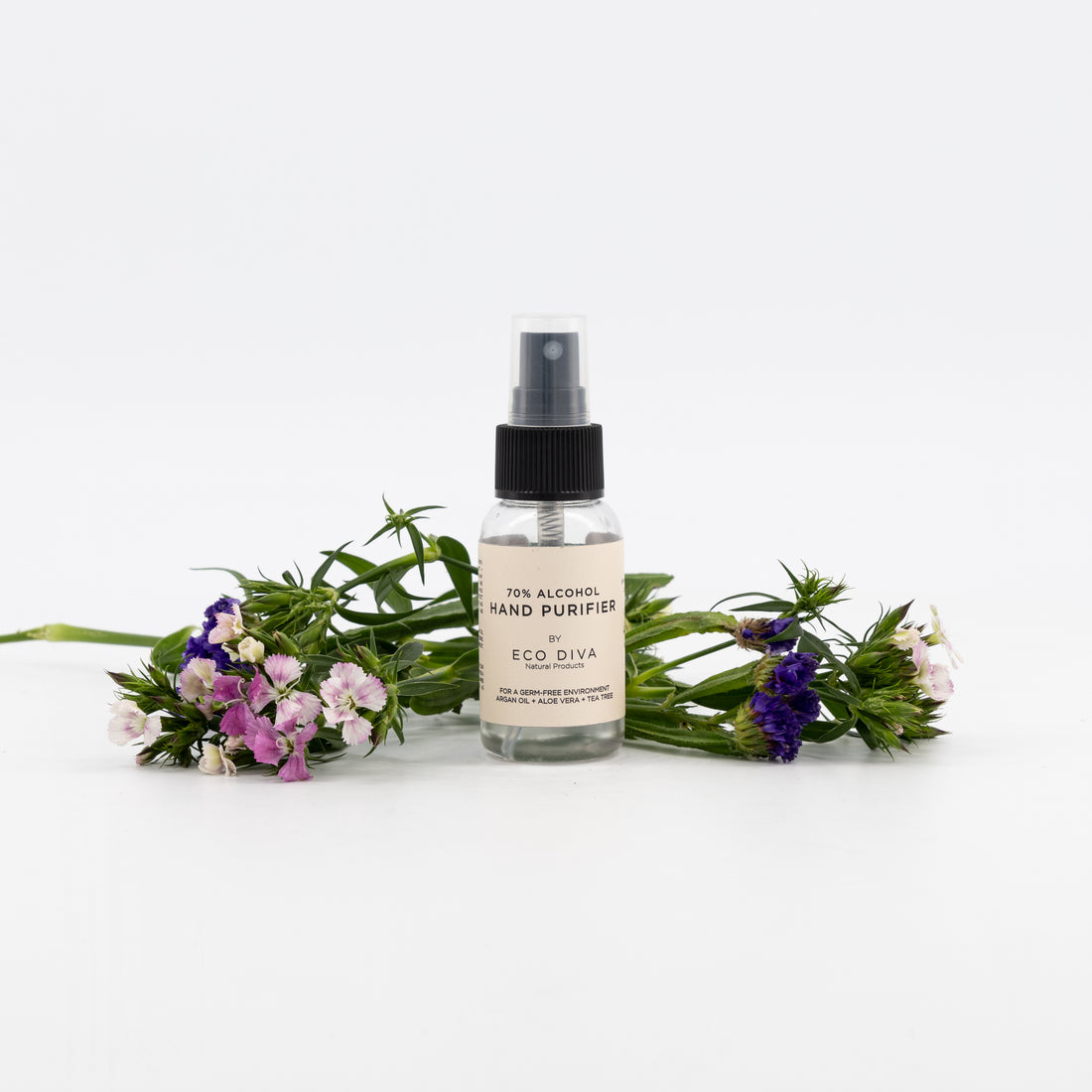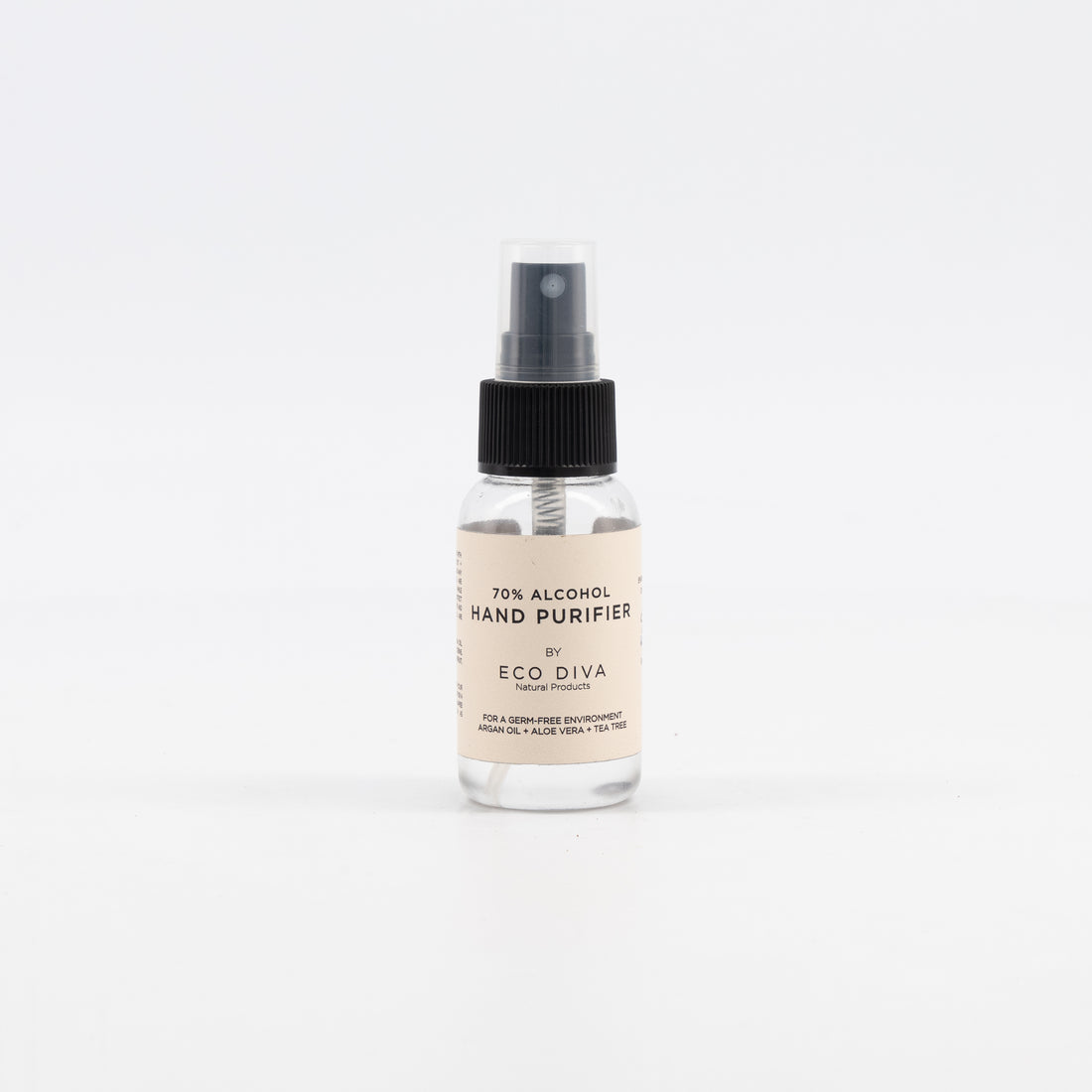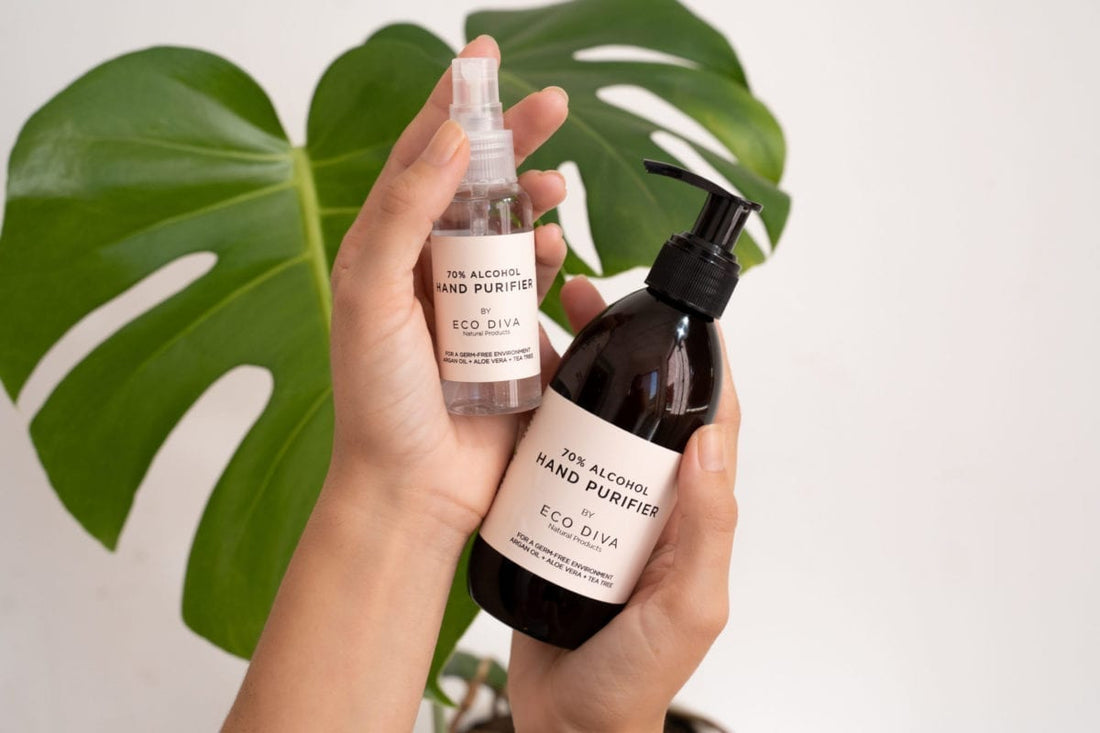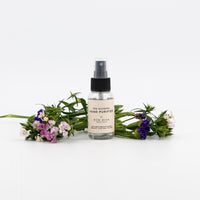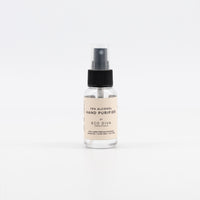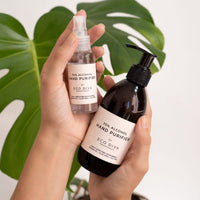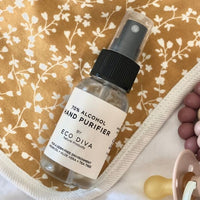 Hand Purifier 50ml - Sanitiser with Aloe Vera, Argan, Tea Tree
Clean hands, healthy you. Our 70% alcohol hand purifier ensures microbes, bacteria, germs or viruses are eliminated immediately upon use, while our moisturising properties of argan oil, aloe vera gel and tea tree oil soothe your skin with zero irritation. 50ml
Clean hands, healthy you. Our 70% alcohol mini 50ml hand purifier ensures any microbes, bacteria, germs or viruses are eliminated immediately while moisturising and soothing your skin.
Protect yourself and your environment and feel safe knowing that you are squeaky clean at all times.
A great product to keep 1 in your kitchen, 1 in your bathrooms, 1 in your guest toilet and 1 at your makeup dressing table to quickly and effectively clean and sanitise your hands.
Always being true to our Eco Diva ethos, we have also ensured that your skin is taken care of and in perfect pH balance at all times. That's why we've added some deliciously soothing & healing aloe vera, moisturising & balancing argan oil and refreshing, anti-bacterial essential oils of tea tree, bergamot and grapefruit. Stay bacteria-free, germ-free and virus-free, always.
Ingredients: Prunus Amygdalus (Sweet Almond) Seed Oil, Cocos Nucifera (Coconut) Oil, Hydrogenated Vegetable Oil, Butyrospermum Parkii (Shea) Butter, Isoamyl Laurate, Citrus Paradisi (Grapefruit) Peel Oil, Tocopherol, Helianthus Annuus (Sunflower) Seed Oil, Vanilla Planifolia Extract, Citrus Bergamia (Bergamot) Peel Oil.
Directions: Apply a small amount of cream all over body for luxuriously, soft and supple skin. For wound or stretchmarks, apply liberally 2-3 x per day until scarring is reduced or disappeared.
Eco Diva formulations are designed to effectively balance hyper-pigmentation, acne, eczema, rosacea, psoriasis and scarring. We have a proactive approach to ageing by providing superfood nutrition & super hydration that evens out fine lines and wrinkles.

What if we told you that the key to great skin is actually hidden in your food? Believe it or not, superfoods are some of the best ingredients for skincare. Here's why: they're packed with antioxidants, vitamins, and minerals that help keep skin healthy and looking young. Plus, many superfoods have anti-inflammatory and antibacterial properties that can help clear up acne and other skin problems. So if you want gorgeous skin, eat your superfoods and ensure your clean skincare is superfood-rich. Superfoods are good for:
* Proactive Ageing- Reducing fine lines & wrinkles
* Collagen-Boosting - Promoting regeneration of collagen production
* Plumping & Firming - Tightening skin elasticity
* Calming & Soothing - Balancing skin conditions like acne, rosacea, eczema & pigmentation
* Healing - Nurturing & balancing scarring & sensitivity.
There is EVERY reason to choose superfoods, they offer plant-based magical healing properties that cannot be found in synthetics.