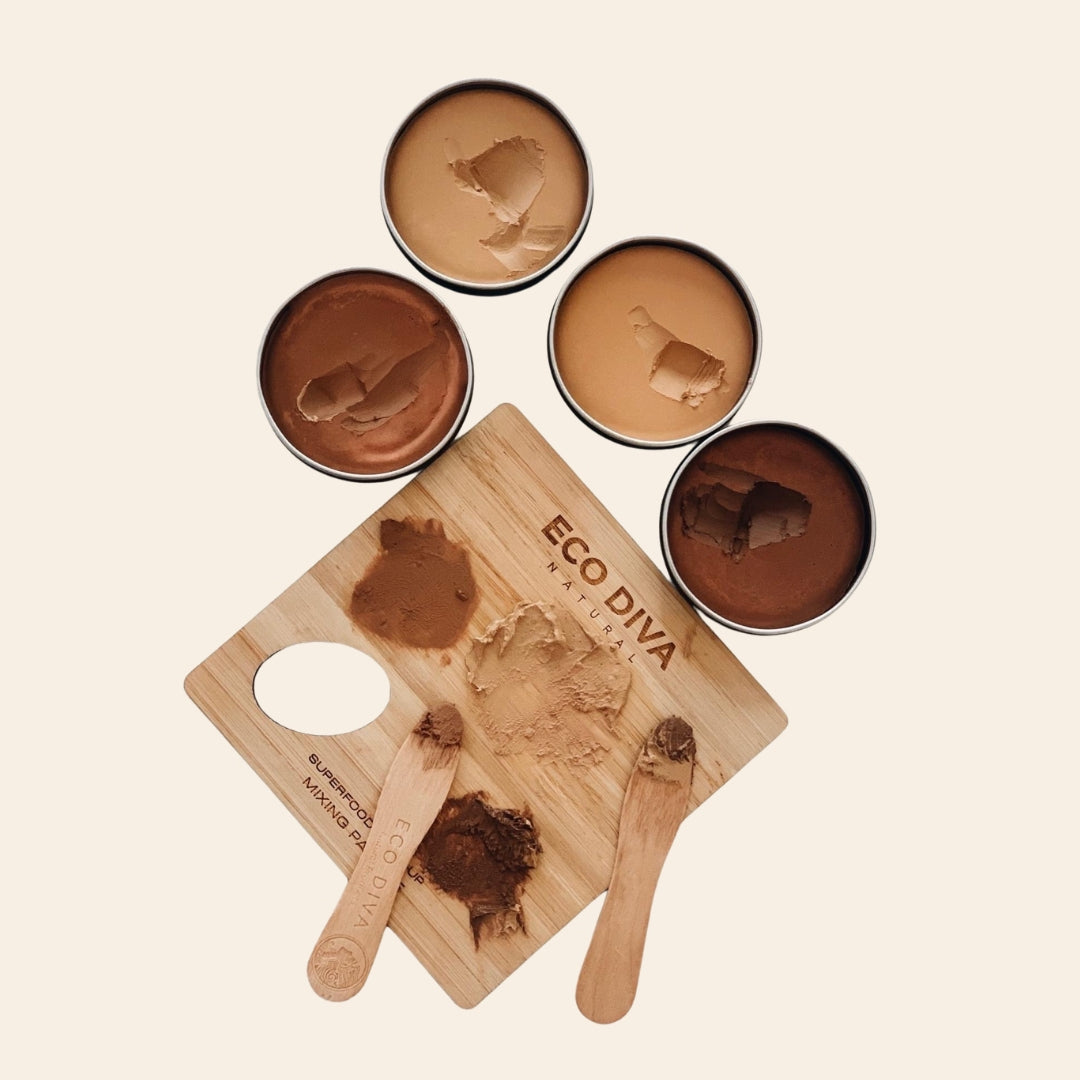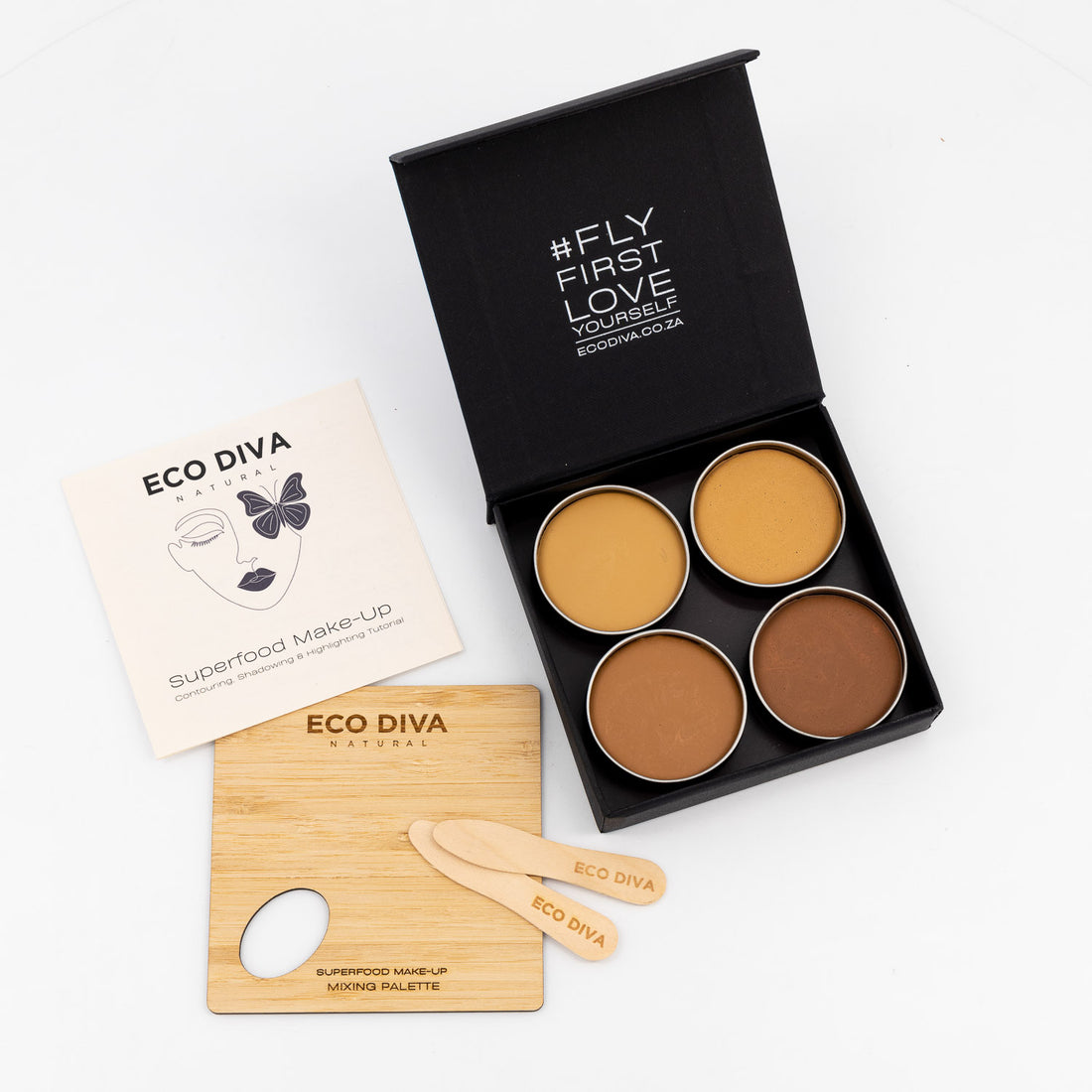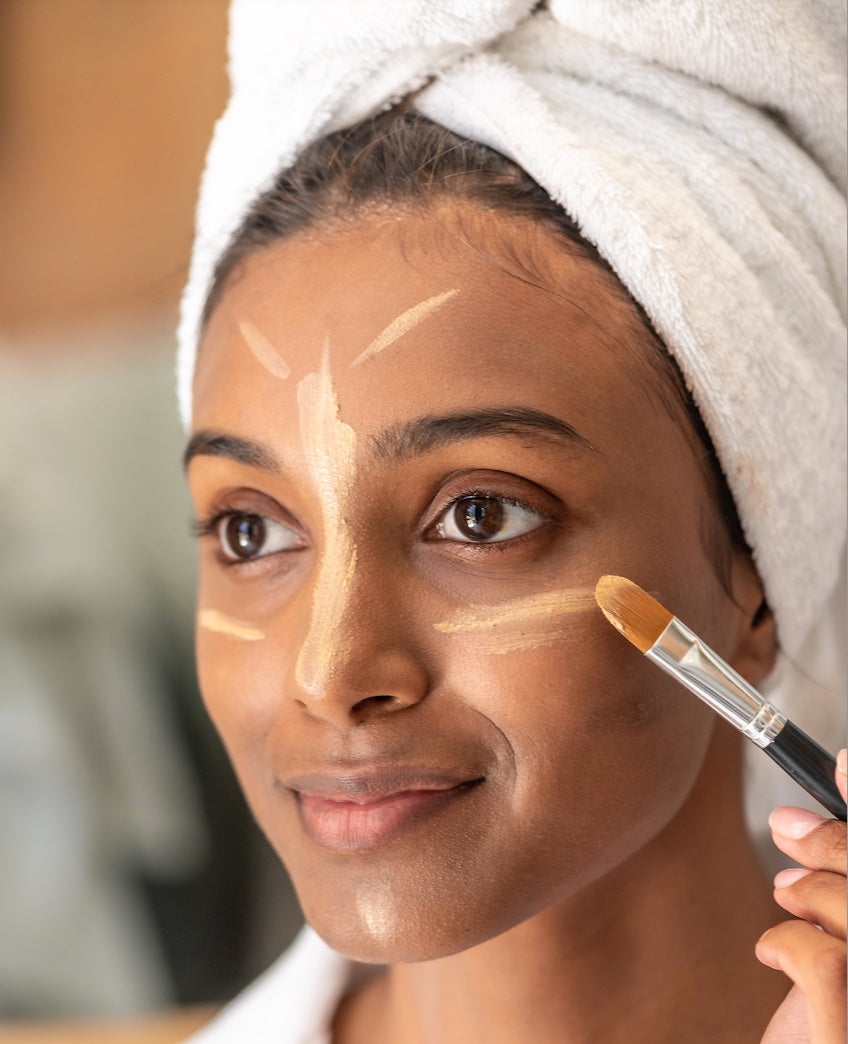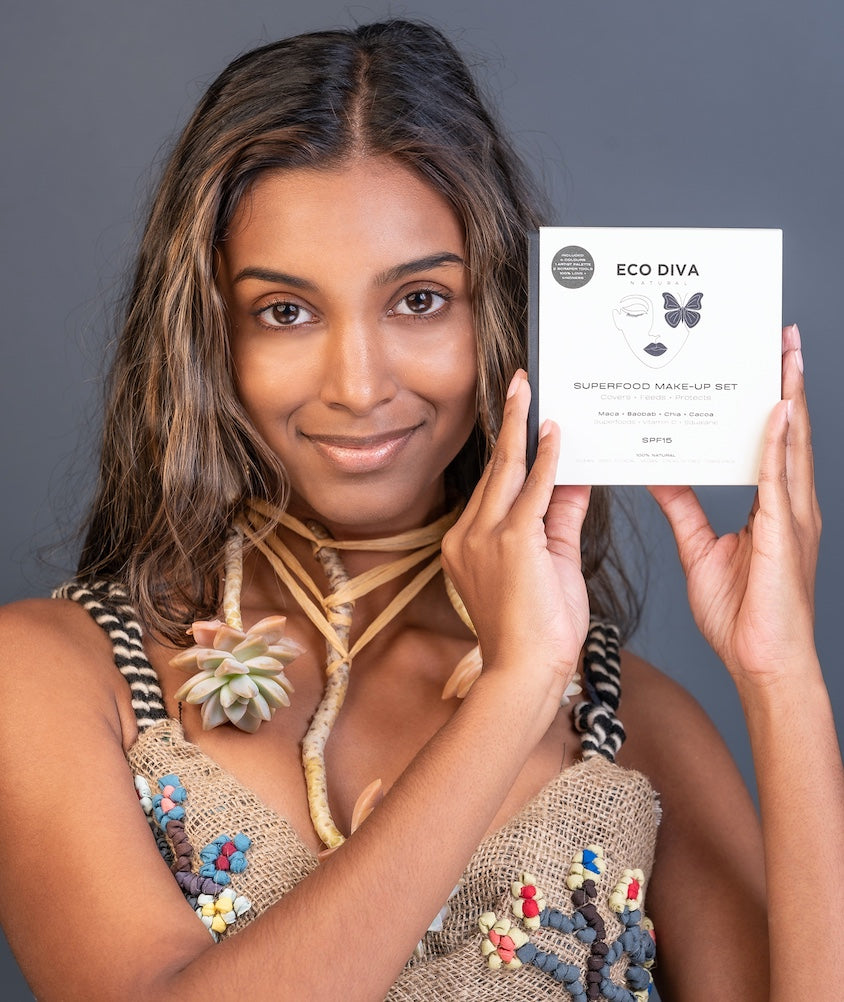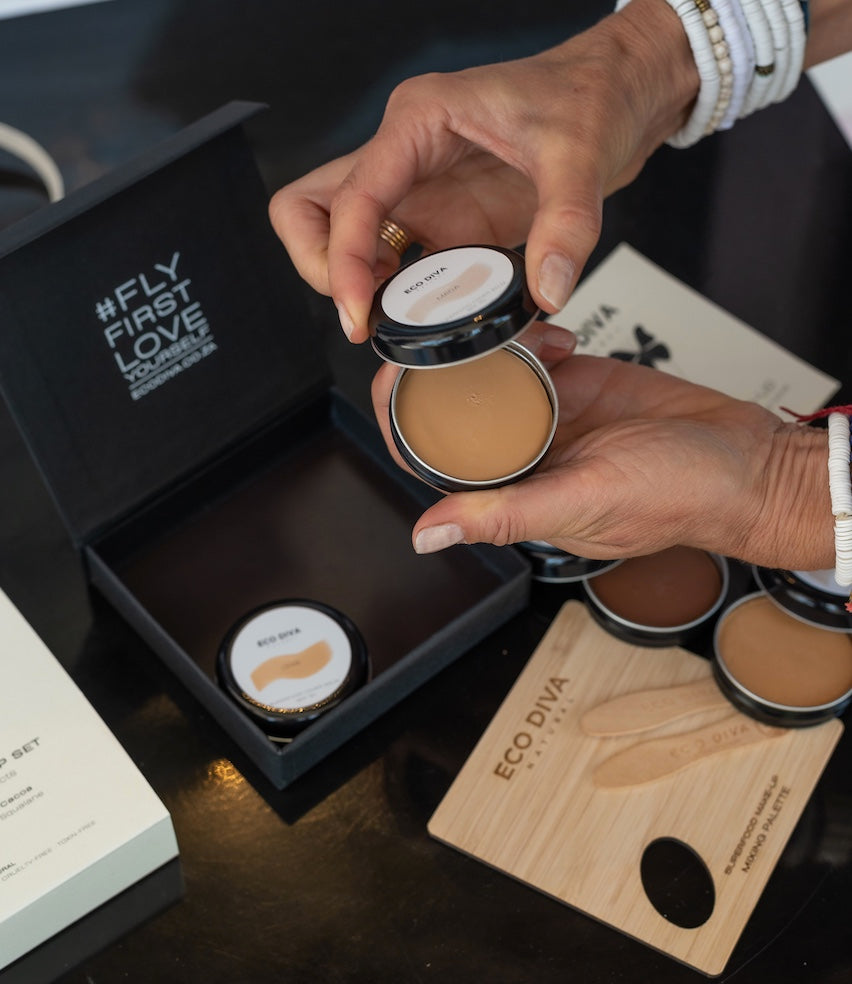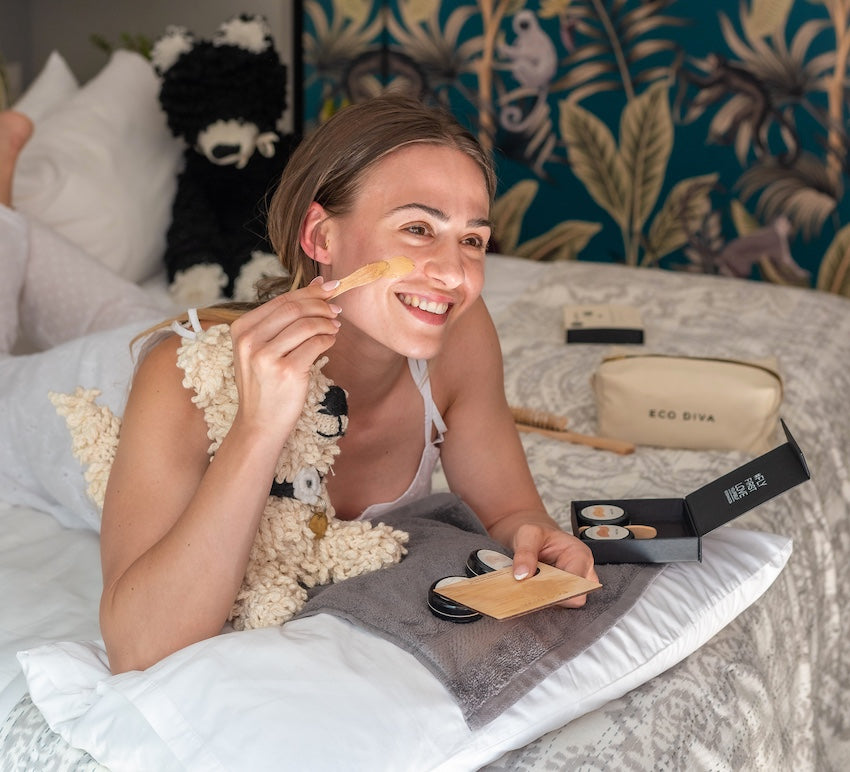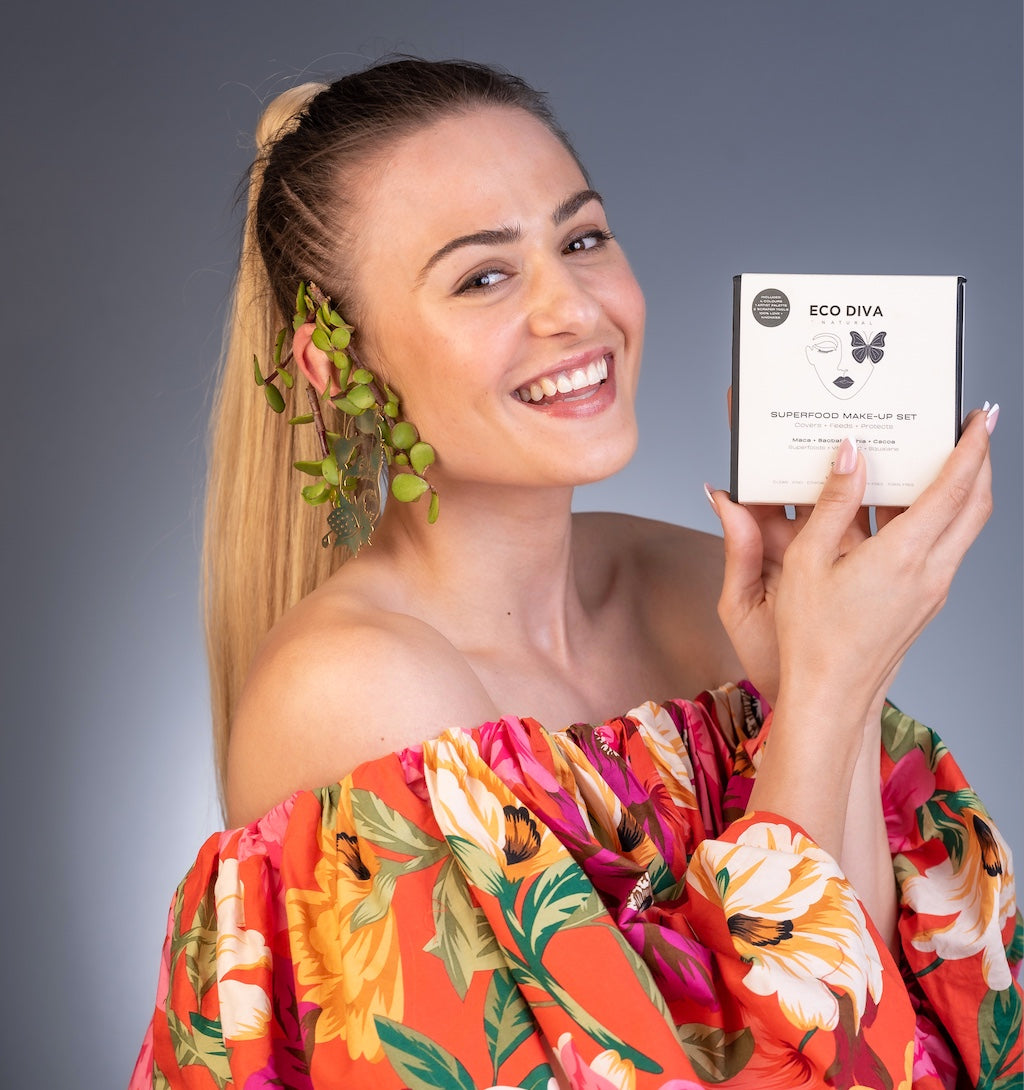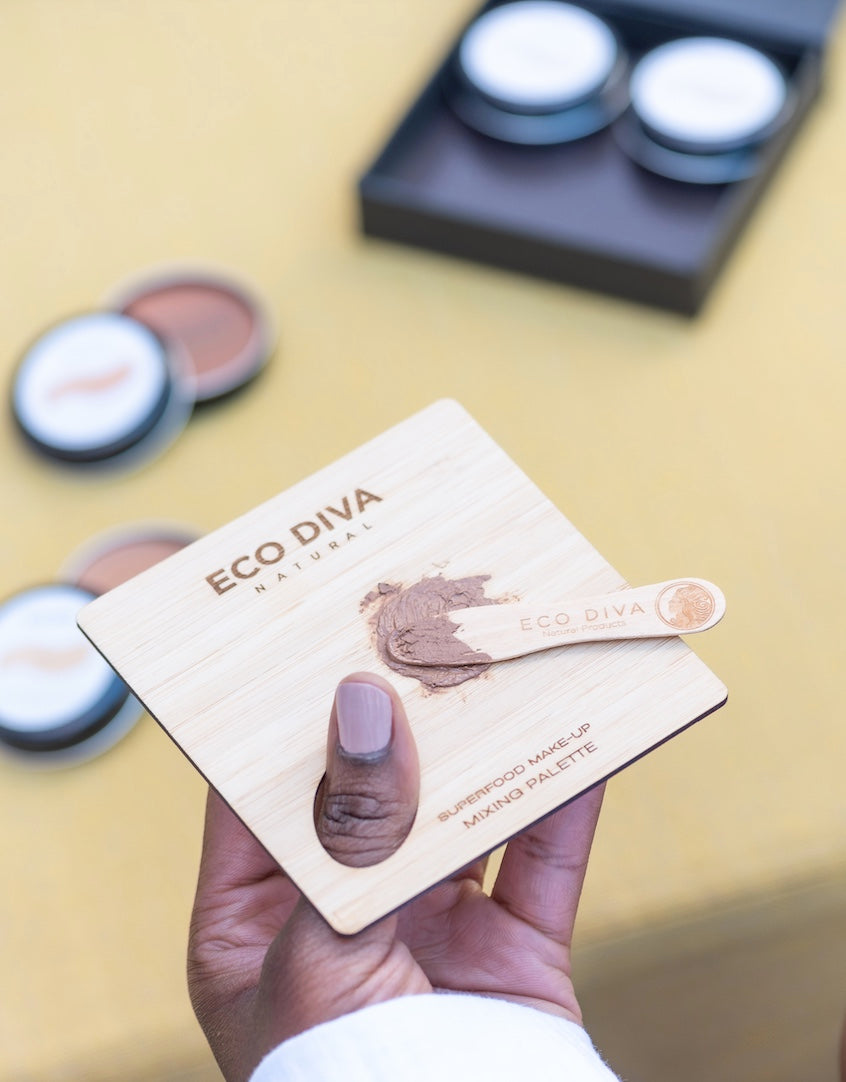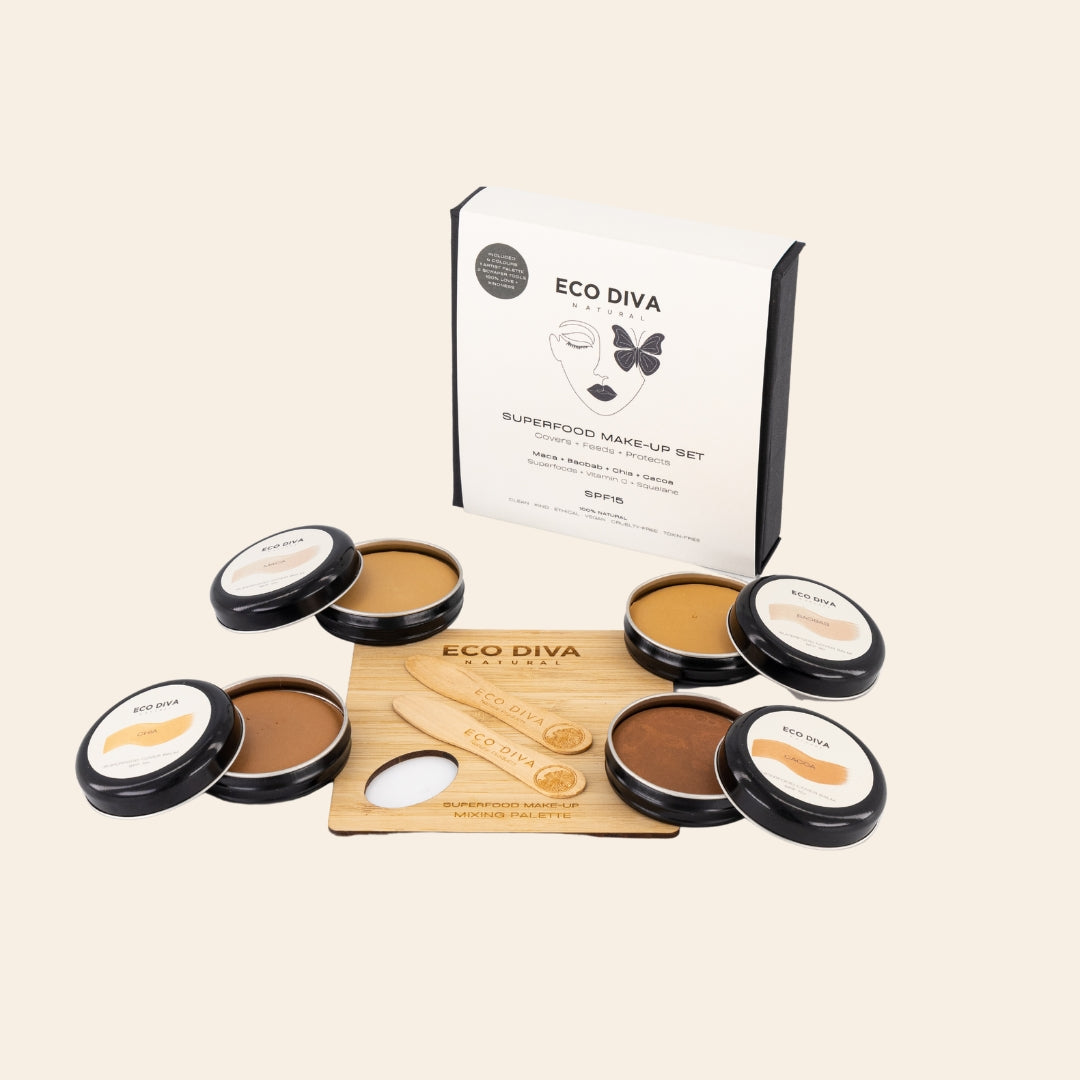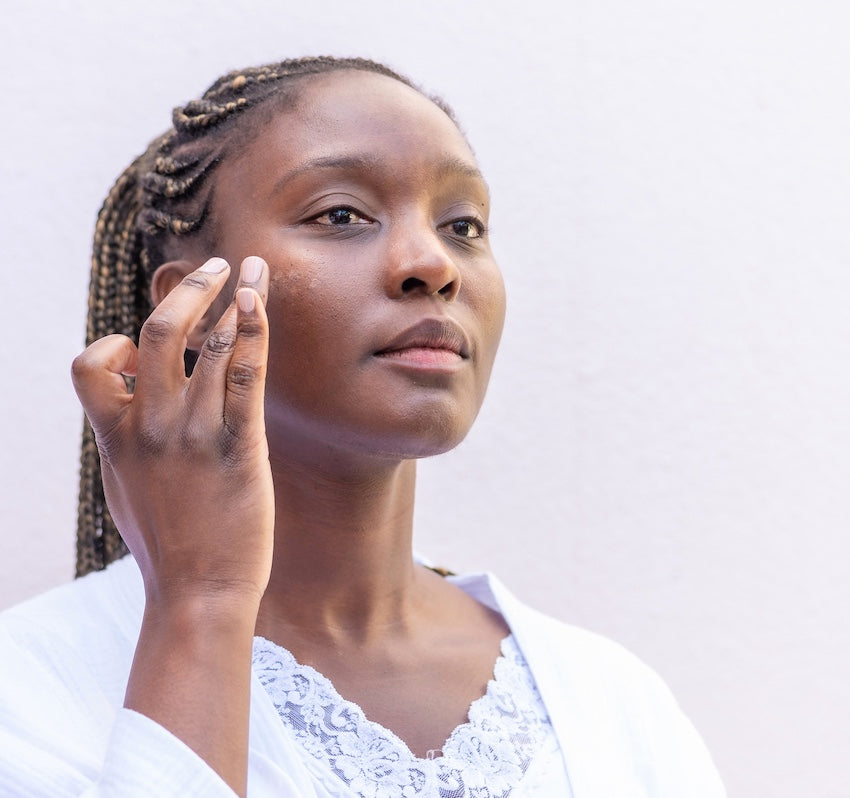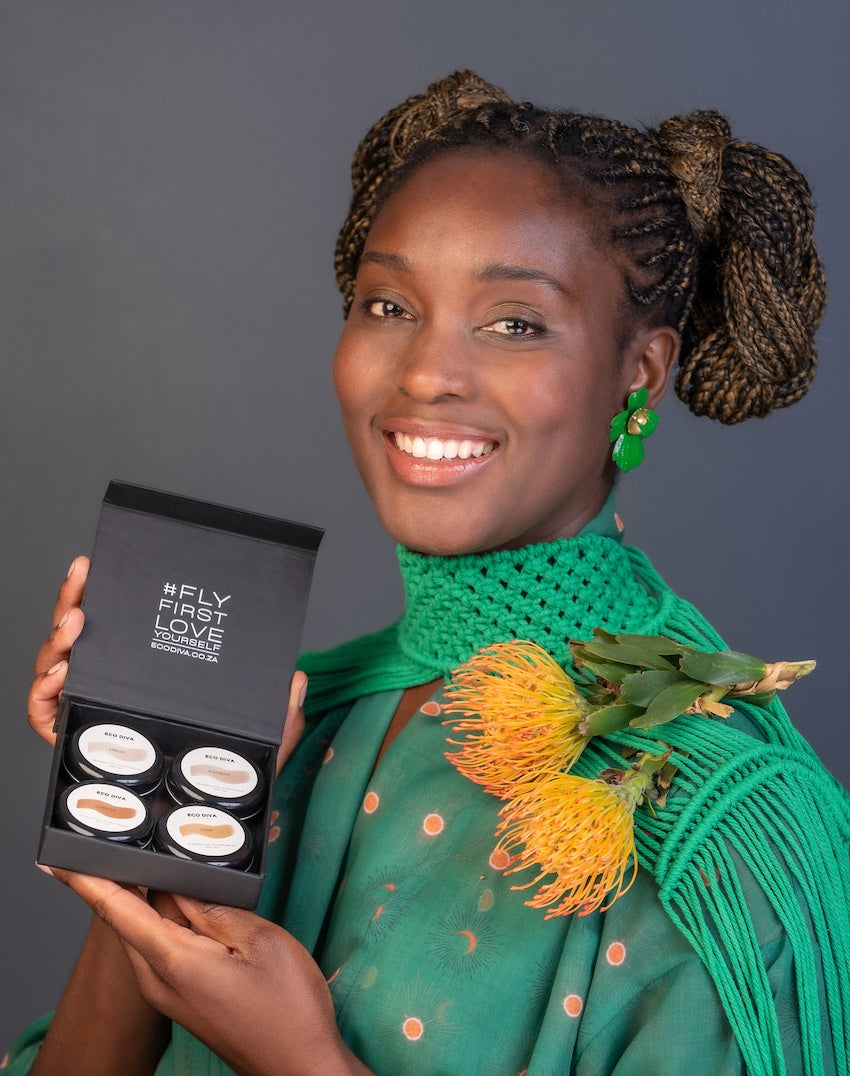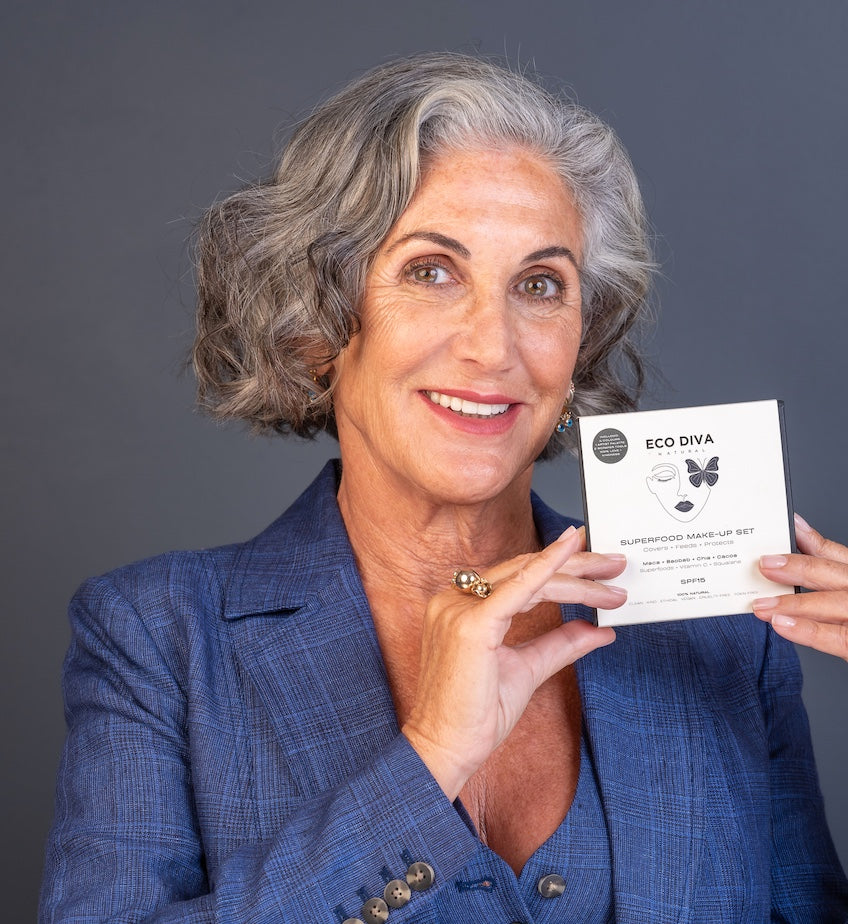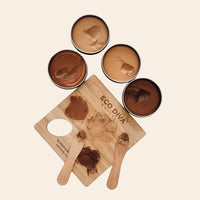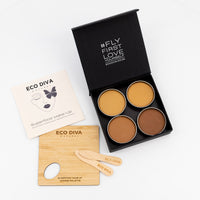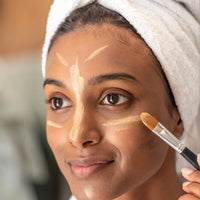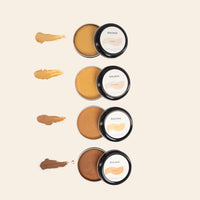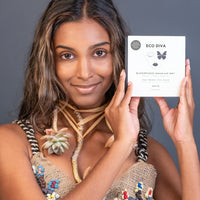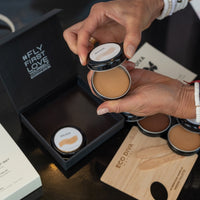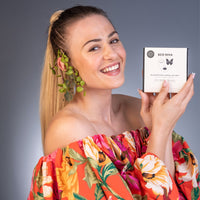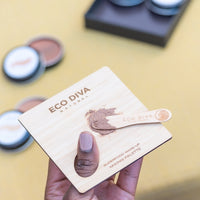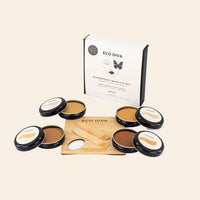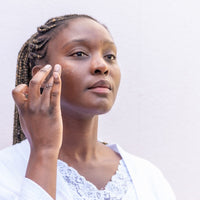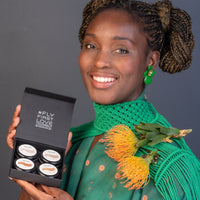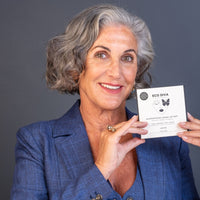 Superfood Make-Up Foundation Set SPF15
R 1,150.00
SAVE SAVE

• Save
Introducing our unique Superfood Cover Balms with SPF: The ultimate multitasking solution for creating flawless skin. Our plant-based foundation makeup not only covers imperfections flawlessly, but also nourishes your skin with nutrient-rich superfoods and protects it from harmful UV rays with SPF. A funtional foundation that works with your skin to keep it healthy and glowing.
Our new Superfood Make-Up Set offers 4 makep shades. The 4 makeup shades have been formulated to work together, offering a unique option to blend your own shade to your skin tone perfectly every time. The makeup set is for all skin tones and gender-inclusive.
Aptly named after the superfood hero ingredients leading the charge in each shade.
Maca: for Nordic skin tone / creamed honey / highlighting
Baobab: for Mediterranean skin tone / warm beige / lightening
Chia: for Indian Ocean skin tone / sun-kissed tan / shadowing
Cacao: for African skin tone / rich brown / contouring.
SHOP your perfect shade and have flawless skin all day.
- *GIFT GUIDE 2023 - buy 2 and get our LOVE Red String Charm Bracelet worth R250 for FREE. For more info see our Gift Guide BLOG
At Eco Diva Natural, we believe that beauty should not come at the cost of compromising on the health of your skin. That's why we've developed unique makeup formulas that blends the goodness of superfoods with the power of SPF providing your skin with the best of both worlds.
Our Superfood Makeup Cover Balms with SPF are infused with a blend of organic, nutrient-rich superfoods that are powered with skin vitamins and minerals that nourish your skin from the outside, in. The beauty cover balms are also enriched with natural oils and butters such as coconut oil, shea butter and cocao butter, that moisturize and hydrate the skin, giving it a healthy, glowing look with flawless coverage. - And that's not all – our Superfood Cover Balms with SPF also offer reliable protection against harmful UV rays. The SPF 15 formula shields your skin from UVA and UVB rays, helping to prevent premature aging, dark spots, and other skin damage caused by sun exposure.
Can't find your perfect foundation colour match? Now you can. Simply blend your perfect shade every day. Be your own makeup artist and have flawless skin that's 100% non-toxic. It's super easy and takes about 5 minutes to apply.  Once you've blended your perfect base colour, you can use the 2 darker shades to contour & shadow, and the lighter shades to brighten and highlight.
What you get in the Eco Diva Superfood Make-Up set.
4 x 20g colour shades:
 Maca: for Nordic skin tone - creamed honey / highlighting
 Baobab: for Mediterranean skin tone - warm beige / brightening
 Chia: for Indian Ocean skin tone - sun-kissed tan / shadowing
 Cacao: for African skin tone - rich brown / contouring
1 x Washable bamboo artist palette to blend on
2 x Wooden artist scraper tools to blend with
1 x Shading & highlighting tutorial brochure

SHOP your set today and have flawless skin radiance every day.
If you prefer to only buy the colour shade closest to your skin tone, click here for single shades: Superfood Cover Balm Shades
 Vegan, cruelty-free, non-toxic. 100% natural 
We aim to process and dispatch orders as quickly as possible, usually within 2-3 working days after the receipt of payment. Orders, where payment is received after 12:00 pm on a Friday, will be processed on the following Monday.

Please contact us directly should you have any queries: info@ecodiva.co.za
Eco Diva formulations are designed to effectively balance hyper-pigmentation, acne, eczema, rosacea, psoriasis and scarring. We have a proactive approach to ageing by providing superfood nutrition & super hydration that evens out fine lines and wrinkles.

What if we told you that the key to great skin is actually hidden in your food? Believe it or not, superfoods are some of the best ingredients for skincare. Here's why: they're packed with antioxidants, vitamins, and minerals that help keep skin healthy and looking young. Plus, many superfoods have anti-inflammatory and antibacterial properties that can help clear up acne and other skin problems. So if you want gorgeous skin, eat your superfoods and ensure your clean skincare is superfood-rich. Superfoods are good for:
* Proactive Ageing- Reducing fine lines & wrinkles
* Collagen-Boosting - Promoting regeneration of collagen production
* Plumping & Firming - Tightening skin elasticity
* Calming & Soothing - Balancing skin conditions like acne, rosacea, eczema & pigmentation
* Healing - Nurturing & balancing scarring & sensitivity.

There is EVERY reason to choose superfoods, they offer plant-based magical healing properties that cannot be found in synthetics.

INGREDIENTS: Caprylic/Capric Triglyceride, Zea Mays (Corn) Starch, Helianthus Annuus (Sunflower)
Seed Cera, Squalane, Isoamyl Laurate, Zinc Oxide, Coco-Caprylate/Caprate, Polyglyceryl-3
Polyricinoleate, Isostearic Acid, Shea Butter Ethyl Esters, Cocos Nucifera (Coconut) Fruit Oil,
Hydroxyapatite, Calcium Carbonate, Rhus Verniciflua Peel (Berry) Cera, Titanium Dioxide, Salvia
Hispanica (Chia) Seed Oil, Theobroma Cacao (Cocao) Seed Butter, Punica Granatum (Pomegranate)
Seed Extract, Rosmarinus Officinalis (Rosemary) Leaf Extract, Ascorbyl Palmitate, Jojoba Esters,
Vanilla Planifolia (Vanilla) Fruit Extract, Citrus Paradisi (Grapefruit) Peel Oil, Citrus Bergamia
(Bergamot) Peel Oil, Tocopherol, Lepidium Meyenii (Maca) Root Extract, Andansonia Digitata Fruit
(Baobab) powder, Salvia Hispanica (Chia) Seed Oil, Theobroma (Cacoa) Seed, Lepidium Meyenii
(Maca) Root Extract, Helianthus Annuus (Sunflower) Seed Oil, CI77492, CI77491, CI77499, Limonene, Linalool
Customer Reviews
100
reviewers would recommend this product
Write a Review
06/26/2023
I recommend this product
Love love love
Absolutely in love with the superfood foundation, it glides on the skin and leaves skin looking like skin with just the right amount of coverage and leaves a perfect glow. I love that you can mix to create the perfect foundation shade. As a makeup artist this is so useful on set and the fact that the product is compact and easy to travel with just makes it even better. Huge yes from me❣️
Tash

South Africa
03/23/2023
I recommend this product
Foundation set SPF15
This foundation set was used on my face during a shoot, and I would definitely recommend this , especially if you like a no-makeup glowly look. This product blends in with your skin , feels lightweight and leaves a nice glow effect to the face I also love that it moisturizes the skin
02/16/2023
I recommend this product
The formula melts into my skin and blends with ease
There really aren't a lot of natural makeup options on the market, which is a challenge for consumers who have decided to embark on a cleaner or natural beauty regime. I attended the media launch for this kit and was really impressed to see how easily Nicole (the Eco Diva founder) mixed her foundation shade. I was impressed by how natural yet flawless her skin looked, and by the fact that she used the palette to create a full makeup look. She mixed the two lighter shades and applied as foundation, and then used the two darker shades for contouring and eyeshadow. The overall result was stunning, so I decided to give it a try myself. I have a very fair skin tone and I must admit that I was a little doubtful when I looked at the lightest shade in the kit, thinking it would be too dark for me. I was so happy to be proven wrong! I applied Maca all over my face – it blends seamlessly and leaves my skin with light cover and a warm glow. I used Chia as blush and Cacao as eyeshadow and both looked great on my skin tone. I love the texture of the product. The formula melts into my skin and blends with ease. I applied very little as I wanted a light 'veil' of cover over my natural skin, but you can build the product if you prefer more cover. I love that it contains sun protection and that it's 100% natural. Plus, you can even use it if you are prone to sensitivity, eczema, rosacea, psoriasis and acne. It really is the first of its kind here in SA and it's exciting to see innovation in the natural makeup category." – Anien, Editor - BeautySouthAfrica.com
Anien B.

South Africa
02/02/2023
I recommend this product
Amazing for sensitive skin
As someone who has always struggled with sensitive skin I've never been able to wear makeup. Now, I can, and it doesn't affect my skin badly at all! Really such a big fan.
Savanna D.

South Africa
01/24/2023
I recommend this product
Super Cool Superfood Make-Up
What a great, and insightful new superfood make-up! just love the fact that it's so easy to apply and the mix and match concept to suit your skin is just wonderful. Of course also the big bonus is how natural the skin products are and not tested on animals, we love our fury creatures!
Fran K.

South Africa
01/24/2023
I recommend this product
Gender Inclusive
Loving your new superfood make-up. As a man, I've struggled to find a cover foundation that didn't make me look like I was wearing make up but just evens out my skin tone. This one is fantastic. And my skin feels so soft and supple. I don't wear sunscreen anymore either as I love how it's included all in one here. Great product.
Trevor

South Africa
01/24/2023
OMG!
This is the most incredible make-up I've ever used. It looks like my skin just glows and feels so smooth and nourishing. I'm absolutely LOVING your new make-up. Fun and easy to mix my own colour, and the contouring and highlighting colours just finishes off the look perfectly. Thank you for creating such healing and amazing products.
Milly M.

South Africa