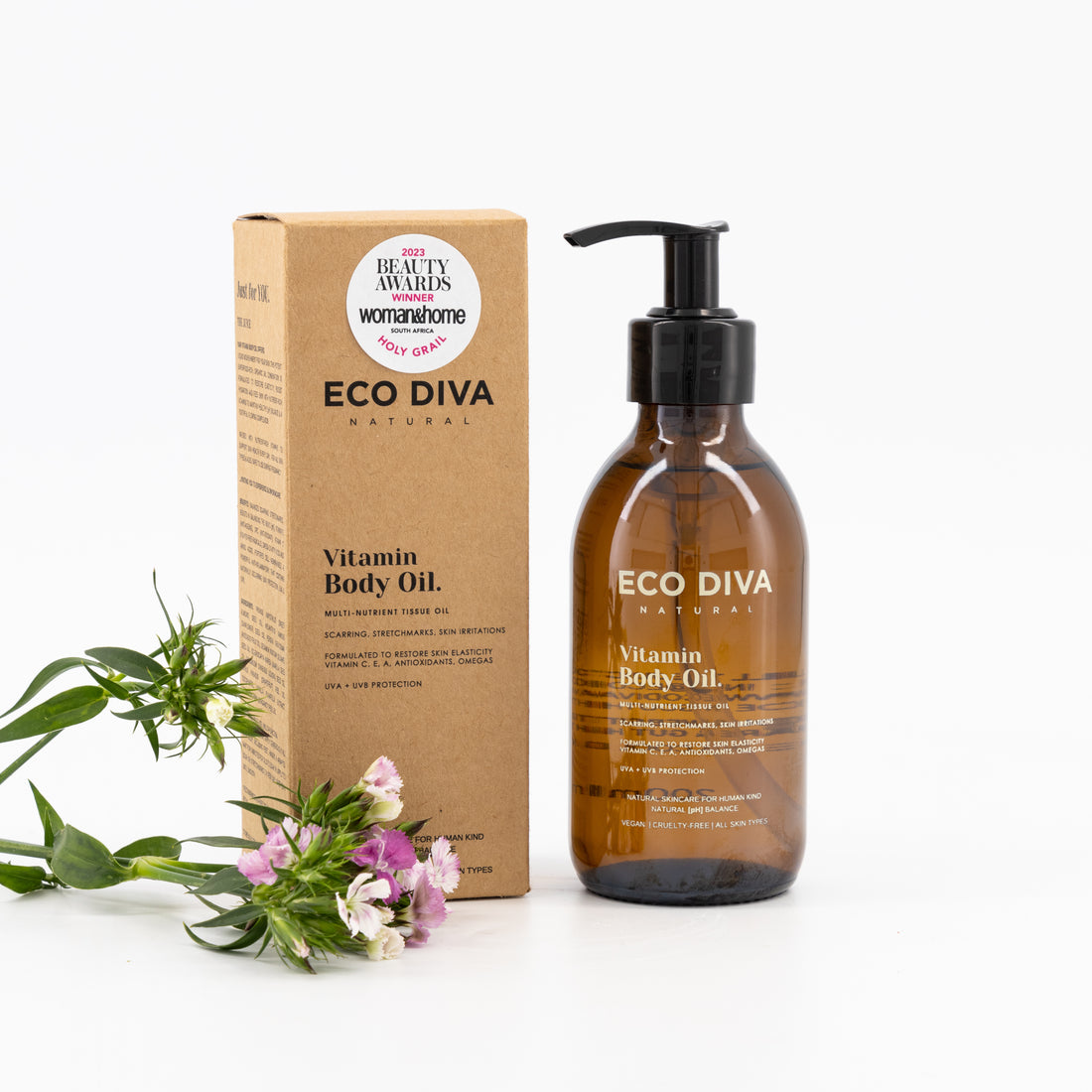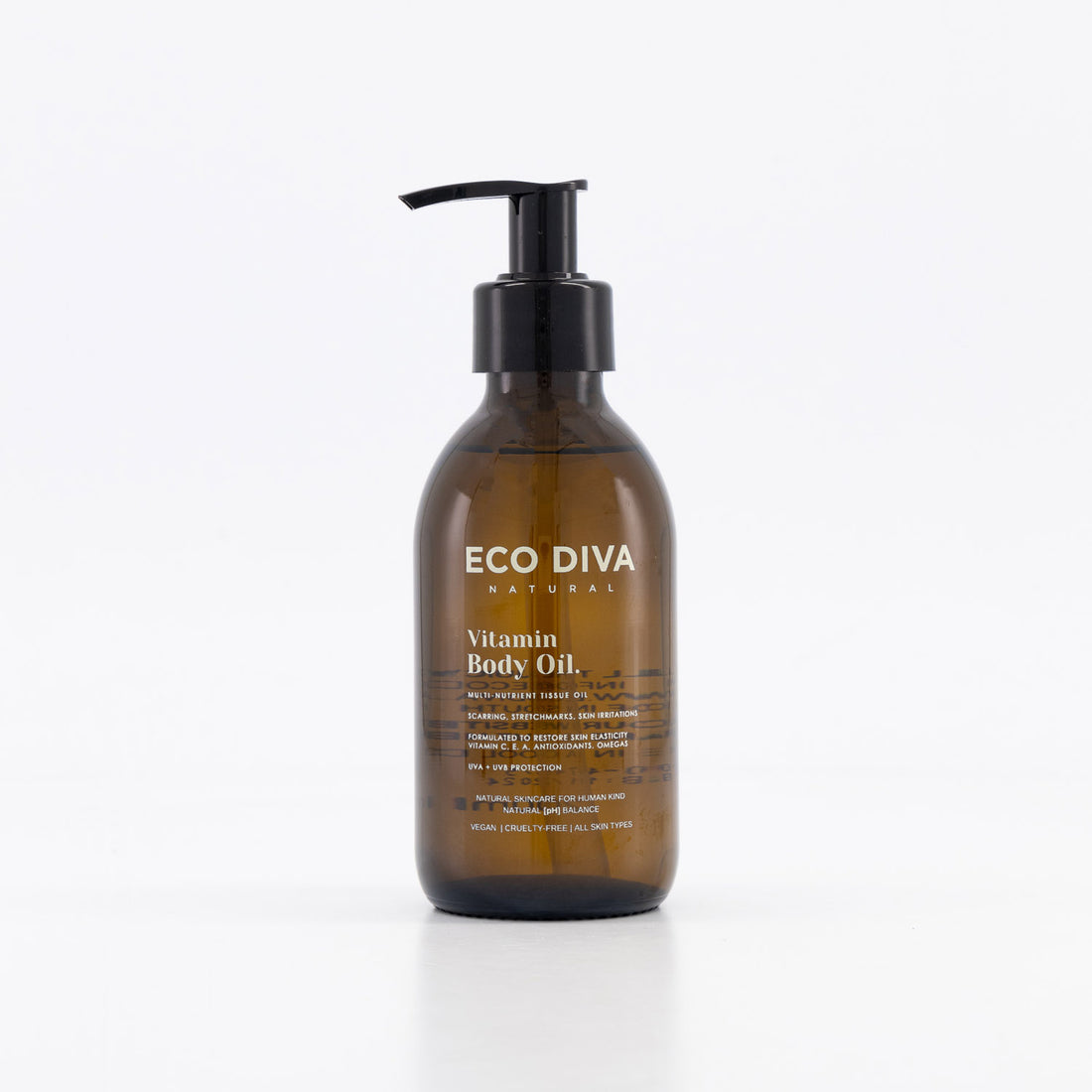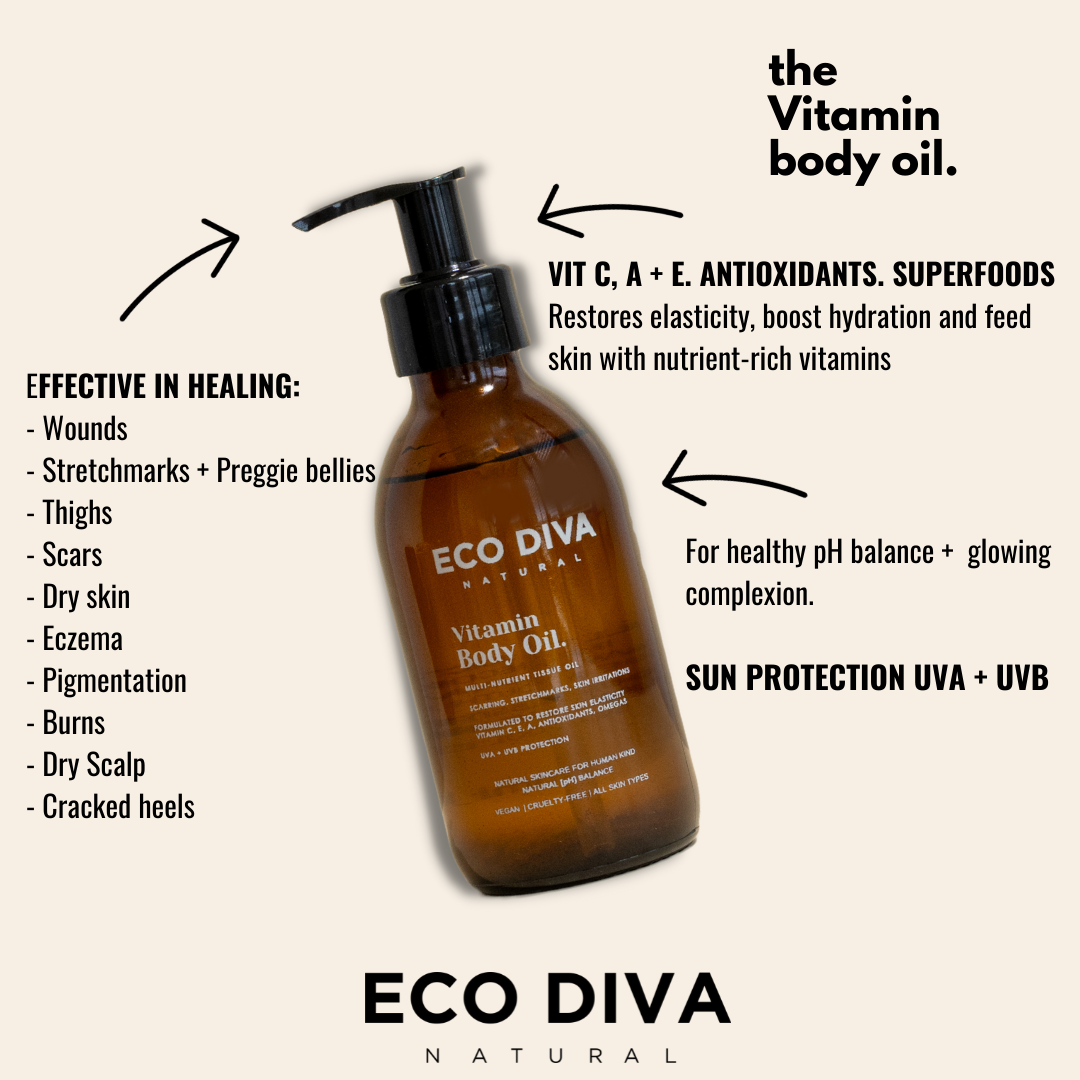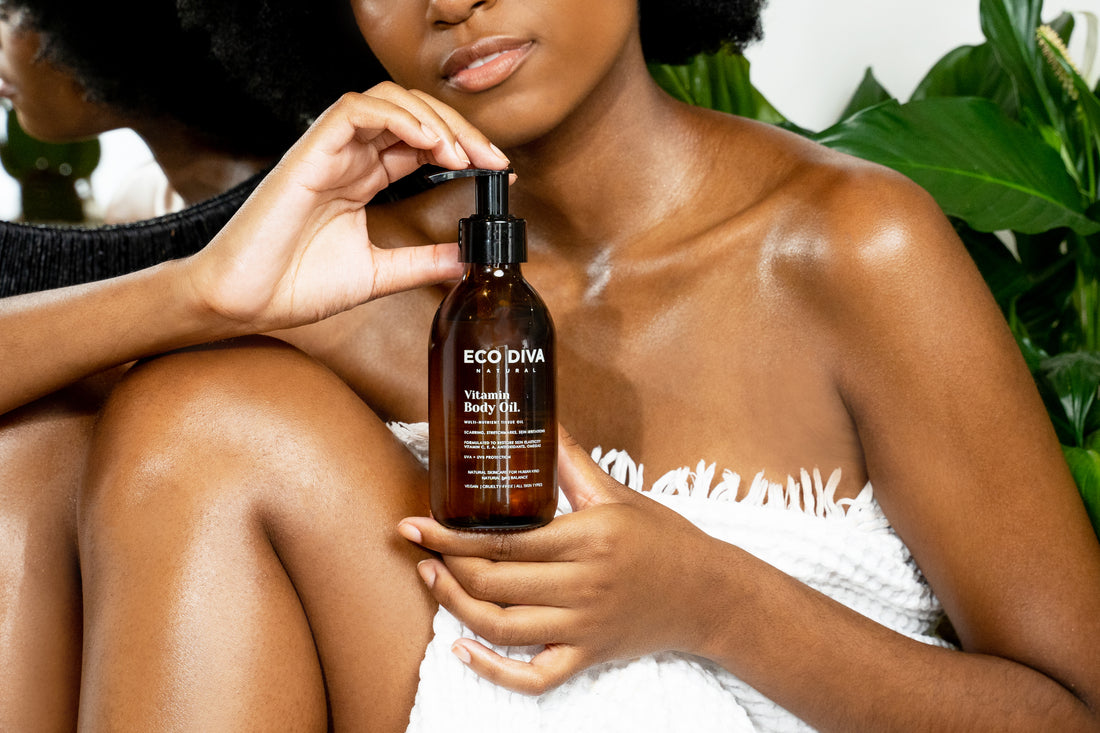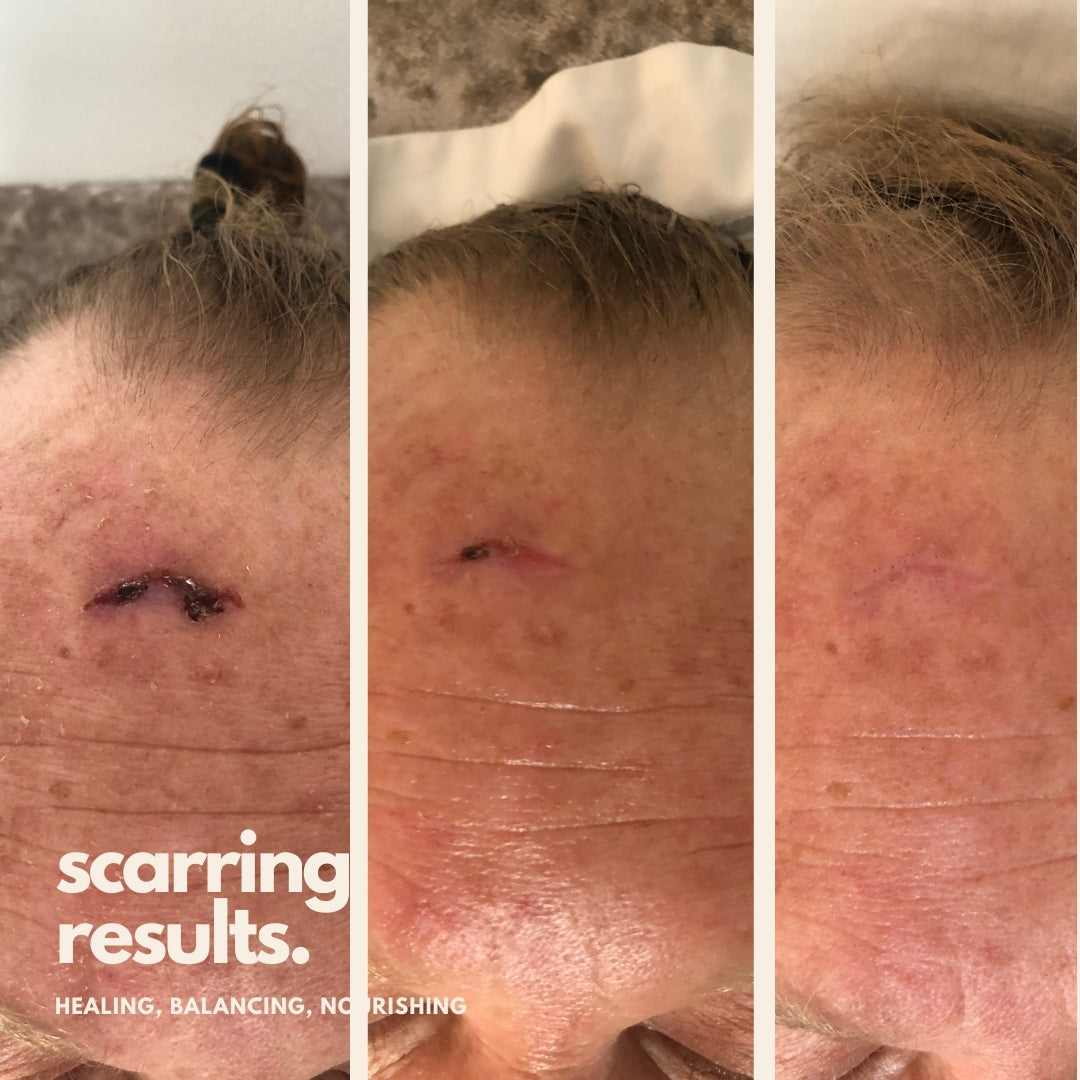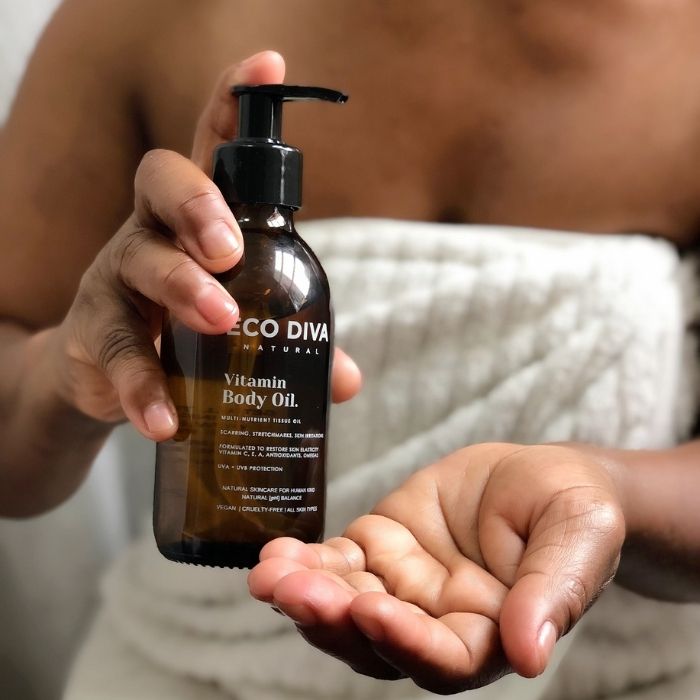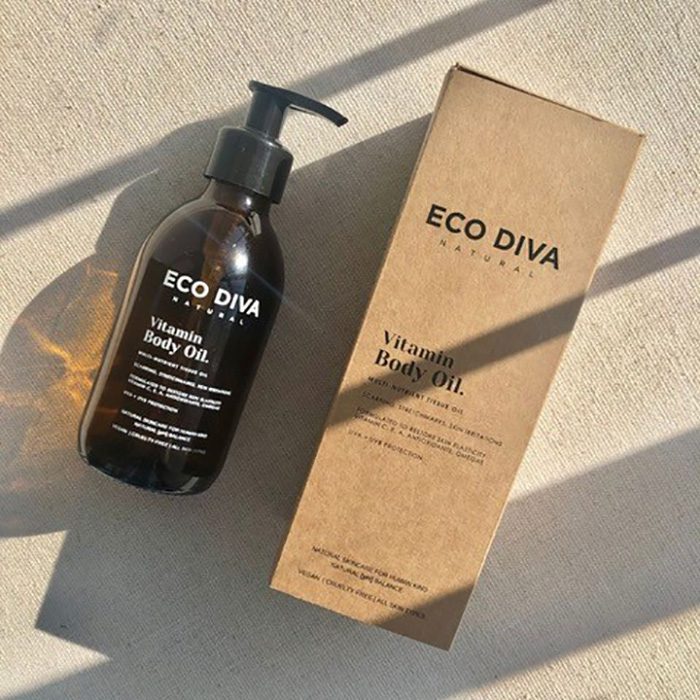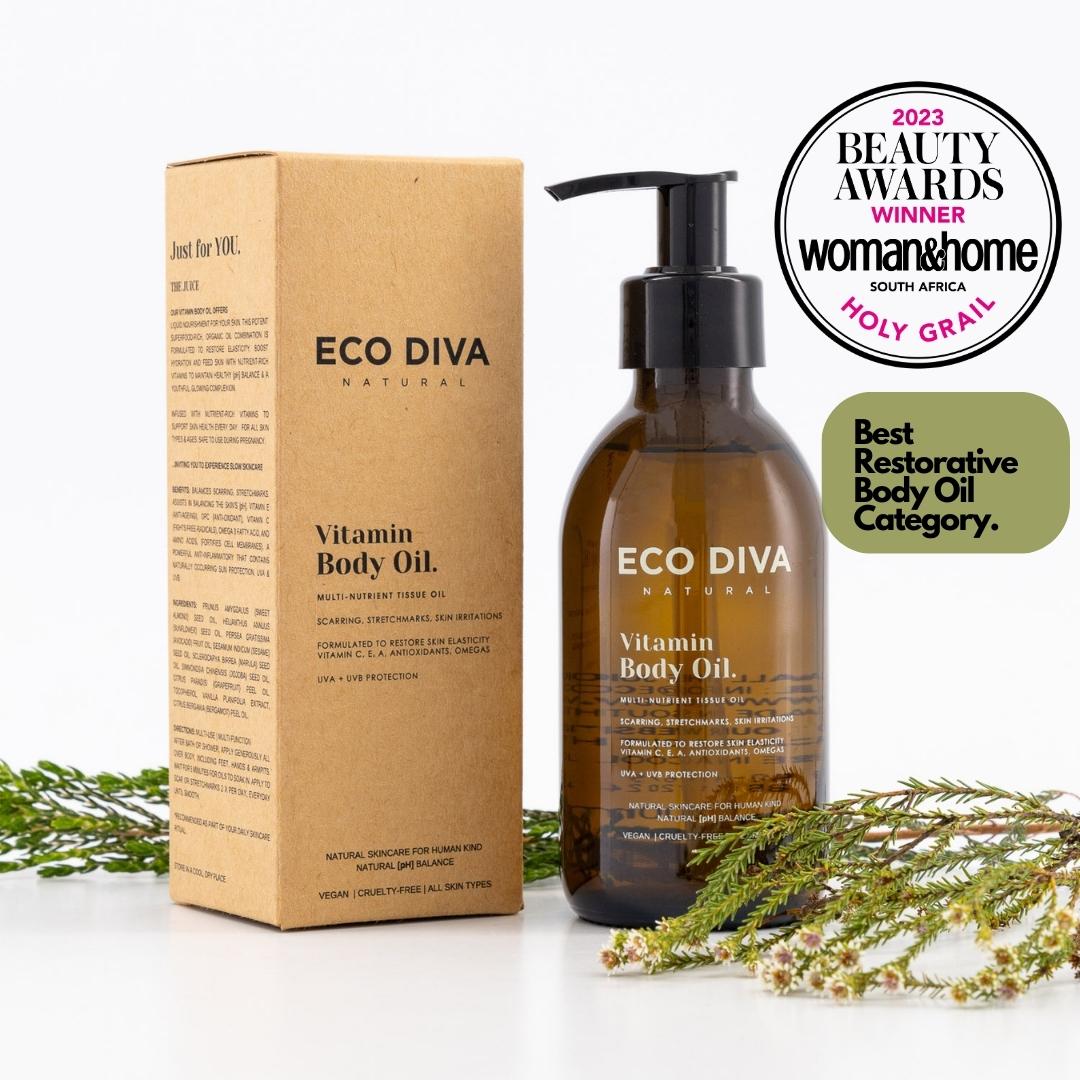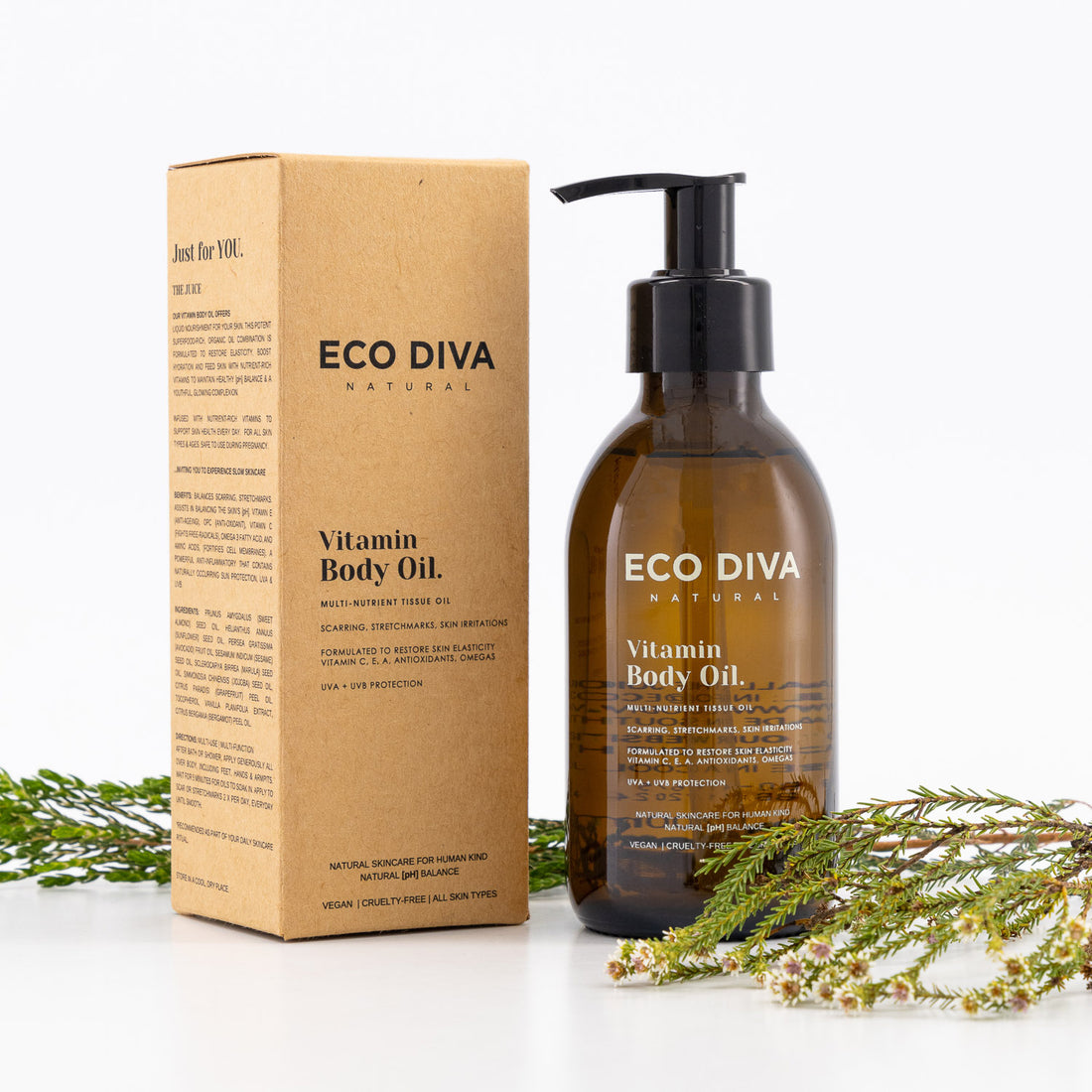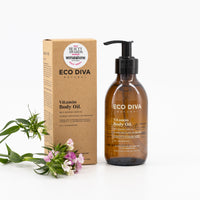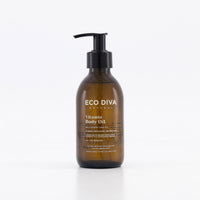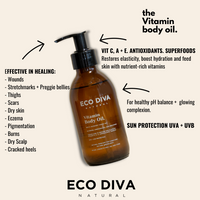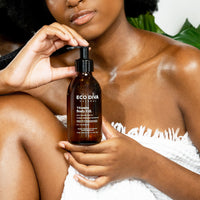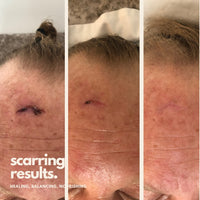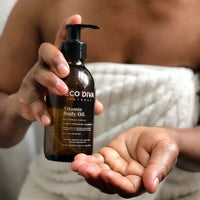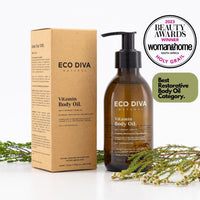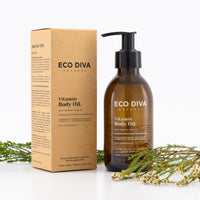 Vitamin Body Oil - Rich Tissue Oil with Vitamins, Antioxidants, Superfoods, SPF
R 475.00
SAVE SAVE

• Save
Experience healthy, even-toned skin with our award-winning vitamin-rich tissue oil. The ultimate skin-health elixir that deeply nourishes as well as smooths out scarring and stretchmarks, calms sunburn and any skin irritations. Infused with a potent blend of plant-powered vitamins C, A & E, hyaluronic acid, and superfoods, this oil is a powerhouse of skin-loving ingredients that offer impressive results. With UVA and UVB protection, feel confident that your skin is safe from sun damage. The perfect addition to your daily routine for total skin protection. Once you experience the results from this body oil serum, it's sure to become a favourite staple in your skin care arsenal. 200ml - *GIFT GUIDE 2023 - buy 2 and get our Silver Peace Heart Red String Charm Bracelet worth R250 for FREE. For more info see our Gift Guide BLOG
A rich tissue oil packed with vitamins, omegas and superfoods for the ultimate skin hydration and all-over glow. Won't leave your clothes greasy. An award-winner and one of our bestsellers for good reason. With Natural SPF sun protection. Apply all over including your hands for proactive ageing.

Benefits:
* Liquid nourishment for your skin * Effectively heals wounds, stretchmarks and scarring * Natural sun protection UVA + UVB * Restores elasticity * Boosts hydration * Feeds skin with nutrient-rich vitamins to maintain healthy pH balance & a youthful, glowing complexion. * Magical after sun care for burns.

Try this Vitamin Body Oil for yourself and see and feel the difference in your skin texture immediately.

The Eco Diva Philosophy:
Let's talk skin - The skin is the largest organ of the body, and mirrors our internal health. If fed with the correct, compatible, nutrients it will naturally balance and heal itself perfectly every day.
[pH] balance - Your skin pH much like life has its ups and downs. The sweet spot for your skin is 5.5-7 (neutral pH = 7). Our natural formulations work with you & your skin to keep pH as close to perpHect as possible
Eco Diva is a clean, vegan, cruelty-free, dermaceutical skincare range, formulated with superfood nutrients to effectively balance skin pH. When skin is pH balanced, you can expect to experience healthy, glowing , younger looking skin every day.  With Eco Diva's dermaceutical range, hyper-pigmentation, psoriasis, eczema, premature-ageing and acne are a thing of the past. Just wave bye-bye, because it's easy to discover your perfect pH balance with correctly aligned derma-nutrients. Kind to skin, kind to animals, kind to the planet, the skincare range also offers naturally occurring UVA & UVB sun protection.
Ingredients: Prunus Amygdalus (Sweet Almond) Seed Oil, Helianthus Annuus (Sunflower) Seed Oil, Persea Gratissima (Avocado) Fruit Oil, Sesamum Indicum (Sesame) Seed Oil, Sclerocarya Birrea (Marula) Seed Oil, Simmondsia Chinensis (Jojoba) Seed Oil, Citrus Paradisi (Grapefruit) Peel Oil, Tocopherol, Vanilla Planifolia Extract, Citrus Bergamia (Bergamot) Peel Oil.

Directions: After a bath or shower, apply the Eco Diva Vitamin Body Oil generously all over the body. Wait for 5 minutes for oils to soak in.

Benefits: Apply to belly and thighs during pregnancy to avoid stretchmarks and scarring. Provides skin with deeply hydrating, healing skin food. Contains naturally occuring UVA & UVB protection - a great protection against sun damage.
Eco Diva formulations are designed to effectively balance hyper-pigmentation, acne, eczema, rosacea, psoriasis and scarring. We have a proactive approach to ageing by providing superfood nutrition & super hydration that evens out fine lines and wrinkles.

What if we told you that the key to great skin is actually hidden in your food? Believe it or not, superfoods are some of the best ingredients for skincare. Here's why: they're packed with antioxidants, vitamins, and minerals that help keep skin healthy and looking young. Plus, many superfoods have anti-inflammatory and antibacterial properties that can help clear up acne and other skin problems. So if you want gorgeous skin, eat your superfoods and ensure your clean skincare is superfood-rich. Superfoods are good for:
* Proactive Ageing- Reducing fine lines & wrinkles
* Collagen-Boosting - Promoting regeneration of collagen production
* Plumping & Firming - Tightening skin elasticity
* Calming & Soothing - Balancing skin conditions like acne, rosacea, eczema & pigmentation
* Healing - Nurturing & balancing scarring & sensitivity.
There is EVERY reason to choose superfoods, they offer plant-based magical healing properties that cannot be found in synthetics.

Customer Reviews
12/04/2023
I recommend this product
I have found THE ONE ;)
I have always loved a good body oil and have tried many over the past few years, but this is by far my favourite! The scent is heavenly and I absolutely love the feel of this body oil on my skin.
Kate

South Africa
10/21/2023
I recommend this product
Everyone should have this
Not at all surprised this product is an award winner. It's really good. I use it all over and my skin smells and feels amazing. Not just hydrated but it feels fed if that makes sense.
Banti

Sri Lanka
10/01/2023
Amaaaazing wound healing
Thank you so much for creating this truly incredible product. I had a bad wound and it scarred so badly, until I started applying the vitamin body oil 3 x per day and after a few days, my scar started fading. After a month, I can hardly see where the scar was. It really is a magical product.
Ella P.

France
04/04/2023
Scar Treatment
I've never used any product that is as potent and brilliant as this vitamin rich body oil. Besides the absolutely divine smell, it literally got rid of a large scar on my leg within 3 months of use 2 x per day. I'm so impressed and so grateful to have found this absolute staple in my life. I cannot be without it.
09/13/2022
Vitamin Body Oil
The Vitamin Body Oil works wonders and smells divine. I have only been using it for a short while and am sure that I can already see a difference. I am recommending it to everybody. I do not know I got on without it. Thanks Eco Diva for creating such amazing products.
Stef V.

South Africa