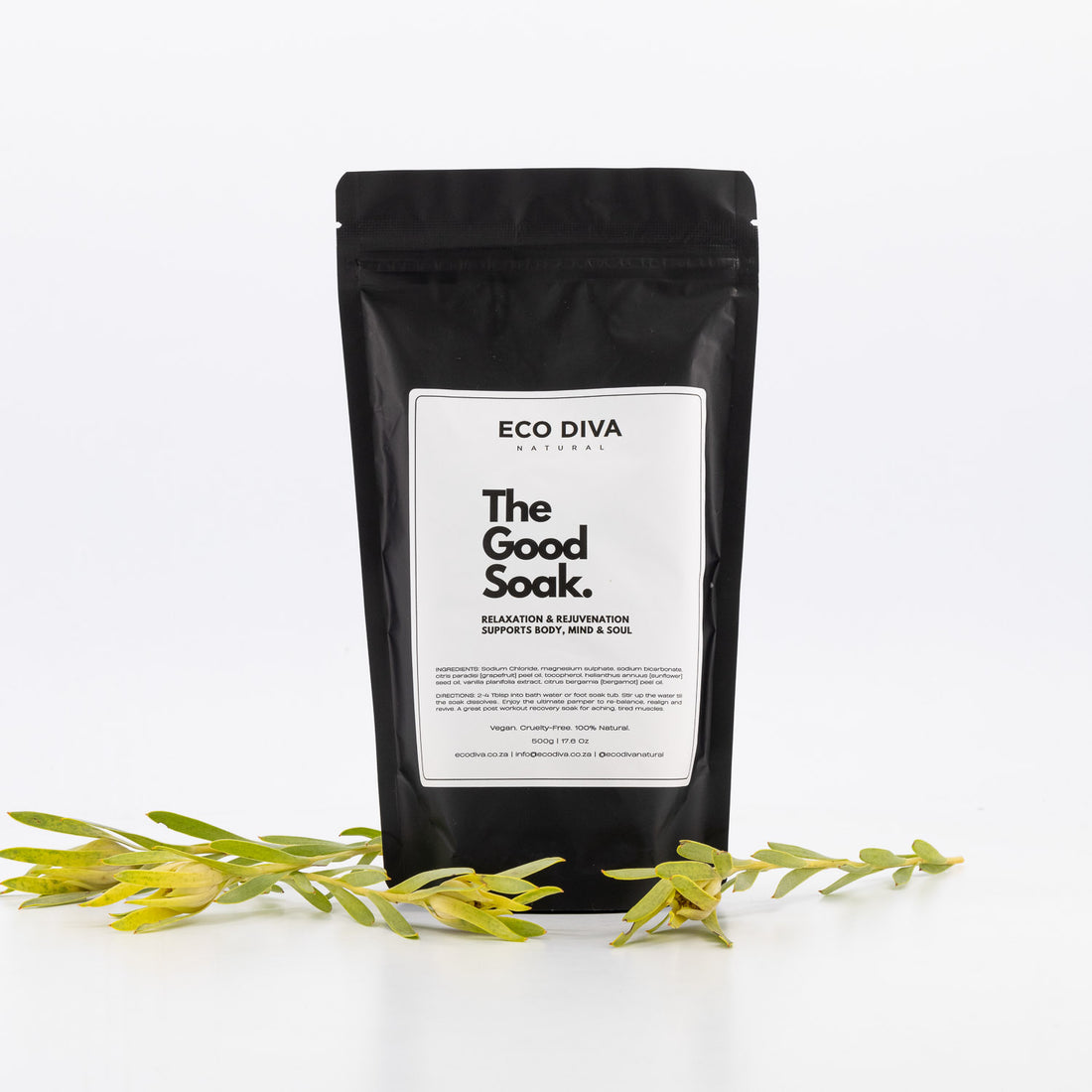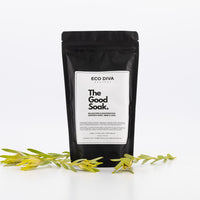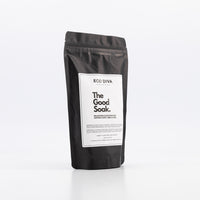 The Good Soak - Mineral-Rich Bath Salts
R 325.00
SAVE SAVE

• Save
Experience the ultimate in self-care and pause time with The Good Soak. Mineral-rich healing salts with added essential oils to calm and relax aching muscles, de-stress from your day and rejuvenate mind, body and soul. A dashing duo of self-care would be to blend The Good Soak bathing experience with the Hydrating Face Masque. Pure relaxation and rejuvenation. Pure heaven.
500g
The Good Soak exists to help you unplug, unwind & reboot. This delightful mineral-rich bath or foot soak offers a multitude of benefits including a de-stressing bathing experience, that's become so important for the busy human to relax, pause and self-care in order to be their best every day. 
All you need to do is light some candles, create a warm ambience, run a bath, sprinkle some magical Good Soak and pump 2 pumps of our Vitamin Body Oil to create the ultimate bathing experience. Take it a step further and create an at-home spa experience by applying our Hydrating Masque to your face and neck and just relax for 20 minutes. You'll feel completely rejuvenated and recharged.

The Good Soak can be used as a foot bathing experience as well to withdraw toxins and keep skin smooth and soft on your feet.
Benefits:
* Ultra-luxurious combination of nourishing and healing mineral salts
* Calming and restoring for body, mind and soul

* Helping deeper more restful sleep
* Relaxing and rejuvenating
* Leaves skin feeling mooth and re-hydrated
* Calming leg cramps and aching muscles
* Assists in pain relief
* Encourages self-love and self-care, so ultimately mood enhancing.

Ingredients: Sodium Chloride (Salt), Magnesium Sulphate, Sodium Bicarbonate, Citrus Paradisi (Grapefruit) Peel Oil, Tocopherol, Helianthus Annuus (Sunflower) Seed Oil, Vanilla Planifolia Extract, Citrus Bergamia (Bergamot) Peel Oil.

Directions: Scoop 3-5 heaped table spoons of the Eco Diva Relaxing Bath & Foot Soak salts, or scatter as desired into warm bath water or foot bath and enjoy a relaxing, rejuvenating soak for body and soul.
Eco Diva formulations are designed to effectively balance hyper-pigmentation, acne, eczema, rosacea, psoriasis and scarring. We have a proactive approach to ageing by providing superfood nutrition & super hydration that evens out fine lines and wrinkles.

What if we told you that the key to great skin is actually hidden in your food? Believe it or not, superfoods are some of the best ingredients for skincare. Here's why: they're packed with antioxidants, vitamins, and minerals that help keep skin healthy and looking young. Plus, many superfoods have anti-inflammatory and antibacterial properties that can help clear up acne and other skin problems. So if you want gorgeous skin, eat your superfoods and ensure your clean skincare is superfood-rich. Superfoods are good for:
* Proactive Ageing- Reducing fine lines & wrinkles
* Collagen-Boosting - Promoting regeneration of collagen production
* Plumping & Firming - Tightening skin elasticity
* Calming & Soothing - Balancing skin conditions like acne, rosacea, eczema & pigmentation
* Healing - Nurturing & balancing scarring & sensitivity.
There is EVERY reason to choose superfoods, they offer plant-based magical healing properties that cannot be found in synthetics.

Customer Reviews
Relax
The best for relaxing after a hard gym session. Even soothes away the sore aching muscles